Inside Supply Management®'s Best of 2021
December 20, 2021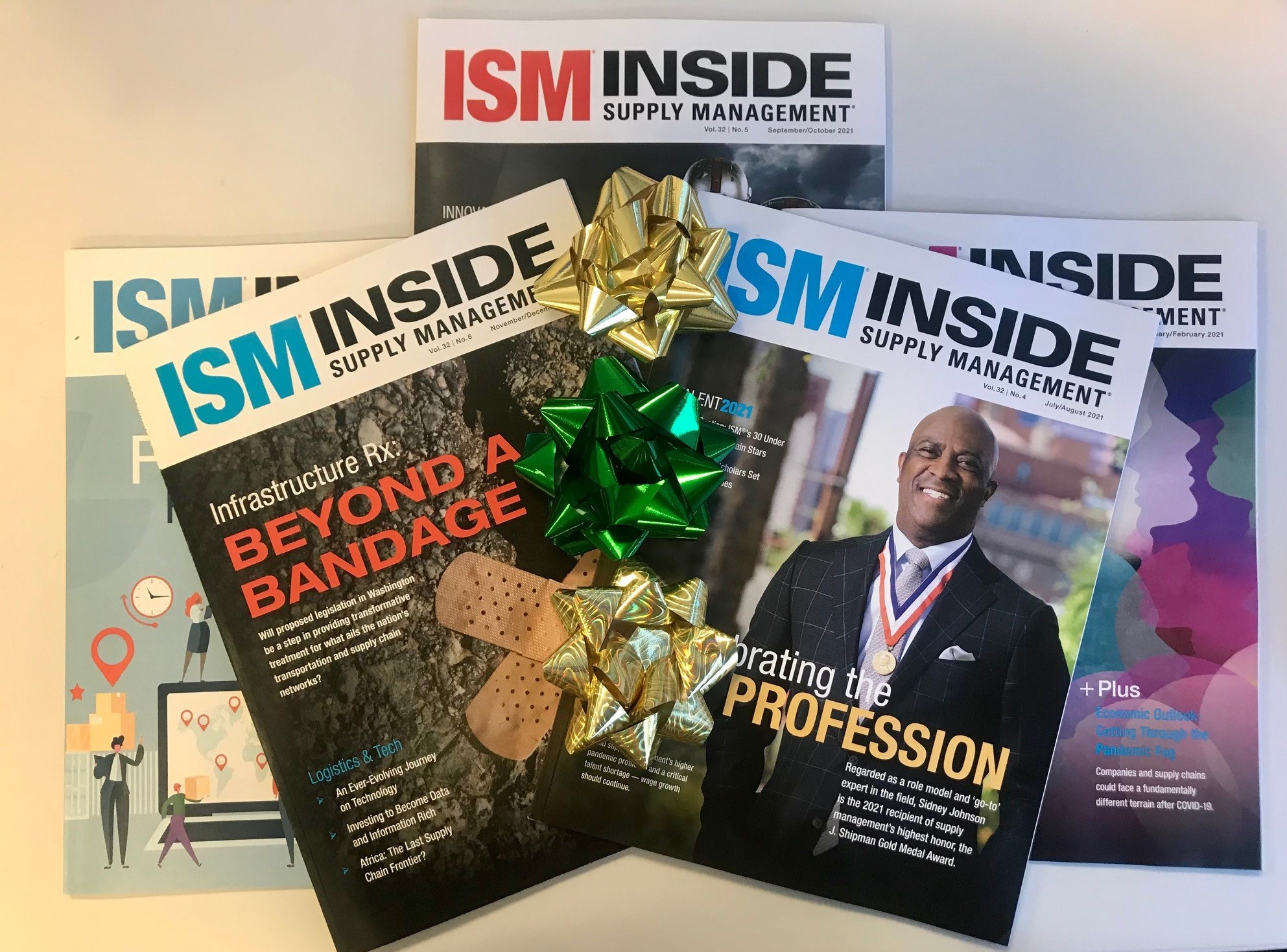 For supply management professionals, it's been another year of navigating supply and logistics issues — and a whole host of other supply chain challenges — brought on in large part by the coronavirus pandemic that will soon enter a third year.
There have been labor shortages, components and parts shortages, port congestion issues and container shortages. For many of us, including Institute for Supply Management®'s publications staff, remote work continues to be the norm. The need for agility, resilience and adaptability — and de-risking the supply chain — persists.
As it did last year, COVID-19 will indelibly define 2021, as well as our staff's work. In Inside Supply Management® and Inside Supply Management® Weekly, we have published a myriad of articles, written by us as well as guest authors, on managing pandemic-induced risk and the impacts on supply chains and logistics. A feature in our November/December issue, for example, covered how organizations are turning to technology to reduce supply chain risks.
In addition to COVID-19-related issues, we've covered other critical topics that impact supply management professionals, including the economy and inflation, employee engagement and retention, and cybersecurity threats, while honoring supply management giant Joe Cavinato and continuing to write about successes and lifetime achievements. We were "on the scene" for ISM's annual conference, ISM World 2021 — a virtual event, it featured panel discussions, seminars, networking and keynote speakers.
At the end of business Thursday, ISM begins its end-of-year close; we'll be back on January 3. Before we go, Inside Supply Management® presents its sixth annual "holiday card" to readers: work from the previous 12 months that we're most proud of. These articles from the magazine (available to ISM members) and e-newsletter (available to all readers) are worth revisiting or discovering in case you missed them:
"An Unavoidable 'Global Threat'," March/April issue. With no escape from extreme-weather events that cause disruptions — and worsen others — supply chains must be more resilient and responsible to combat the unprecedented risk of climate change.
"Fulfilling Future Needs," May/June issue. As supply management roles evolve and become more strategic, such skills as collaboration, communication, analytics capabilities and business acumen are necessary to increase the function's value and impact.
"An Overdue Audible on Risk," September/October issue. With global supply chains leaving them unable to cover the entire field against disruptions, procurement organizations are preparing a new playbook — and could be ready to go on offense.
"A Sustainable Pay Structure," September/October issue. Companies strengthening commitments to environmental, social and governance (ESG) initiatives are increasingly linking executive compensation to their success — a dynamic that likely won't stop at the top.
"Making 'Made in the USA' a Competitive Advantage." September/October issue. The need to assure supply continuity, quality and service, as well as control costs, is driving supply management organizations to explore sourcing nationally.
"Infrastructure Rx: Beyond a Bandage," November/December issue. The nation's transportation and supply chain ailments have been worsened by the coronavirus pandemic, but will proposed legislation in Washington be a step in providing transformative treatment?
#ISMPMI indexes measure monthly rate of change, so perspective is necessary as the #economy returns from #COVID19 depths. But the last time the Manufacturing PMI® was this high was December 1983; here's the soundtrack for the week that report was released. https://t.co/R7TpJEVXV3 pic.twitter.com/uyNk91TBFb

— Dan Zeiger (@ZeigerDan) April 1, 2021
In our Inside Supply Management® Weekly e-newsletter, the ISM® Report On Business® Roundups continued to gauge reaction to the monthly release of the Manufacturing PMI®, Services PMI™ and Hospital PMI™; The Monthly Metric kept examining analytics that help supply managers make critical decisions; and we examined such pandemic-intensified challenges as managing talent shortages and supplier risk management.
When Inside Supply Management® returns to work, we'll be ready to push the button on the January/February issue, themed, "COVID-19: Two Years Later — Where Are We Now?" The edition features our annual economic outlook and articles on inflation, supplier diversity, as well as a look at where the supply management profession is now.
We wish you a happy — and most importantly, safe — holiday season. See you in 2022.