Supply Chain — Unfiltered, The Podcast
Where peers are saying what you're already thinking!
In 20-to-30-minutes our podcasts put supply chains front and center where they belong. Join us while we address the challenges of the profession, ask the big questions and learn new technologies while living in the trenches of the supply chain world.
You'll hear from industry experts who live and breathe it. The content isn't rehearsed or forced. It's real, raw, and transparent.
Discussions will cover planning, logistics, procurement, sustainability and social responsibility, all areas of risk, talent management, industry research and topics from you. Make some time, take a break, laugh and have some fun as we explore how we succeed together.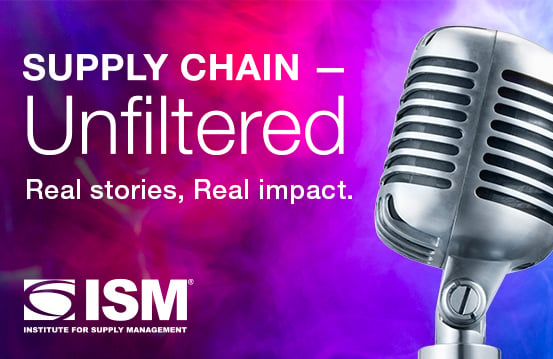 Check out our Latest Shows!
This episode features a deep dive into ISM®, our breadth of available resources and how we optimize supply chains and their talent, end-to-end.
Listen
Female practitioners share personal stories revealing gender inequity and why voicing confidence opens the right doors.
Listen
We would like to hear from you.
Let us know which podcast topics you are most interested in learning about.