Semiannual Forecast Signals Growth Amid Continuing COVID-19 Challenges
December 13, 2021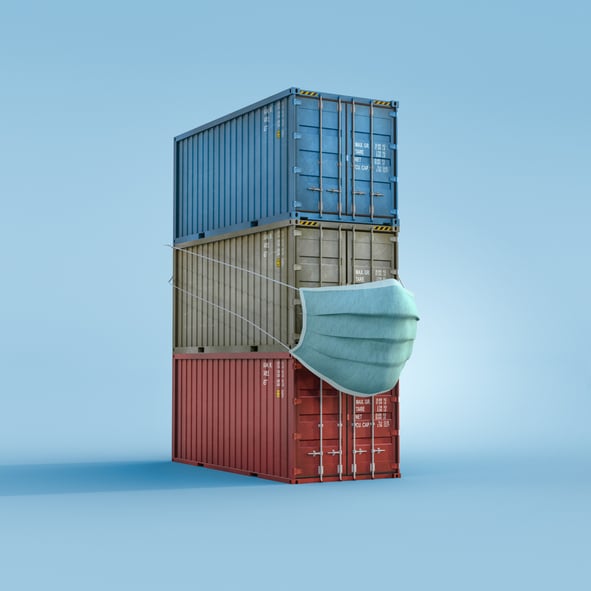 In the last year, Institute for Supply Management®'s (ISM®) Semiannual Economic Forecast has served as a barometer for how close the nation is to a pre-coronavirus pandemic normal, according to those on the front lines of the U.S. economy: purchasing and supply management executives.
Many of the headline numbers in the December 2021 Forecast, released on Monday, would have been indistinguishable from those in reports prior to COVID-19 being unleashed on the world. ISM's Business Survey Committee respondents expect production capacity, capital expenditures, revenues and employment to rise next year — sentiment consistent with recent monthly editions of the ISM® Report On Business®, including a Services PMI® that has set a record high five times in 2021.
Current operating rates — which measure how close a factory or business is to its maximum production level — are 88.7 percent in manufacturing and 89.4 percent in services; both figures exceed those reported in December 2019, indicating that more is being done with less. That's because such pandemic-related supply chain challenges as transportation bottlenecks and product and labor shortages continue, meaning normalcy remains elusive.
"The pandemic definitely derailed things," Anthony Nieves, CPSM, C.P.M., A.P.P., CFPM, Chair of the ISM Services Business Survey Committee, told Inside Supply Management® in the days before the Forecast's release. "But the stimulus money has contributed immensely, and the pent-up demand has created a demand-pull environment. And companies are trying (to adjust) to offset the challenges of availability of goods and the longer delivery times for them."
The Forecast findings were reported by Nieves and Timothy R. Fiore, CPSM, C.P.M., Chair of ISM's Manufacturing Business Survey Committee. Regarding the overall outlook for next year, 46 percent of manufacturing executives expect business conditions to be better, and 40 percent the same. In services, those figures are 47 percent and 33 percent, respectively.
That calculates to a diffusion index (designed to gauge the degree of sentiment among Business Survey Committee respondents) of 66.2 percent in manufacturing and 63.3 percent in services, both below the outlook for 2021. However, Fiore told Bloomberg Radio on Monday, "(Those figures are) really strong and indicate things will continue at a pretty good pace through the next 12 months. A diffusion index above 60 is really positive."
After business revenues increased by 14.1 percent this year, manufacturing executives expect slower growth in 2022. They project a 6.5-percent net increase for the year, in line with expectations that, if COVID-19's grip loosens and consumer hesitancy eases, purchasing will shift from manufacturing to services. Fifteen of 18 manufacturing industries project higher revenues, with Apparel, Leather & Allied Products; Machinery; Computer & Electronic Products; Fabricated Metal Products; Transportation Equipment expressing the most growth confidence.
Services executives reported a 4.8-percent revenue increase in 2021 and project a 4.3-percent hike next year. Seventeen industries project revenue growth, with Mining; Accommodation & Food Services; Information; Arts, Entertainment & Recreation; Finance & Insurance expecting the largest increases. In other issues:
Prices. As inflation continues to dominate headlines, prices increased 14.5 percent this year in the manufacturing sector and 10.4 percent in services. The rate of prices growth is expected to slow in 2022, as manufacturing projects hikes of 8.1 percent, services 9.2 percent.
Respondents were asked about their success in passing price increases along to customers, and manufacturing executives have had more success — 64 percent answered affirmatively, compared to 43 percent in services.
Employment. While executives in manufacturing and services project a slight increase in employment next year, filling positions in a workers' market remains a challenge: 81 percent of respondents in both sectors indicated hiring difficulties. In response, nearly half (43 percent in manufacturing and 44 percent in services) have raised wages or other compensation.
"Companies are having to hire people not only to meet demand, but because people quit (to take another position)," Fiore told Inside Supply Management® before the release of the Forecast. "The backfills have really gained momentum as people are chasing wages. Instead of hiring on person, you have to hire two, because someone quit."
Supply chains. In response to special question, Business Survey Committee members were not overly optimistic that supply chain conditions would improve during the first six months of 2022. In manufacturing, 70 percent of respondents expected conditions to be the same or worse during the second quarter, compared to 79 percent in services. That translates to diffusion index readings of 50.1 percent and 43.7 percent, respectively.
For more on the supply management profession's outlook for the U.S. economy in 2022, as well as how executives and practitioners are dealing with commodities inflation, see the January/February issue of Inside Supply Management®.
(Image credit: Getty Images/TimandTim)