ISM World 2021: Indra Nooyi on Supply Chains, Leadership and Workplaces
May 18, 2021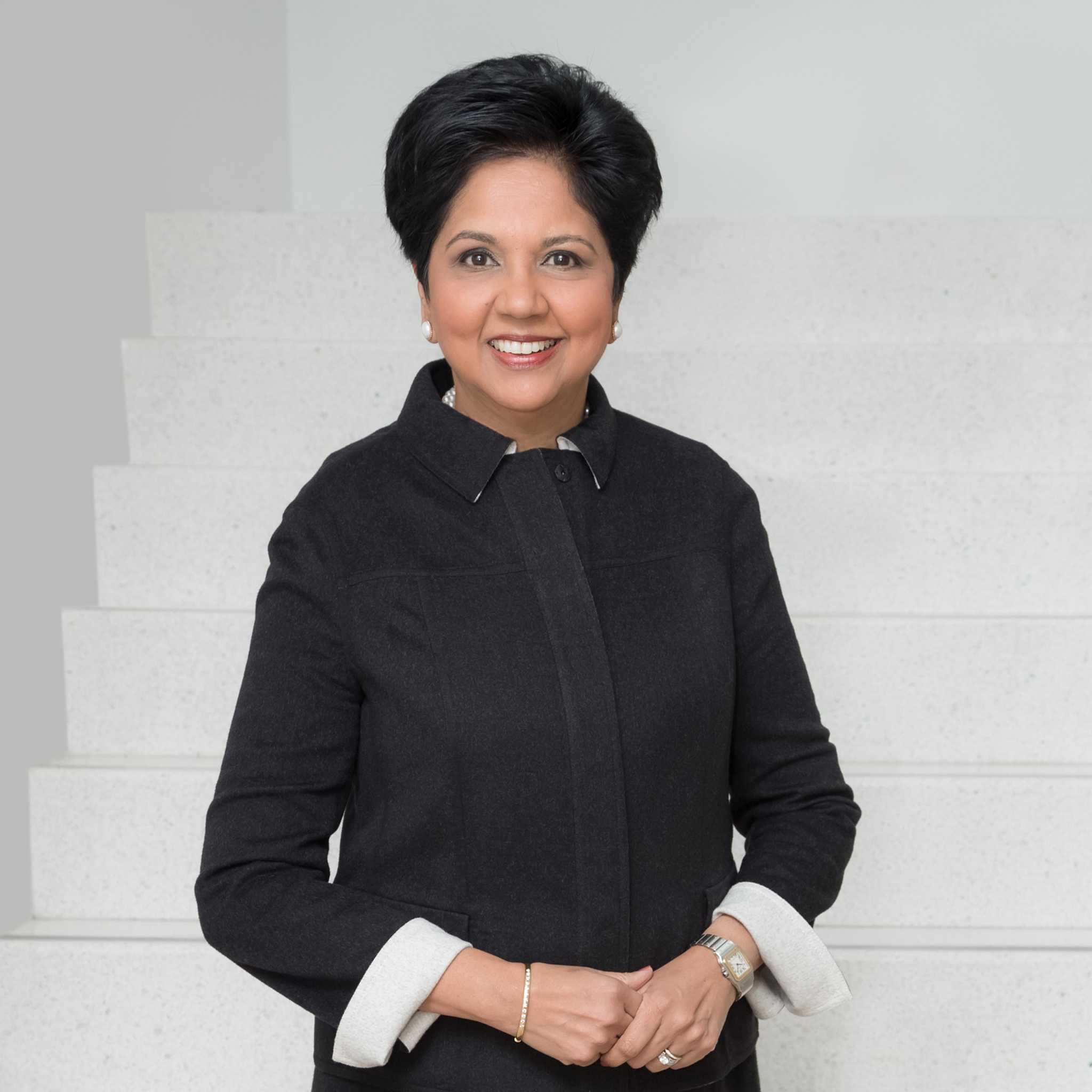 While supply chains represent the biggest cost to a company, they also represent the biggest opportunity: "They are the route to innovation as well as the route to customer dissatisfaction if we don't do it well," Indra Nooyi, chair and CEO of PepsiCo from 2006-18, said during Tuesday's opening keynote session at ISM World 2021, Institute for Supply Management®'s 105th Annual Conference.
Nooyi, who spoke in a fireside-chat format with ISM CEO Thomas W. Derry, called PepsiCo "one big giant supply chain." She elaborated: "Most of our costs are in the supply chain. I would argue that in most manufacturing companies, supply chain costs are the single biggest component of the cost structure. Supply chain people are the most important people in terms of whether a company delivers its promise to consumers and delivers its numbers. Yet, I would also argue supply chain is the most underrated function."
Before she became PepsiCo's CEO in 2006, Nooyi already had been looking into consumer and business trends as well as workplace issues. She saw a trend toward "good for you" products and environmental sensitivity. She also saw people struggling with family issues — finding child care or helping elderly parents. So, she started thinking how PepsiCo could become a more responsible company. "My hope was that by becoming a more responsible company, we could keep delivering profits for a longer period of time," she said.
During her tenure, Nooyi was the chief architect of PepsiCo's Performance with Purpose initiative, promoting human, environmental and talent sustainability through such efforts as shifting the company's portfolio to healthier products, reducing plastic use, increasing recycling efforts, reducing water consumption in its facilities, using hybrid trucks and "treating employees as individuals and assets of the company, not as tools of the trade," Nooyi said. "When you hire a person, you don't hire an individual, you hire a family, you hire the community that comes behind it."
The initiative, Nooyi said, "was driven by economics, but also an incredible sense of purpose, because PepsiCo, at its core, is a performance-driven company. I didn't want to give that up." If those areas were addressed, she added, "we could deliver great performance, and if we delivered great performance, we could fund these initiatives." The upshot: "We wanted to change the way we make money," she said.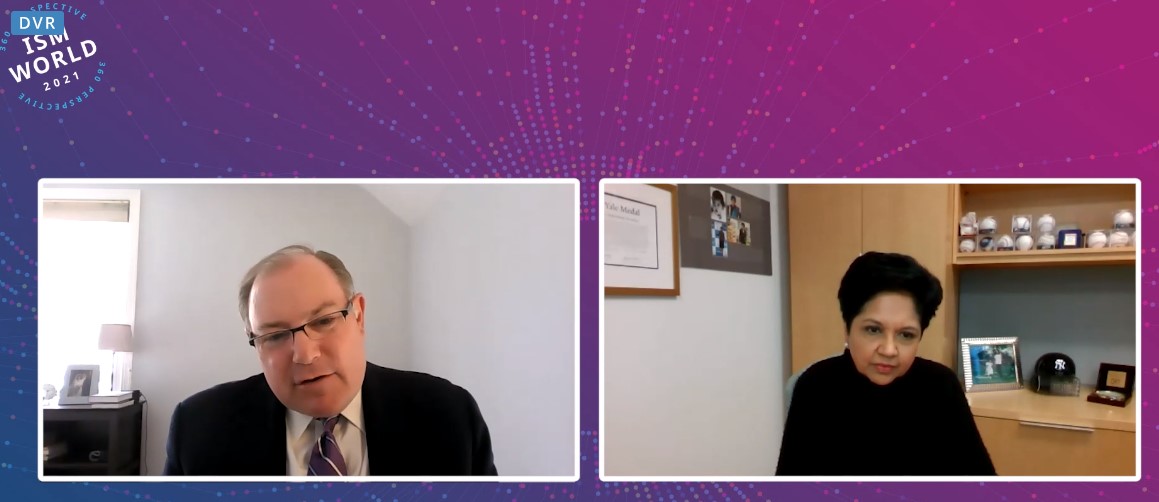 Indra Nooyi speaks with Institute for Supply Management® CEO Thomas W. Derry during the opening keynote session of the ISM World 2021 Annual Conference.
Among other topics, Nooyi also discussed how companies need to (1) make sustainability more community-oriented, (2) increase family support measures, like paid family leave, and (3) offer flexible working conditions, the importance of which has been brought to light during the coronavirus (COVID-19) pandemic.
Supply chain challenges, like supply and capacity problems, that occurred during the pandemic, are causing — or should cause — companies to rethink their supply chains and the products they offer, she said. Product optimization doesn't have to mean fewer options for the consumer; rather, it could mean offering a base product that could be used in several ways. "It's a huge opportunity for people to completely rethink how they can make the supply chains even more efficient by decoupling complexity and delivering it differently," she said.
Nooyi, who, during the past year, has served as co-chair of the Reopen Connecticut Advisory Group, also talked about how the pandemic has highlighted what makes a great leader. "I had a front-row seat for managing through the pandemic," she said. "You study real leadership in moments of real crisis."
Among Nooyi's observations about leadership through the pandemic:
"Leaders, in moments of crisis, become students," she said. "They have to understand the issues in great detail. … If you don't understand what you're leading, you'll make a mistake. So, you have to have humility to come down from your perch and be a student."
Leaders surround themselves with experts. This can be uncomfortable for leaders, as they in essence tell the experts that they know more, she said.
During crises, leaders must put their organizations and communities before themselves.
Leaders must remain calm and balanced, but realistic.
They accept failure for what went wrong — and think ahead and build a foundation for the future.
"Leaders have to have a microscope-telescope view in their head," she said. "In moments of crisis and disruption, you can separate great leaders from OK leaders."