Inside Supply Management Magazine
Procuring a Preview: September Issue
September 13, 2018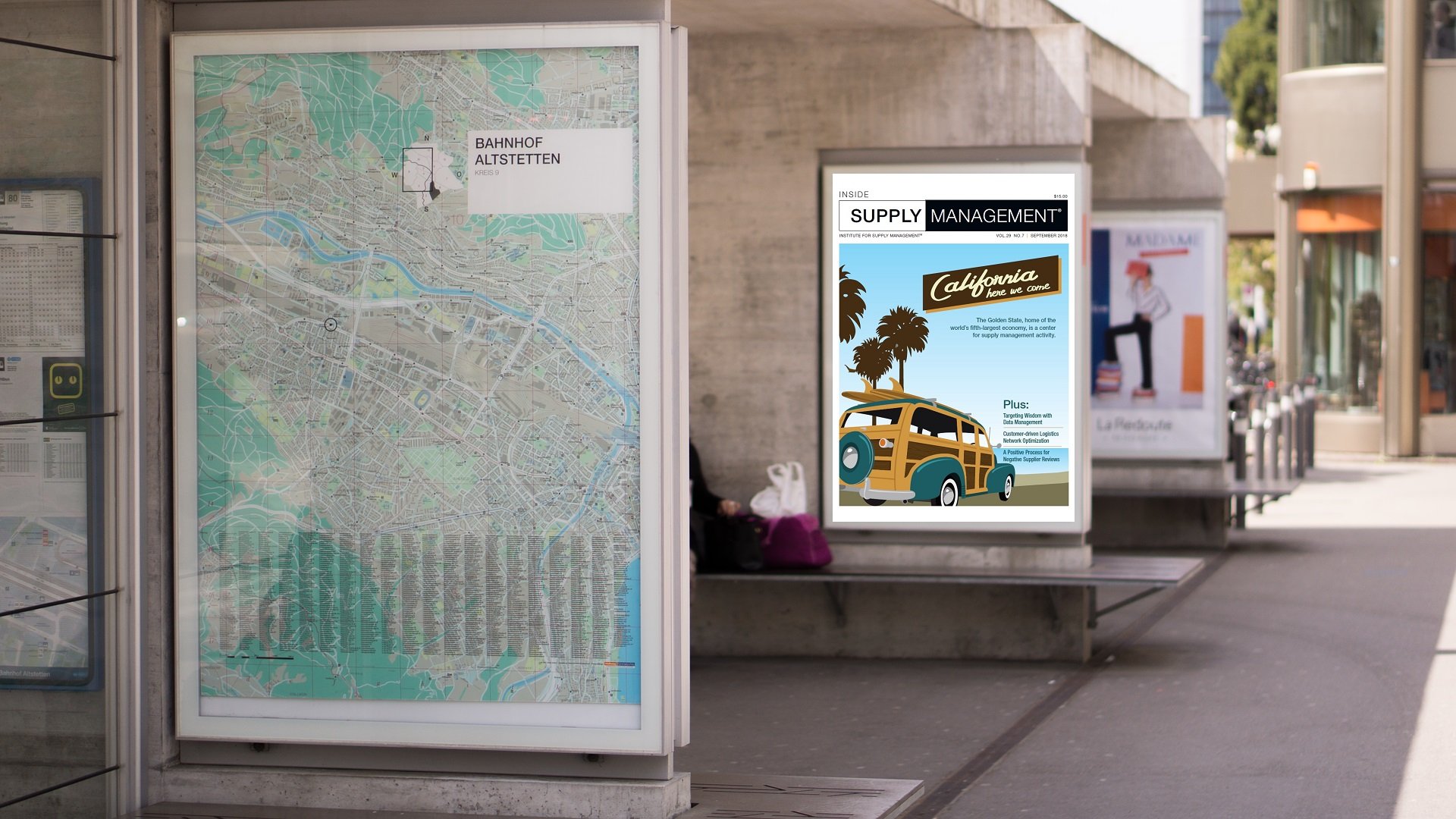 Check your inboxes and mailboxes soon for the September issue of Inside Supply Management®, published by Institute for Supply Management® (ISM®).
In this issue:
●When it comes to supply management, California has it made: The nation's two busiest container ports, a large manufacturing presence, highways and railroads that connect the state to the rest of the country, warehouse space and more. Read all about how the Golden State is a supply management haven in "California, Here We Come" by senior writer Sue Doerfler.
●Because they don't know which data to consider, supply management organizations tend to collect as much data as they can, whether useful or not. In "The Wisdom Side of Data Management," Deepak Nair, global category manager, logistics infrastructure for corporate procurement at Chevron Corporation, discusses how focusing on desired outcomes can help supply managers achieve better data management as well as more value.
●In "Setting a Course for Logistics Network Optimization," Doerfler writes about how smaller-scale logistics network optimization projects that are done periodically can be an effective weapon for creating more efficiency and value than costly larger-scale projects done only occasionally.
Plus, don't miss our columns and departments that detail supply management trends, issues and more.
In the Competencies column, Ernest Gabbard, C.P.M., discusses how to make risk management a business imperative. He offers a six-step process that can help organizations identify and mitigate supply chain risks.
Cost savings is always important to supply management organizations. But in this month's Research column, writer Roberta J. Jenkins delves into other ways in which organizations can add value. Among the measures: forecasting accuracy.
Perspectives author Teresa Collins, CPSM, CPSD, C.P.M., talks about similarities and differences between public and private procurement. Find out what supply chain concern keeps her up at night as well as the best career advice she's received.
In the Voices column, Charlotte de Brabandt, the Megawatt Star of 2017 in ISM and Thomas's 30 Under 30 Rising Supply Chain Stars program, explores the concept of continuous learning. She mentions three critical elements: the right goals, the right purpose and the right people.
Instead of ignoring negative reviews of potential suppliers, supply management practitioners become investigators: They want to learn what's behind the comments and whether their organizations would be impacted by working with the supplier. Read more is the Insights column by By Michelle D. Steward, Ph.D., James A. Narus, Ph.D. and Michelle L. Roehm, Ph.D.
Finally, check out our usual array of critical information, including the latest ISM® Report On Business®, international news on the Markets pages and the JIT and Point2Point departments.