Report On Business® Roundup: May Manufacturing PMI®
June 01, 2022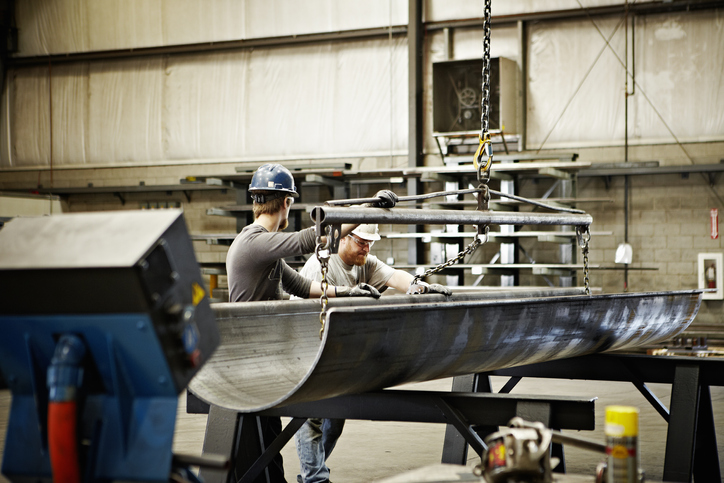 Another noisy day in the U.S. economy on Wednesday featured a federal report that job openings still outpace available workers, continuing concerns about supply chain disruptions stemming from COVID-19 shutdowns in China and the war in Ukraine, and more anxiety about likely interest rate increases.
Amid all that activity, the Manufacturing ISM® Report On Business® for May was released. It's a sign of the times that the composite PMI® reading of 56.1 percent exceeded analysts' expectations and the overall report contained no recession red flags — more on that later — but market reaction was tepid to negative, as investors considered how the U.S. Federal Reserve would interpret the data.
May ISM Manufacturing at 56.1, hotter than 54.5 consensus. Economy strong. Economic data tricky for stocks: has to show continued growth, but not too much growth. Too much growth = Fed keeps tightening. Too little or contraction = stagflation worries. Need Goldilocks!@CNBC

— Bob Pisani (@BobPisani) June 1, 2022
For Timothy R. Fiore, CPSM, C.P.M., Chair of the Institute for Supply Management® Manufacturing Business Survey Committee, perhaps the biggest takeaway from the data was that demand rebounded in May after slower growth the previous month.
Among the subindexes that gauge demand, the New Orders Index rose 1.6 percentage points to 55.1 percent, the Customers' Inventories Index dropped 4.4 points to 32.7 percent, the Backlog of Orders Index increased 2.7 points to 58.7 percent and the New Export Orders Index was up 0.2 point to 52.9 percent. (The New Orders Index directly factors into the Manufacturing PMI®; the other subindexes do not.)
"Of those four indexes, maybe the only one you can give an asterisk is New Export Orders because China isn't completely back up and running yet, and Europe is a little frozen because of what's happening in Ukraine," Fiore told a conference call of reporters on Wednesday, emphasizing a point he made earlier in an interview with Bloomberg TV. "But demand is good. Some (Business Survey Committee) comments indicated sectors where there are signs of demand softening, so we'll have to keep (watching) that."
Nonmetallic Mineral Products, Chemical Products and Fabricated Metal Products are potentially impacted industries, Fiore said, a reflection of easing demand for building materials with temperatures dropping for the U.S. housing market following interest rate hikes. "It's not a contraction, just the quantity of orders slowing a bit," he said. "We all knew what was going to happen with housing once the Fed took action, and this is an indication of that."
The Employment Index registered 49.6 percent to fall into contraction territory for the first time since November 2020. (Last August, the index was at the breakeven point of 50 percent.) It contracted "for the wrong reason," Fiore said — respondents noted a greater ease in hiring in May, but companies still couldn't keep up with quits, retirements and other employee turnover.
That sentiment wasn't out of line with the most recent Job Openings and Labor Turnover Survey (JOLTS), which on Wednesday revealed that while U.S. job openings fell in April, the gap between openings and available workers remains historically high.
Bump up for May ISM Manufacturing at 56.1 vs. 54.5 est. & 55.4 in prior month; new orders up to 55.1 vs. 53.5 prior; prices paid down slightly to 82.2 vs. 84.6 prior … unfortunately, employment dropped into contractionary territory pic.twitter.com/AWf4VulCfM

— Liz Ann Sonders (@LizAnnSonders) June 1, 2022
The Imports Index (48.7 percent) contracted in May, in big part because of the Chinese supply chain snarls. But Fiore said the biggest impact is to come: As production and loading restrictions loosen in China, a parade of container ships heads toward the U.S. West Coast — not only challenging ports, but Business Survey Committee respondents as they try to track their shipments.
"We predicted that late May and early June was when we'd start to see the impact," Fiore said, "but the worst of it is … when there are 50 or 60 ships off the West Coast." He added, "I'm sure by the time we hit July, it will be a headline," especially with a potential work disruption as the International Longshore and Warehouse Union and Pacific Maritime Association strain to reach a labor agreement.
There's a lot to digest in the Manufacturing ISM® Report On Business®, but Fiore said — as ISM's Business Survey Committee Chairs indicated after the April reports, as well as the ISM Spring 2022 Semiannual Economic Forecast — there are no signs of a looming recession. "We're looking for indicators," he said. "We're always looking for indicators, obviously. But I feel really good about this report."
He concluded: "We're 24 months into this economic expansion cycle, the average is 34, and I expect at least 42 or so, as long as interest rates don't really step up."
Nothing about that ISM Manufacturing report suggests recession or even any kind of slowdown at all.

Employment falling below 50 is notable tho. There is an emerging theme of firms saying they've reached a comfortable staffing level even as demand remains quite hot.

— Tom Graff🇺🇦 (@tdgraff) June 1, 2022
The Report On Business® roundup:
Agence France-Presse: U.S. Manufacturing Activity Accelerated In May. "The COVID-19 lockdowns in China have been exacerbating shortages experienced in recent months of the pandemic, fueling the global inflation surge. However, the ISM survey showed the prices index fell for the second straight month to a still-high 82.2 percent, in a sign (that) pressures may be easing. The index has been above 70 percent in 17 of the past 18 months."
Associated Press: Stocks Fall as Data Shows Aggressive Growth for Economy. "Stocks weakened after a report showed that manufacturing growth in the U.S. accelerated last month, contrary to economists' expectations for a slight slowdown. Institute for Supply Management®'s manufacturing index came in at a reading of 56.1 (percent), above forecasts. While that's a good sign for an economy where investors are worried about the possibility of a recession, it also likely keeps the Federal Reserve firmly on its path to hiking interest rates sharply."
"Holding up well, but likely to soften over the summer" @IanShepherdson on U.S. ISM Manufacturing #PantheonMacro

— Pantheon Macro (@PantheonMacro) June 1, 2022
Bloomberg: U.S. Manufacturing Growth Unexpectedly Firms on Stronger Orders. "The report also points to lingering capacity constraints related to labor, shipping delays and materials shortages. ISM's measure of factory employment drifted into contraction territory for the first time since November 2020, and the group's gauge of delivery performance, despite settling back some, remained elevated. … The ISM index of factory inventories advanced to the highest since November, as purchasing managers strive to ensure their firms have enough finished product on hand in a still-challenging logistics environment."
Mace News: Manufacturing Growth Edges Up in May; Labor Shortages, Supply Delays Linger. "There is an "early indication" that tightening by the Federal Reserve is causing "some softening of demand" but demand still high, (Fiore) said. Orders books are filled but not expanding so much any longer, he explained. Fiore estimated that about 25 percent of the manufacturing sector (mostly chemical firms and fabricated metal producers) are feeling signs of softer demand."
Manufacturers remain challenged by supply chains, workforce shortages, soaring costs and geopolitical uncertainties. Respondents noted strength in demand but also lingering problems with supply chains, including the COVID-19-related shutdowns in China, and inflationary pressures.

— Chad Moutray (@chadmoutray) June 1, 2022
MarketWatch: ISM Manufacturing Index Shows Stronger Activity in May. "Given the weakness in the regional manufacturing surveys in May, economists polled by The Wall Street Journal had forecast a decline to 54.5 percent. … All of the six biggest manufacturing industries registered moderate-to-strong growth in May. Manufacturing improved even though global supply chains have dampened activity."
Reuters: U.S. Manufacturing Sector Regains Speed in May. "Demand for goods remains resilient even as spending is shifting back to services like travel, dining out and recreation. Goods spending surged as the COVID-19 pandemic restricted movement. ... Manufacturing has been constrained by snarled supply chains, which have been further entangled by Russia's unprovoked war against Ukraine and new shutdowns in China as part of Beijing's zero COVID-19 policy."
ISM's Services PMI® will be unveiled on Friday, and the Hospital PMI® on Tuesday. For the most up-to-date content on the reports under the ISM® Report On Business® umbrella, use #ISMPMI on Twitter.
(Photo credit: Getty Images/Thomas Barwick)