Report On Business® Roundup: April Manufacturing PMI®
May 02, 2022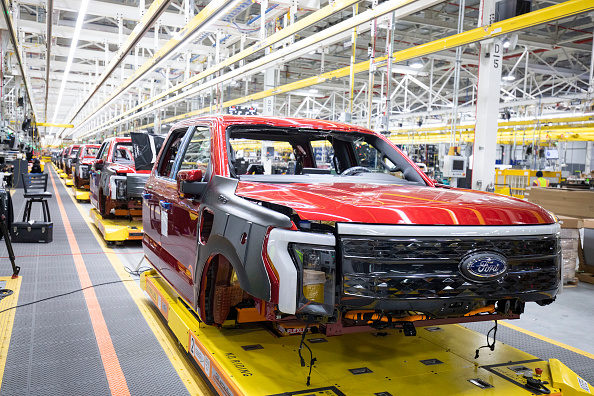 The ISM® Report On Business® data has many moving parts, so seizing on a single index reading — especially considering the hourly ebbs and flows of markets, or when looking through a political lens — and insisting broad, authoritative meaning for the overall U.S. economy can be a fool's errand.
The Manufacturing PMI® of 55.4 percent in April missed analysts' expectations and caused some immediate indigestion on Monday. Off the heels of last week's report by the U.S. Commerce Department that first-quarter gross domestic product (GDP) shrank by 1.4 percent, the lowest Manufacturing ISM® Report On Business® composite-index reading since July 2020 (53.9 percent) fueled concerns of a looming recession.
ISM #manufacturing thread:

Manufacturing activity slowed in April as the sector grappled with challenges related to supply chains, workforce shortages and soaring costs and with uncertainties related to the Russian invasion of Ukraine and to COVID-19 shutdowns in China. pic.twitter.com/HJTsZ4aEFs

— Chad Moutray (@chadmoutray) May 2, 2022
However, many economic indicators reflect the continuing parade of supply chain-impacting global events since 2017, with the COVID-19 shutdowns in China the latest. Those shutdowns impacted U.S. factories in April (which we'll discuss in a moment), but there are no recession red flags in the Manufacturing PMI® data, said Timothy R. Fiore, CPSM, C.P.M., Chair of the Institute for Supply Management® Manufacturing Business Survey Committee.
"The demand sentiment is still overwhelmingly positive, though the numbers are lower than they've been in recent months because buyers are concerned about prices and supplier deliveries," Fiore told a conference call of reporters on Monday. "So, many buyers are putting off (purchases) for as long as they can. But it's not an issue of demand." He reiterated this view in an interview with Bloomberg TV.
In April, the three subindexes Fiore relies on to gauge demand remained at levels conducive for future production demand: The New Orders Index registered 53.5 percent, down 0.3 percentage point from March's figure; the Backlog of Orders Index was at 56 percent, a decrease of 4 percentage points; and the Customers' Inventories Index reading of 37.1 percent was up 3 percentage points.
The Customers' Inventories Index basically measures the amount of shelf space used, and 21 straight months of readings below 40 percent indicate products ae not staying on shelves for long. "There are no indications of softening demand," Fiore said. "All three of those indexes are performing very well."
As Fiore regularly says, if demand remains strong, the manufacturing sector can work through any other issues. And there are issues. Most concerning to Fiore are the COVID-19 lockdowns in China that have limited production and resulted in lines of ships waiting outside that country's ports — more than 500 in mid-April, according to Windward, a London-based shipping analytics firm.
When those vessels finally loaded, Fiore says, that parade will likely move toward ports on the U.S. West Coast, creating a glut similar to that of last summer and fall. "That could be a real headwind for (supply and demand) equilibrium," Fiore said. "To get that equilibrium, transportation needs to stabilize, and a rush on ports will stress inland rail and trucking. There could be a big impact in May and June." That could further lengthen average lead times that were at historically high levels in April.
Average lead time (between order placement and receipt) in April set or matched all-time marks in two — Capital Expenditures (173 days) and Production Materials (100 days) — of three categories. MRO Supplies was 49 days, one shy of record. https://t.co/GgnrpbKE4b #ISMPMI #economy pic.twitter.com/3BWJj2cz4x

— Institute for Supply Management (@ism) May 2, 2022
The Employment Index received much focus, as its 5.4-percentage point decrease to 50.9 percent in April fueled much of the PMI®'s decrease. However, context is critical: The index reflects not only employment levels but also companies' success (or lack of) in filling open positions. Companies are eager to hire, Fiore says, but amid the Great Resignation, they can't keep up with vacancies resulting from retirements or employees leaving for other jobs.
"Hiring managers can't make the incremental head-count gains month-to-month, and that's why there was a softening (in the index)," Fiore said. "There's no indication that hiring is stopping at all, but just 1 percent of respondents' comments indicating greater hiring ease, compared to 12 percent in March."
While the Prices Index fell 2.5 percentage points in April, it remained at a still-lofty 84.6 percent — a level that is unsustainable, wrote a Business Survey Committee respondent in Chemical Products: "Inflation is out of control. Fuel costs, and therefore freight costs, are leading the upward cycle. At some point, the economy must give way; it will be tough to have real growth with such pressure on costs."
However, the respondent continued: "Despite the issues … business remains brisk." And once again, that indicates healthy demand — the biggest buoy and most critical moving part for the U.S. manufacturing economy.
The US ISM manufacturing index was dragged down by weak production, new orders and employment. It could be that global themes are really weighing. Plunging Chinese surveys underscore the supply chain problems that will constrain US growth and keep inflation elevated. pic.twitter.com/hUtz4TiGY3

— James Knightley (@Knightleyeco) May 2, 2022
The Report On Business® roundup:
Barron's: Manufacturing Growth Slows to Lowest Level in Almost Two Years. "The manufacturing sector is still growing but more slowly, new numbers show — a sign that surely won't comfort investors already worried about a recession. (ISM) correlates its reports to growth in the gross domestic product, or GDP. The 55.4 (percent) level correlates to (gross domestic product) growth of about 2.3 percent. A year ago, the reading of 60.7 correlated to 5-percent growth in GDP."
Bloomberg: U.S. Manufacturing Gauge Unexpectedly Falls to Lowest Since 2020. "The figure was weaker than all but one estimate in a Bloomberg survey of economists, which had a median projection of 57.6 (percent). The latest data underscore the impact from lingering supply constraints, made worse by restrictive COVID-19 measures in China. Measures of both new orders and production dropped to their lowest levels since May 2020, though remained above the threshold that indicates growth."
Mace News: Manufacturing Growth Slows in April on China Lockdowns, High Prices. "For the latest month, (Fiore) noted that progress slowed in solving labor shortage problems at all tiers of the supply chain. 'Panelists reported higher rates of quits compared to previous months, with fewer panelists reporting improvement in meeting head-count targets,' he said."
#ISM indicates #manufacturing sector is growing more slowly. Prices are still elevated but the index is down from last month. pic.twitter.com/2rXJJYPcBH

— Kathy Jones (@KathyJones) May 2, 2022
MarketWatch: 'Inflation is Out of Control:' U.S. Factories Grow at Slowest Pace in 18 Months as Labor and Supply Woes Fester. "Manufacturers still have plenty of demand for new cars, appliances, metal parts and other industrial goods. Yet they are still struggling to obtain enough supplies on time and labor and material prices are rising due to the highest inflation in 40 years. COVID-19 outbreaks in China and the war in Ukraine are adding to the strain."
Reuters: U.S. Manufacturing Sector Slows Further; Factory Workers Quitting. "Economists polled by Reuters had forecast the index rising to 57.6 (percent). The second straight monthly decline in the index also reflects spending rotating back to services like travel, dining out and recreation. Government data on Friday showed consumer spending on services increasing by the most in eight months in March, while outlays on long-lasting manufactured goods dropped for a second consecutive month."
The Wall Street Journal: Manufacturers Could Soon Face Demand Woes on Top of Supply-Chain Snarls. "Moreover, inventories are still very low, so parts and components manufacturers, in particular, might continue to see strong demand as their customers stock up. In April, 36.3 percent of manufacturers responding to the ISM's survey said customers' inventories were too low, versus just 10.5 percent who said they were too high. Factories' day in the sun isn't over just yet, but they might be closer to dusk than to dawn."
ISM's Services PMI® will be unveiled on Wednesday, and the Hospital PMI® on Friday. For the most up-to-date content on the reports under the ISM® Report On Business® umbrella, use #ISMPMI on Twitter.
(Photo credit: Getty Images/Bill Pugliano)