Continuing Port Disruptions Cause 'Bullwhip' Concerns
August 17, 2021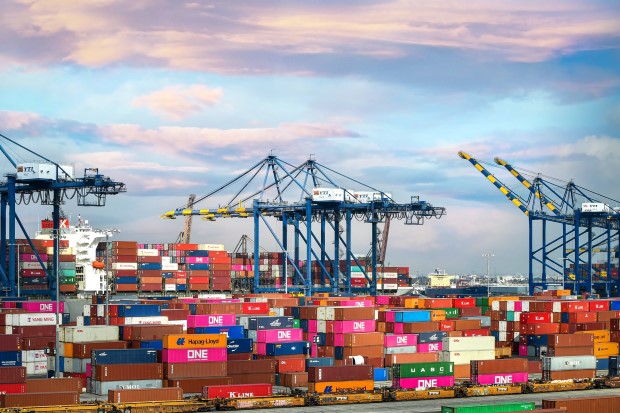 The tidal wave of growth in e-commerce that became a tsunami during the coronavirus pandemic has begged the question: Is there such a thing as a peak shopping and shipping season anymore?
As consumer demand continues unabated and cargo cannot move fast enough, port congestion and transportation delays have raised chatter of a "bullwhip effect" on inventories. In recent weeks, as COVID-19 has wreaked more havoc on vital Chinese ports, which will be felt throughout supply chains — just in time for what, under normal business conditions, is considered traditional peak retail season.
"The record volume of cargo is driven by a surge in imports," Mario Cordero, executive director of the Port of Long Beach, said during a press conference on August 5. "Consumer spending started increasing in 2020, and lately it has slowed down a bit. Still, home exercise equipment, new appliances and other goods are in high demand even as spending on services starts to increase. We (expect) shippers will need to move high volumes to accommodate consumer demand for imports."
A record number of containers were handled at the Port of Long Beach in July; the 784,845 20-foot equivalent units (TEUs) processed were a 4.2-percent increase over the same month a year ago. Imports accounted for 382,940 TEUs, up 1.6 percent year over year.
The July container traffic at nearby Port of Los Angeles had not been announced as of Monday, but the June figure of 876,430 TEUs was a record for that month and a year-over-year increase of 27 percent. "Fall fashion, back-to-school items and Halloween goods are arriving on our docks, and some retailers are shipping year-end holiday products early," Port of Los Angeles executive director Gene Seroka said in a press release.
Seroka added, "All signs point to a robust second half (of the year)." For evidence, all Seroka had to do was point to the water, where a line of ships awaited berth — a traffic jam that has been a daily occurrence in recent months. According to the Marine Exchange of Southern California, 37 container ships drifted offshore at the ports of Los Angeles and Long Beach on Saturday, just three below the high in February.
COVID-19 Cracks Whip on Ports
Some of the summer backlog — a disruption called "worse" than the Suez Canal blockage in March — was due to ships delayed by the partial closure of China's Yantian port in June, following reports of a nearby COVID-19 outbreak. Last week, the Ningbo-Zhoushan port, the world's third largest, partially closed after a worker at the terminal servicing shipments to the U.S. and Europe contracted the virus.
"Any disruption of ports of origin (in Asia) has a domino effect," Cordero said. "I wish we could say this is over, but it's not."
Which fuels fears of a bullwhip effect, which Institute for Supply Management®'s (ISM®) Glossary of Key Supply Management Terms defines as the "increase in the variability of orders upstream from retailer to wholesaler to distributor to factory, even when the actual customer demand is fairly stable." Such order variability can have a bullwhip effect on supply chains in the form of longer lead times, price increases and inventory uncertainty.
Yossi Sheffi, Ph.D., Elisha Gray II professor of engineering systems at the Massachusetts Institute of Technology in Cambridge, Massachusetts, wrote in his book The New (Ab)Normal: Reshaping Business and Supply Chain Strategy Beyond Covid-19: "During the pandemic many industries reduced their orders and suppliers reduced their orders and capacity even further," due to an expected reduction in future orders.
He continued, "When the economy came back, there was no capacity to snap right back. On top of it, ports got congested and we have transportation problems."
The Impact on Inventories
During the pandemic, inventories have fluctuated so much that a monthly chart could resemble, well, a cracking bullwhip. A look at the ISM® Report On Business® Inventories Index for Manufacturing and Services reveals that, while the monthly shifts aren't dramatic, both have vacillated between expansion (an index reading above 50 percent) and contraction.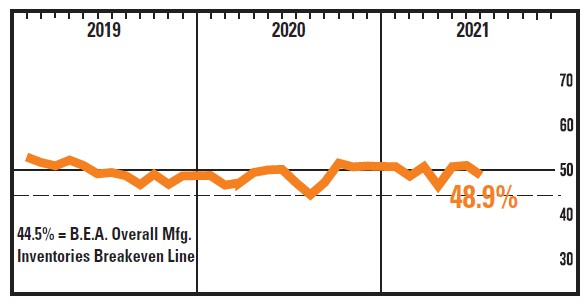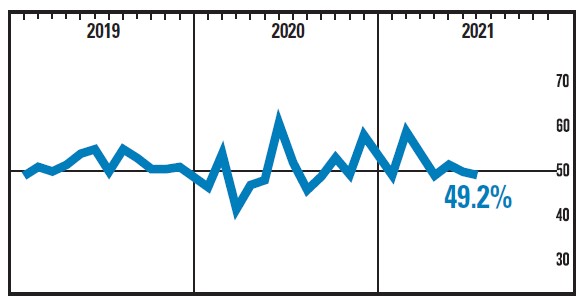 In July, the Inventories Index registered 48.9 percent in Manufacturing (top) and 49.2 in Services. An ISM Services Business Survey Committee respondent wrote, "Ocean freight costs have created a negative impact to our business. The congestions at (the ports of) Long Beach/Los Angeles and Seattle have increased lead time by 15 days. Additional delays are occurring at the Chicago rail yard, (causing) two to three weeks of additional lead time."
Timothy R. Fiore, CPSM, C.P.M., Chair of the ISM Manufacturing Business Survey Committee, said on August 2 that an Inventories Index reading will remain modest as long as supplier deliveries are slow. While lead times have been especially lengthy in the age of COVID-19, there could be signs of relief, as least in the manufacturing sector.
"The pandemic continues to run rampant through supply bases, which is leading to problems at ports," Fiore said. "But there's a pathway to supply and demand equilibrium, and I think a lot of progress was made (in July). I think the sector is going to continue to run at high levels. Supplier deliveries should (improve), which will bring inventories up. … I think some of the bottlenecks from the last four or five months are starting to be resolved."
In a peak season that, for supply managers and logistics professionals, increasingly feels perpetual, relief can't come soon enough.