Inside Supply Management Magazine
November / December 2020
'Peak Season' Has Been Here for Months
November 10, 2020
COVID-19 has challenged companies' supply, materials handling and delivery networks, but the holiday online sales surge will be an even greater test.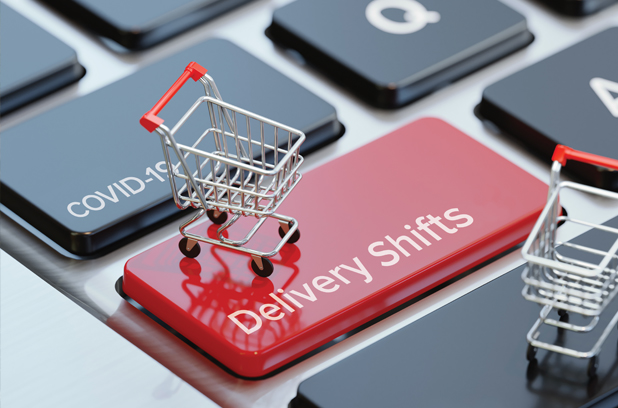 The long lines of anxious shoppers getting a jump on Black Friday, vying for doorbuster deals at Walmart, Target and other stores on Thanksgiving evening may be a thing of the past. Many big-box brick-and-mortar stores have announced they will be closed on Thanksgiving, instead planning to stretch out the holiday shopping season, with deals throughout
Consumers, seeking to social distance due to the coronavirus (COVID-19) pandemic, will likely be looking for those deals online. And e-commerce is becoming their go-to holiday shopping method: According to the National Retail Federation's annual consumer holiday survey, nearly six in 10 consumers plan to do more online shopping compared to last year.
Such a shift comes with myriad challenges — from supply and demand concerns to inventory, fulfillment and delivery issues — for companies already experiencing supply chain impacts caused by the pandemic. Perhaps the biggest issue: This year, peak season doesn't only pertain to the holidays; it's already been here for months.
The E-Commerce Surge
Online shopping has skyrocketed during the pandemic. According to the U.S. Department of Commerce, U.S. e-commerce sales grew more than 30 percent between the first and second quarter of 2020. Necessities — like food, household paper goods and pharmaceuticals — have been among the most sought-after items.
But consumers, realizing remote work is here for the foreseeable future, also have invested in — and in some cases, caused runs on — bicycles and exercise equipment, stand-alone freezers, bread machines, digital equipment, furniture and do-it-yourself home improvement products, says Dale Rogers, Ph.D., the ON Semiconductor professor of business at the W. P. Carey School of Business at Arizona State University in Tempe, Arizona. "Things like women's apparel, however, aren't selling as well because so many people are at home in their sweatpants," he says, and don't need new clothes.
This season, Rod Sides, vice chair and U.S. retail and distribution sector leader at consulting company Deloitte LLP, sees continuing demand for such items as exercise equipment, bread machines and digital products — as well as a holiday staple: gift cards. As for apparel, typically one of the top holiday purchases, "it will be interesting to see if that bounces back," he says.
He notes, "If anything, the pandemic has accelerated the trend we were already seeing — that increasingly more holiday shopping was moving online. The pandemic has probably accelerated that by several years."
Ryan Kelly, vice president of global e-commerce marketing at FedEx, is calling this year's peak time "cyber season" — saying, "It's not just about peak days anymore, as retailers start their holiday sales earlier and earlier." FedEx is expecting a record-setting peak season unlike anything in company history, he says: "I believe the cyber season graph, which we should look at from November 1 through December 25, will show more rolling hills rather than just spiked peaks."
This season, Deloitte expects e-commerce sales to grow 25 percent to 35 percent year-over-year, compared to the 14.7-percent increase in 2019, with e-commerce holiday sales generating US$182 billion to $196 billion. The 2020 Deloitte Holiday Retail Survey: Reimagining Traditions, found that half of respondents feel anxious about shopping in-store, and 64 percent of shoppers' holiday budgets are expected to be spent online. Nearly half (49 percent) say they won't return to pre-COVID-19 shopping behavior until a vaccine is developed.
"Overall, we expect holiday spending to be up only 1 percent to 1.5 percent," says Sides, who is based in Charlotte, North Carolina. "We see a K-shaped recovery, where sales from households with incomes of $100,000 and above will grow 2.5 percent to 3.5 percent year over year, whereas those with lower incomes — less than $50,000 — are probably going to be between zero and 1-percent growth. A lot of that is a result of unemployment being a challenge. It's going to be a tale of two consumers."
Network Challenges
For supply management organizations, the holiday season is going to be a tale of how well their supply, materials-handling and delivery networks hold up. During the past eight or more months, organizations have contended with factory shutdowns impacting manufacturing, parts and product lines as well as lead-time disruptions and supply availability issues that have led them to seek alternative sources or new geographic areas of supply.
While these new avenues of supply — together with a ramp-up in manufacturing and production — are helping ease supply issues, other challenges are occurring.
One issue: timing disruption. "Normally, you see a gradual build-up of inventory that starts in July or August in anticipation and planning for the holiday season," says Russ Romine, vice president of transportation at Legacy Supply Chain Services, a U.S. and Canada-based third-party logistics provider. "And then traditionally, there's a big push to get everything into the stores by Thanksgiving. Now, inventory is coming in later because manufacturing was delayed, which means the surge of (holiday) inventory to warehouses for outbound distribution started later, in September."
He continues: "This push has downstream effects on domestic transportation-equipment availability and cost of transport, across all modes from rail to trucking to parcel. After the holiday push, we expect cargo levels to remain high into the first quarter of 2021 as companies rebuild inventories."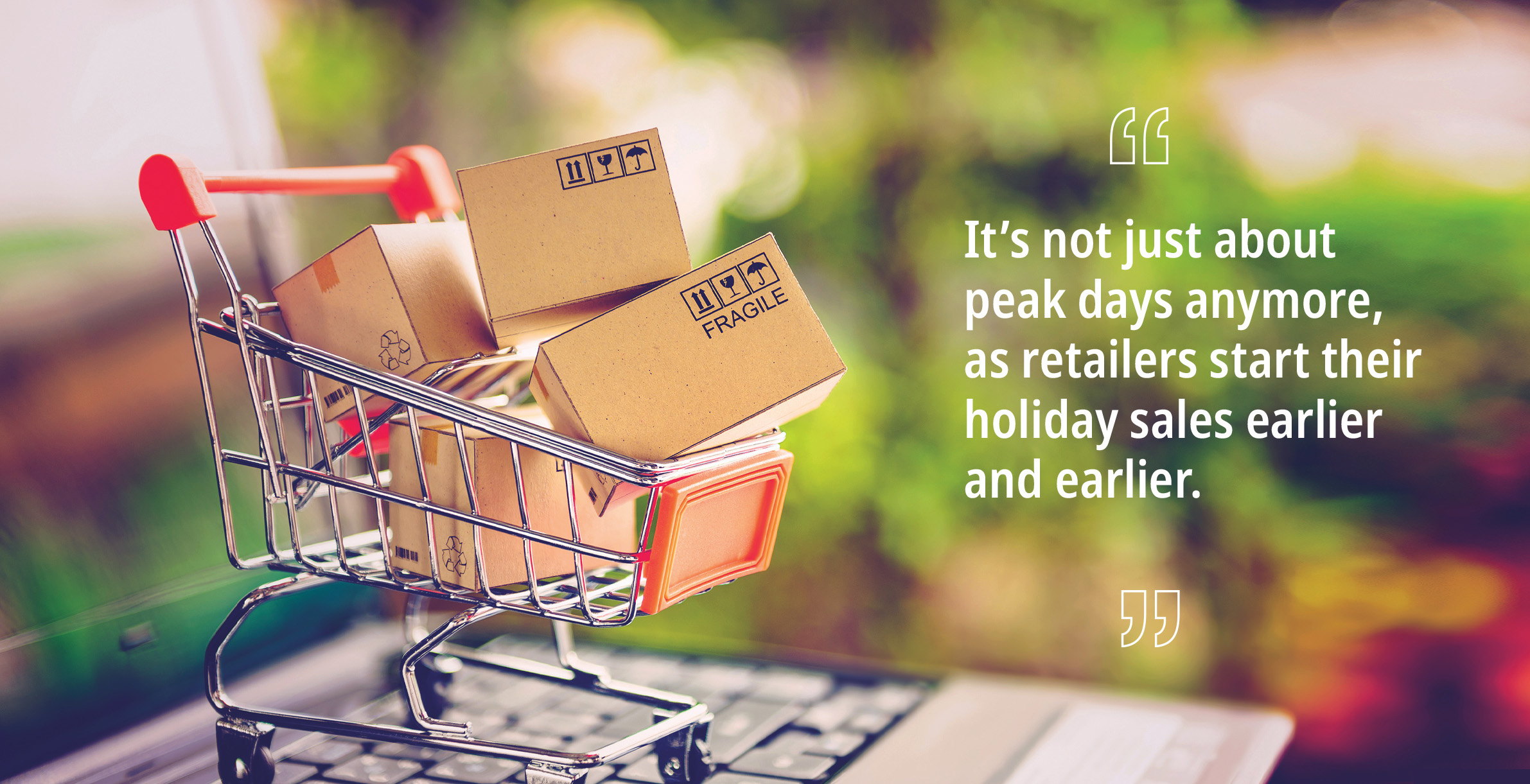 Timing disruption also means everything is arriving at the same time. The Ports of Los Angeles and Long Beach are processing record numbers of incoming cargo. In September, for example, the Port of Los Angeles handled 883,625 20-foot-equivalent units (TEUs) of cargo, a 13.3-percent year-over-year increase. That month ended the busiest quarter (2,701,847 TEUs) in the port's 114-year history. "Some of that is refilling up the pipeline, but a lot of it is an expectation that the fourth quarter is going to be really good," Rogers says. "Some retailers are betting everything on this holiday season, because if they don't have a good fourth quarter, they may not survive."
Timing also comes into play for consumers as retailers will likely move up arrive-by-Christmas shipping cutoff dates to mitigate potential supply chain disruptions — and as a result, logistics providers and carriers of those last-minute packages also will be impacted. Brick-and-mortar sales typically surge the week before Christmas, Sides says.
"We normally see a spike of in-store shopping the week before the holidays, after the shipping cutoff," he says. "I don't think we'll see that come back like we have in the past. I think we'll see more demand move to the front of the holiday cycle. I think we'll see potentially higher activity in the first two weeks of December than in the past. Consumers are going to realize they have to move some of their purchasing up if they intend to use online."
Shipping and Logistics Challenges
For carriers, the increase in parcels — global transportation management provider Logistyx Technologies foresees a 20-percent increase year over year — means intensive planning and preparation, the need to hire more workers and, for many, a surcharge on shipping to cover increased delivery costs. For retailers, it can require finding additional or alternative carriers for the increased capacity.
"Normally when we come into peak season, retailers go into their seasonal freeze — they don't update any of the code or put in new programs because they want to make sure everything will be efficient and run exceptionally well," says Ken Fleming, president and chief sales officer of Chicago-based Logistyx. "This year, some predictions are making them rethink if they are prepared, how they are prepared and what capabilities they need."
For example, he continues, some carriers have already increased peak-season surcharges and fees. "What companies are saying is they can't blindly go into this season — that they have to understand what their costs are and what to charge," Fleming says. "How is this season going to be different than last peak season?"
Having enough temporary workers can also be an issue. FedEx, which already added thousands of workers due to the pandemic and has announced peak-season surcharges, is planning to hire about 70,000 seasonal workers to handle the holiday surge of packages for "what is expected to be an unprecedented level of delivery demand," Kelly says. The carrier indicated it added 55,000 positions for last year's holiday season.
Other delivery issues impact trucking capacity and returns, which can lead to increased numbers of parcels. "As online shopping grows, so do their associated returns," Kelly says. "Returns are a big expense for retailers, but integral to shoppers' experience. So, they must be as frictionless as possible." Providing a frictionless experience has been even more complex during the pandemic due to closed stores and retailers' focus on outbound orders versus returns, he says.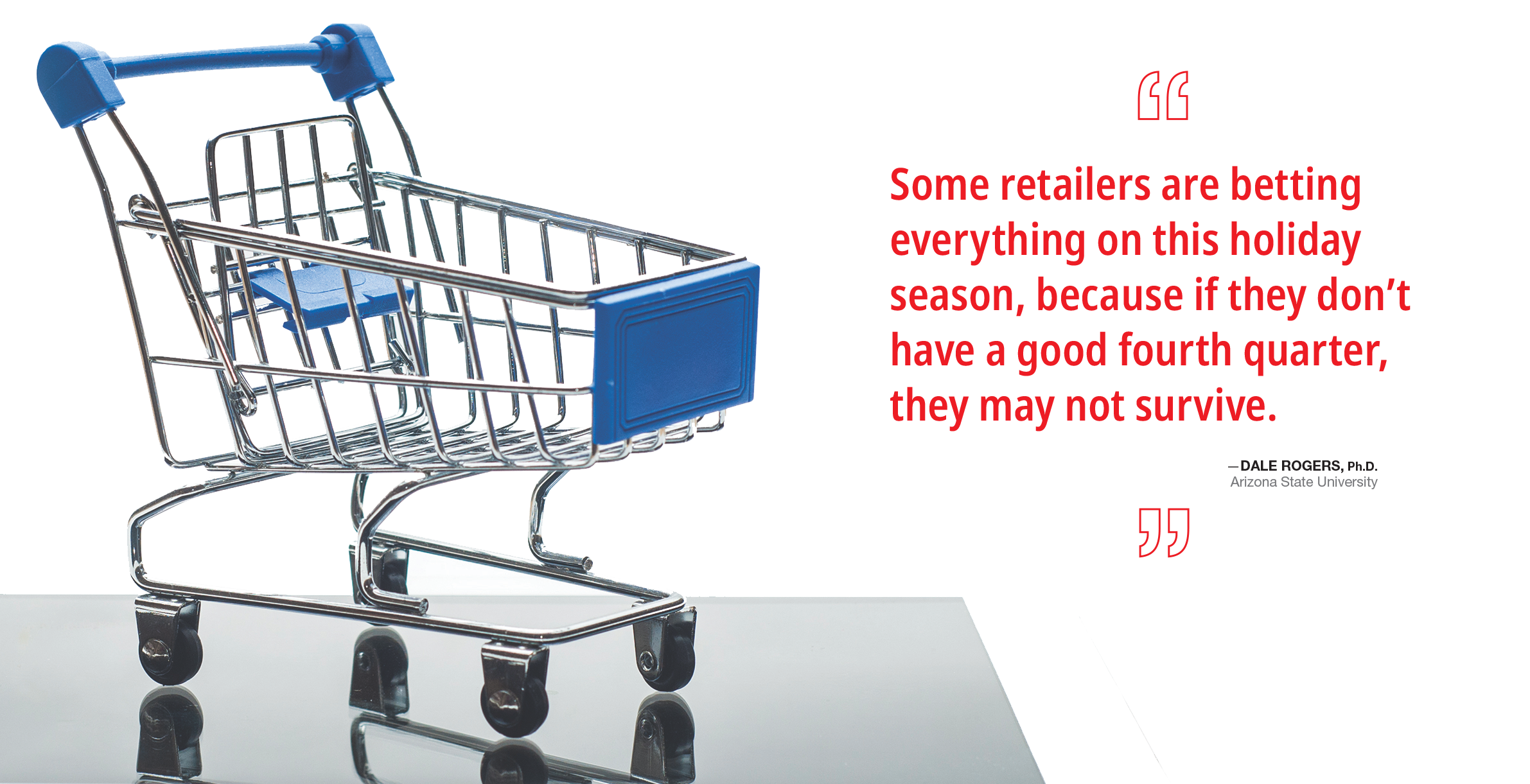 Additional Supply Chain Challenges
E-commerce's increase due to the pandemic and its expected rise this holiday season have other implications pertaining to:
Warehouse space. The volume of inventory points to a critical need for warehouse space. Acceleration in e-commerce adoption and higher inventory levels could potentially generate the need for an additional 400 million square feet of industrial real estate, global industrial real estate company Prologis states in Supply Chain Shifts Poised to Generate Substantial New Demand, a report released in May. Its next report, Accelerated Retail Evolution Could Bolster Demand for Well-Located Logistics Space, notes that, according to 2019 data, e-commerce requires more than three times the industrial space of brick-and-mortar sales, due to the need for more inventory, product variety and stock-keeping units (SKUs), and fulfillment and shipping operations.
"Warehouses are jammed full right now," Rogers says. "So, many organizations are looking for extra warehousing." Many have turned to temporary warehousing and on-demand warehouses that are closer to customers.
New warehouse space is being built, and retail locations, often close to population centers, are being converted to accommodate e-commerce warehousing and fulfilment demands, says Mark Koffarnus, director — national accounts at Greenville, North Carolina-based Yale Materials Handling Corporation. He cites a recent study by commercial real estate firm CBRE that found that since 2017, at least 59 projects in the U.S. have centered on converting millions of square feet of retail space into industrial space, often taking advantage of underperforming retail sites to create last-mile distribution and fulfillment operations.
Materials handling. Due to the pandemic, e-commerce distribution and fulfillment facilities as well as sort centers have been running at what normally would be considered peak levels for months, says John Sorensen, senior vice president of life-cycle performance services at Louisville-based Materials Handling Systems Inc., a provider of materials-handling automation equipment and software. However, the company's customers expect the holiday season "to still be incrementally higher than baseline pandemic levels, which puts it higher than any other peak season," he says.
This can tax facilities from a maintenance and repair standpoint, Sorensen says: "We like to prepare for peak season." Preventative maintenance of high-wear and high-usage parts of the equipment, training and other factors are generally part of that preparation. "This year, there is limited time and access to do so," he says, "because of the volumes that our customers are running."
Technology. Sorensen has noticed increased interest in automation, in part to alleviate staffing issues. "Not only are volumes at peak levels, so are the staffing levels," he says. Finding adequate workforce numbers can be difficult, he adds: "Depending on where you're at, like Southern California, for instance, you're going to be battling or fighting over the same resource pool. Our customers have been automating manual systems to alleviate the stress of trying to staff up."
The pandemic has also caused an acceleration in the use of robots and automated guided vehicles, Sorensen says. "We're seeing a lot of activity, as the pandemic has pushed operators to look at all options and their ROI, and reassess their business strategies," he says.
Koffarnus says that as operations adapt to the new e-commerce baseline and scale to match holiday peak demand, solutions aimed at maximizing available space are becoming increasingly valuable. "Lift trucks designed to operate efficiently in tight spaces, such as narrow-aisle reach trucks or turret trucks, can allow operations to space racking aisles more narrowly and increase inventory capacity," he says. "The deep-reach capabilities of a reach truck can enable further storage density, all helping top-performing operations capitalize on available warehouse space."
For supply chains, the 2020 peak season will be like no other. The pandemic accelerated changes in the retail industry, which already was experiencing store closings and a decline of shopping malls, says Kyle Krug, Legacy Supply Chain Services' marketing and communications director. "The sales playing field had been shifting for years at a slower pace, then the pandemic happened," Krug says. "And companies had to figure it out right now: How do you create an efficient, synchronized omnichannel supply chain to serve all my customers? COVID-19 ramped up that need, and now Black Friday and the holiday season are taking it up a whole new level."