Report On Business® Roundup: April Services PMI®
May 04, 2022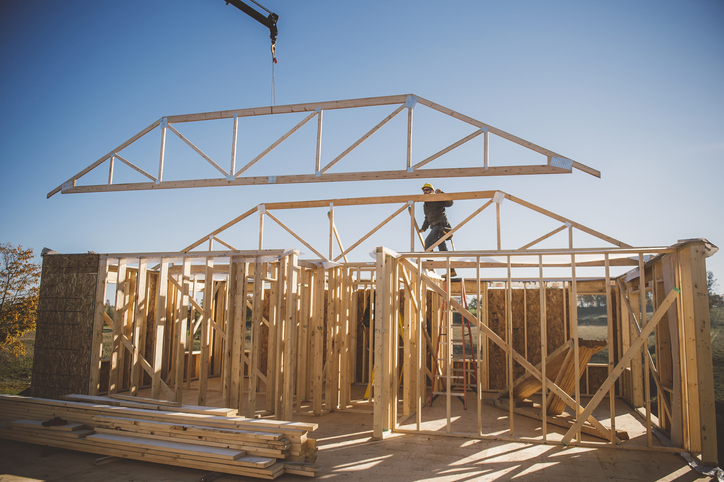 With economic and supply chain challenges of the last four years unprecedented in frequency and severity, businesses have been hit with unusual combinations of circumstances, a dynamic reflected in the Services ISM® Report On Business® data for April.
The Services PMI® of 57.1 percent was a 1.2 percentage-point decrease from March's figure but reflected continuing strong growth in the sector that makes up about 90 percent of the U.S. economy. The composite index number was calculated from subindex data that, taken at face value, seemed contradictory: Business activity increased with authority, but new orders and employment decreased (the latter going into contraction), and prices hit an all-time high.
April ISM Services 57.1, below ests. of 58.5. "Business activity remains strong; however, high inflation, capacity constraints and logistical challenges are impediments, and the Russia-Ukraine war continues to affect material costs, most notably of fuel and chemicals." @CNBC

— Bob Pisani (@BobPisani) May 4, 2022
But with a recent history of global trade tension, a once-in-a-century pandemic, inflation at a 40-year peak and war in one of the most oil-, mineral- and grain-rich regions of the world, we live — and businesses operate — in interesting times. Anthony Nieves, CPSM, C.P.M., A.P.P., CFPM, Chair of the Institute for Supply Management® Services Business Survey Committee, told a conference call of reporters on Wednesday that current conditions are unprecedented in many ways.
"In the almost 15 years I've been involved with the Report On Business®, which covers the (Great Recession), one thing we have not seen is this issue of such low unemployment and the difficulty in trying to secure workers," Nieves said. "Inflation is really a challenge, as well as the capacity constraints in the supply chain because demand is outpacing supply. We'll have to see if inflation comes back in line, but I think overall we're still in a good place."
Regarding the Services PMI® data, Nieves echoed what Timothy R. Fiore, CPSM, C.P.M., Chair of the ISM Manufacturing Business Survey Committee, said of the Manufacturing PMI® data on Monday: There are no recession red flags, despite an unexpected 1.4-percent decrease in U.S. gross domestic product in the first quarter. High consumer demand and low unemployment are traditionally not a recipe for an economic slowdown.
Still solid @ism services data even though employment went into contraction for lack of qualified workers. This is the first time I'm seeing any language about softening conditions though...."Overall business has softened." [Information]" $SPY $TLT pic.twitter.com/kXqrk9tP1C

— Marco Mazzocco, CFA (@MarcoMNYC) May 4, 2022
Still, Nieves considers the Employment Index a leading indicator, and its recent zig-zag between expansion and contraction — it dropped 4.5 percentage points in August to fall below 50 percent (at 49.5) for the second time in three months — is worth keeping an eye on. Also on Wednesday, the ADP and Moody's Analytics report indicated that private payrolls increased by a less-than-expected 247,000 in April, heightening anxieties before Friday's federal jobs report.
Like in manufacturing, services businesses want to hire: "Demand for employment remains hypercompetitive; there is just not enough qualified personnel available," a Business Survey Committee respondent wrote. Nieves said such labor-recruitment difficulty precedes COVID-19 in many services industries — especially construction — but amid the Great Resignation, it has become a sector-wide challenge.
"(The index) has bounced back and forth as of late, but labor has been an ongoing issue for many companies," Nieves said. "As businesses reopened and tried to get people back to work, it became a very competitive market for employees. A lot of variables are at work, but as you consider the low unemployment rate, it's clear a lot of people are transitioning careers or even starting their own businesses, and it's caused a really unique challenge for companies in trying to secure workers."
The ISM Manufacturing and Services Employment, and the ADP Nonfarm don't bode well for a blockbuster NFP on Friday.

— Steven Van Metre 👑 (@MetreSteven) May 4, 2022
A competitive labor environment, a Business Survey Committee respondent wrote, means higher wages — one of many current factors fueling inflation. In April, the Prices Index reached an all-time high of 84.6 percent, eclipsing the previous mark of 83.9 percent in December, a seemingly fitting prelude to a meeting on Wednesday in which the U.S. Federal Reserve was expected to raise interest rates a half-percentage point to help curb inflation.
Despite the confluence of unique challenges and sometimes contradictory metrics, Nieves said the services sector has built resiliency during the recent years of turbulence, and he is optimistic that expansion will continue.
"It still looks like a good economy going forward, and all indications — especially what (Business Survey Committee) respondents are telling us — point to continued growth," Nieves said. "It may not be at the strong levels of the past 12 months, but it will still be good growth. We'll just have to navigate through inflation, geopolitical concerns and everything else."
The ISM PMI for services (actually most of the economy beyond manufacturing) eased 1.2 points to 57.1%, a still good reading. 17 of 18 sectors were expanding. We've known since last year that the economy would slow. No signs of recession yet although risks remain higher. pic.twitter.com/n3zIOYnnw3

— Dr Thomas Kevin Swift (@DrTKSwift) May 4, 2022
The Report On Business® roundup:
Bloomberg: U.S. Services Growth Eases on Softer Employment, New Orders. "Amid high prices, ISM's gauge of new orders growth pulled back to softest pace since February of last year. Even so, other measures point to solid consumer demand. Business activity rose to a three-month high, and the group's measure of imports expanded. Meantime, employment activity contracted for the second time in three months."
Mace News: Service Sector Growth Slows as Firms Struggle to Find Workers, Supplies. "The Imports Index has been fluctuating, too, indicating unstable supply chain conditions. It rebounded 7.9 points to 52.9 (percent) in April after slumping 6.7 points to 45.0 in March and edging up 0.6 point to 51.7 in February. Supply lines have increased from Asia, with some shipments resumed after the Lunar New Year holiday, while a resurgence in COVID-19 cases has led to lockdowns in Chinese cities."
MarketWatch: The U.S. Economy's Service Side Slowed in April Due to High Inflation and Shortages. "Service-providing companies have rebounded from the decline in coronavirus cases and a shift in consumer spending toward 'experiences' instead of goods. Think leisure and entertainment instead of clothes or new televisions. Yet companies of all stripes are facing rising costs and some customers are balking at higher prices."
"Disappointing; higher gas prices offsetting post-Omicron boost?" @IanShepherdson on U.S. ISM Services #PantheonMacro

— Pantheon Macro (@PantheonMacro) May 4, 2022
Reuters: U.S. Service Sector Slows; Input Prices Measure at Record High. "The surprise slowdown could reflect persistent supply constraints, which have been worsened by new COVID-19 lockdowns in China and Russia's war against Ukraine. Coming on the heels of an ISM survey on Monday showing manufacturing growing at its slowest pace in more than 1½ years in April, the slowdown in the services industry could be a potential red flag for the economy."
The Wall Street Journal: U.S. Trade Deficit Widens to Record $109.8 Billion as Imports Surge. "Institute for Supply Management® said U.S. service-sector activity in April grew more slowly than in March. The report said high inflation, capacity constraints and logistical challenges are weighing on businesses, and the Russia-Ukraine conflict is affecting costs of materials such as fuel and chemicals."
In case you missed Monday's Report On Business® Roundup on the release of the April Manufacturing PMI®, you can read it here. The Hospital PMI® will be released on Friday. For the most up-to-date content on the three indexes under the ISM® Report On Business® umbrella, use #ISMPMI on Twitter.
(Photo credit: Getty Images/Jenn Austin-Driver)