Report On Business® Roundup: May Hospital PMI®
June 07, 2022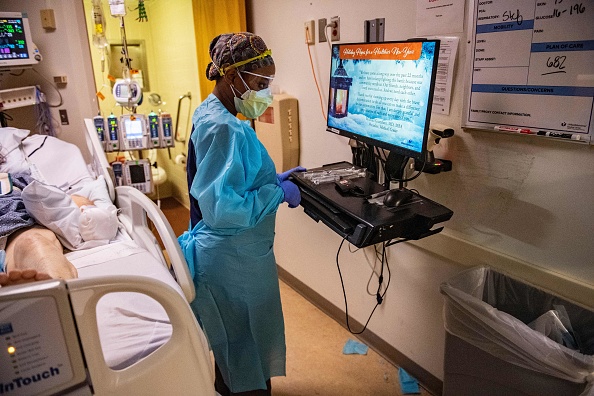 For hospitals, the transition from primarily serving COVID-19 patients to resuming regular levels of elective procedures is not like stopping on a dime, even if a facility has planned for and is eager to make that move.
The evidence was prevalent in the Hospital ISM® Report On Business® for May, as health-care providers — weary from two years of coronavirus pandemic chaos and anxious for the revenue generated by elective care — commenced or continued their transitions. However, for many, staffing shortages and COVID-19 cases kept getting in the way.
The Hospital PMI® of 56.9 percent is a 0.6-percentage point increase from April, but business activity and new orders growth slowed, and the Backlog of Orders Index went into contraction territory. With hospitals and health-care systems posting negative operating margins for four straight months, according to industry management consultant Kaufman Hall, a boost in elective procedures would provide a tourniquet.
Americans may be mostly done with #COVID19, but #healthcare facilities aren't: In May, #employment grew but staffing shortages slowed transitions to elective care, the Hospital @ISM® Report On Business® found. The composite PMI® was 56.9%. https://t.co/AxACr8q4Ut #ISMPMI #economy

— Dan Zeiger (@ZeigerDan) June 7, 2022
"Capacity for electives has been constrained by staffing and softer demand for those services than was anticipated," Nancy LeMaster, MBA, Chair of the ISM Hospital Business Survey Committee, told a conference call of reporters on Tuesday. "So, in May, probably more questions came up than answers. The (operating margins) trend is really concerning, so there's going to be a lot of focus on trying to get elective volume in because hospitals feel they need that revenue stream."
At first glance, the staffing-shortage assessment seems to contradict the Employment Index, which increased 6 percentage points to return to expansion in May. However, that is a month-over-month assessment, and while health-care providers might have had more hiring ease — like in the manufacturing and services sectors — they remain unable to keep up with quits, retirements and other employee turnover. Staffing will continue to remain a critical issue, as LeMaster added that the softer demand for elective care in May is likely an outlier.
In its monthly report last week, the U.S. Bureau of Labor Statistics reported a health-care employment increase of 28,000 in April, including a gain of 16,000 hospital jobs. Employment remains 223,000 jobs below the pre-pandemic level, one of the largest deficits among business sectors. (Some of the jobs counted in the federal jobs report are outside the ambulatory, inpatient and nursing home-type facilities covered by the Hospital ISM® Report On Business®.)
"If people are burned out and not wanting to work in the industry, it takes a while to (onboard) replacements," LeMaster said. "So, I think it will be a balancing act — how fast they can train up staff and what the COVID-19 numbers do in terms of inpatient impact."
That impact depends on location, according to the May report: Some Business Survey Committee respondents reductions in COVID-19 patients; another noted the omicron BA.2 subvariant is "hindering normal business operations once again." According to U.S. Centers for Disease Control (CDC) data, the seven-day rolling average of new coronavirus hospitalizations was 3,685 on Monday, a 62-percent month-over-month increase.
"Some areas of the country like St. Louis, where I am, are in the red zone again in terms of COVID-19 cases," LeMaster said. "But they aren't quite the strain on the hospitals we've seen previously. We'll hope that trend holds with availability of antiviral drugs to treat people at home, so even though it's a highly transmissible variant, it won't end up taxing hospital systems."
.@ISM Hospital PMI® survey respondent: "Back orders have receded. Equipment repairs piling up, as there are no parts anywhere. (Manufacturers) have an obligation to have spare parts with reasonable life for medical equipment." https://t.co/aGSZkyveKT #ISMPMI #economy #healthcare

— Institute for Supply Management (@ism) June 7, 2022
In other Report On Business® news:
The Inventories Index returned to contraction in May, and that gauge is likely to be "in flux for a while," LeMaster said. Facilities continued to try to burn through personal protective equipment (PPE) inventories before their expiration dates, but such items as IV fluids, needles and syringes, and baby formula remain in short supply.
The Technology Spend Index signaled resiliency, up 1 percentage point to 54 percent, suggesting that hospitals continue to make such capital investments in the wake of negative operating margins.
Monkeypox cases are increasingly on the radars of U.S. health officials, but LeMaster said the outbreak was not a factor in the May Hospital PMI® data, nor was it mentioned by Business Survey Committee respondents.
Lastly, LeMaster noted a respondent's comment that the hospital procurement staff's ability to source substitute products helped relieve pressure on clinicians and other caregivers. Health-care supply chains remain weighted toward China, where COVID-19 shutdowns have impacted product flows.
However, LeMaster said, supply managers have become more adept at (1) predicting demand, (2) identifying suitable replacement items and (3) securing clinician buy-in. "That's probably the goal of every health-care supply chain professional: to take pressure off clinicians, so they can focus on the patients," she said. "I'm sure there's a sense of relief that (procurement organizations) have been able to help. There are still many shortages, but supply chain people are stepping up."
In case you missed the Report On Business® Roundup on the release of the May Manufacturing PMI®, you can read it here. The Roundup on the release of the Services PMI® can be read here. For the most up-to-date content on the three indexes in the ISM® Report On Business® family, use #ISMPMI on Twitter.
(Photo credit: Getty Images/Joseph Prezioso)