Report On Business® Roundup: February Services PMI®
March 03, 2022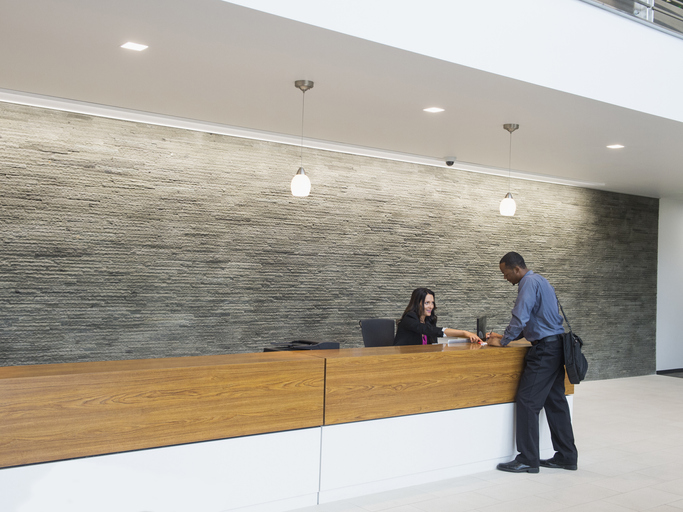 With the COVID-19 omicron variant on the wane in the U.S., economic outlooks have brightened in many corners — though the services sector, a lagging indicator for much of the pandemic, is slightly dimmer.
The nation's daily coronavirus case count is at its lowest levels since July, but many of the business and supply chain dynamics that COVID-19 has wrought don't fade as easily. That's especially true in the services sector, which is heavily reliant on face-to-face interaction that is still inhibited by virus hesitancy and public-health restrictions.
Such continuing employment challenges were a big factor in the February Services ISM® Report On Business® data missing analysts' expectations on Thursday, but other pandemic-long dynamics like supply shortages, long lead times and high prices remained a drag on the numbers. The Services PMI® reading of 56.5 percent was the lowest since February 2021.
Economy got hit by Omicron in February. ISM for Services at 56.5, well below estimate of 61. Still showing growth.

— Tracey Ryniec (@TraceyRyniec) March 3, 2022
So, while response to the Manufacturing PMI® earlier this week was more upbeat, the services sector is suffering from a "timing issue," Anthony Nieves, CPSM, C.P.M., A.P.P., CFPM, Chair of the Institute for Supply Management® Services Business Survey Committee, told a conference call of reporters on Thursday. He explained that employment, as always, is the fulcrum for services businesses, and omicron-related worker absences in December and January are still being felt.
The Employment Index fell 3.8 percentage points to 48.5 percent in February, falling into contraction territory for the first time since June. With consumer demand not abating, companies are increasingly challenged to meet it with diminished head counts, which was a factor in a 4.8-percentage point drop in the Business Activity Index, to 55.1 percent. "With those employees being out of the workforce and (businesses) trying to get them back on, it definitely affected their ability for providing service deliverables," Nieves said.
However, he added, other dynamics are impacting employment. The U.S. Labor Department's most recent Job Openings and Labor Turnover Summary (JOLTS) data revealed 10.9 million job openings at the end of December, not far off the all-time high of 11.1 million in July, as labor free agency remains an attractive option for many Americans.
Weak Services ISM at 56.5 (est 61.1, last 59.9)

"Activity" components remain however solid (new export orders up at 53, new orders decline but remain above 56, backlogs and inventories up), but inflation pressure increase further (price paid 83.1 and supplier deliveries 66.2)

— Mario Cavaggioni (@CavaggioniMario) March 3, 2022
In a quote that made rounds on Twitter and in media coverage of the Services PMI®, a Business Survey Committee member in Professional, Scientific & Technical Services wrote, "The Great Resignation is real: Employees, contractors and consultants continue to quit their jobs and engagements for opportunities that pay more and have more flexible work options. … Severe labor shortages are expected well into 2022. Corporations need to increase wages and salaries to attract talent and get work done."
As employment issues persist, so do other supply chain challenges. As in the Manufacturing ISM® Report On Business®, the Services Backlog of Orders Index had a big increase in February, up 6.8 percentage points to 64.2 percent. The Supplier Deliveries Index was 66.2 percent, a 0.5-percentage point uptick, as trucking and rail services remain stressed, Nieves said.
The Prices Index hit 83.1 percent, its third-highest level ever, behind December's seasonally-adjusted 83.9 percent and September 2005 (83.5 percent), in the wake of Hurricane Katrina. Prices figure to be a source of increasing indigestion amid Russia's invasion of Ukraine, as fuel — critical for provision of deliverables, across the services sector — is perhaps the biggest commodity impacted.
Nieves noted that a composite index reading of 56.5 percent signals strong expansion of the services sector, which could not maintain the growth rates reflected in 10 straight months of PMI® readings above 60 percent. Still, sector activity is likely to stay a lagging indicator.
"Demand is still strong," Nieves said. "Although businesses have continually opened up over the past several months, they have not had the capacity to handle that demand. So, we're still experiencing the same challenges that have been around for much of the pandemic. While things with COVID-19 might be getting better, (services businesses) are still having trouble."
ISM Services PMI
Why Traders Care : It's a leading indicator of economic health - businesses react quickly to market conditions, and their purchasing managers hold perhaps the most current and relevant insight into the company' ...#Forex #Fx #ImpactAlert

— Richie (@Forex_RichieG) March 3, 2022
The Report On Business® roundup:
Bloomberg: U.S. Services Gauge Falls to One-Year Low as Orders Soften. "(The Employment Index) fell almost 4 points to 48.5 (percent), the weakest since August 2020, which may indicate a combination of lingering omicron effects and firms' difficulty hiring and retaining workers. The impact of tough hiring conditions helps explain longer lead times and higher backlogs during the month. ISM's index of supplier delivery times rose to a three-month high. (The Backlog of Orders Index) climbed 6.8 points in February, the largest one-month advance in two years."
Dow Jones Newswires: U.S. Services Sector Growth Eased in February to Year Low. "The (Services PMI®) fell to 56.5 (percent) in February from 59.9 in January, missing the 61.0 consensus forecast from economists polled by The Wall Street Journal. The PMI® index, which has fallen for three straight months, still signals that the services sector activity continued to expand. However, it also points to slower growth than in 2021, as February's reading is the lowest in a year."
ISM services peaked in Nov at 68.4 and has plunged to 56.5 in February. 62 out of 62 economists had a February ISM services estimate that was too high vs actual, the lowest estimate was 58. Why? Because consensus thinks services spending will accelerate as goods spending slows🤭

— GreekFire23 (@GreekFire23) March 3, 2022
MarketWatch: 'The Great Resignation is Real': Service Side of U.S. Economy Grows at Slowest Pace in a Year. "Service-oriented companies that now dominate the U.S. economy have generally fared worse during major viral outbreaks. Their workers deal directly with customers and their businesses are more affected by government restrictions. Perhaps even worse, the ISM report showed that ongoing shortages of materials and labor continue to hold back growth and prevent a full recovery."
Reuters: U.S. Service Sector Slows Further in February. "The (Supplier Deliveries index) rose to a reading of 66.2 (percent) from 65.7 in January. A reading above 50 percent indicates slower deliveries. As a result, services inflation picked up. ISM's measure of prices paid by services industries rose to 83.1 (percent) from 82.3 in January. The Russia-Ukraine conflict is expected to further stoke inflation pressures."
In case you missed Tuesday's Report On Business® Roundup on the release of the February Manufacturing PMI®, you can read it here. The Hospital PMI® will be released on Monday. For the most up-to-date content on the three indexes under the ISM® Report On Business® umbrella, use #ISMPMI on Twitter.
(Photo credit: Getty Images/Erik Isakson)