Report On Business® Roundup: February Manufacturing PMI®
March 01, 2022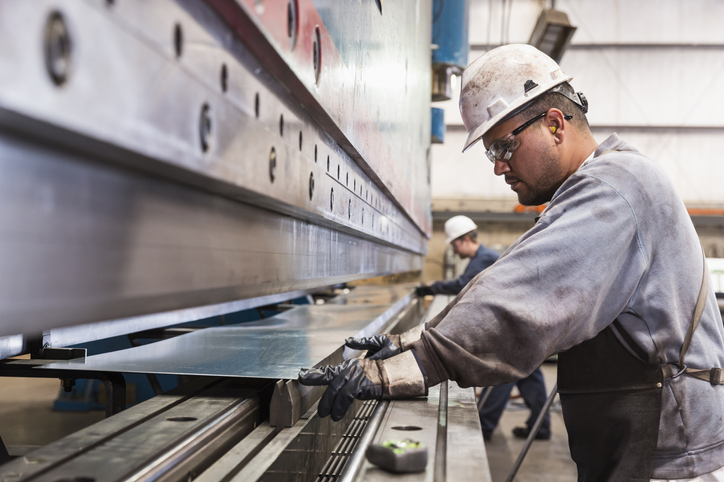 The theme of the Manufacturing ISM® Report On Business® data for February is that the coronavirus pandemic is on the wane (at least for now), meaning that many of the impediments to production and supplier deliveries should be less imposing in March, just in time for the usual spring acceleration in U.S. factory activity.
The Manufacturing PMI® of 58.6 percent and subindex readings do not fully reflect the latest in the parade of supply chain-impacting global events since 2017: Russia's invasion of Ukraine, which began last week. However, while it will impact some supply flows and especially commodity prices, the conflict does not change the short-term prognosis for the U.S. manufacturing sector, said Timothy R. Fiore, CPSM, C.P.M., Chair of the Institute for Supply Management® Manufacturing Business Survey Committee.
"Ukraine isn't really all that integrated in international commerce, nor is Russia, other than energy, food and, to some extent, aluminum," Fiore told a conference call of reporters on Tuesday. "I think we've been facing some pretty strong headwinds with aluminum, and I expect that to probably get worse. But I don't see it as dragging down the U.S. manufacturing expansion. It might provide a headwind like (the COVID-19 omicron variant) did in December and January, but I don't see it providing a significant headwind."
ECONOMY WATCH: U.S. factories grow a bit faster in February as omicron recedes, ISM index shows. Manufacturing PMI rises to 58.6% from 57.6% in prior month. New orders and production up, price pressures ease slightly and employment softens. Decent report.

— Jeffry Bartash (@jbartash) March 1, 2022
If the Russia-Ukraine conflict impacts factories, it will be over the long term, Fiore said. Meanwhile, a two-year pandemic headache for manufacturing appears to be receding, as the seven-day rolling average of new COVID-19 cases in the U.S. was 64,276 on Monday — the lowest since July, according to data compiled by The New York Times.
The omicron variant contributed to labor and materials shortages that held back production growth in December and January. The Production Index increased for the first time in three months, up 0.7 percentage point to 58.5 percent. Supplier delivery obstacles should ease after across-the-board record lead times were recorded in February.
ISM has been tracking average lead times in three categories since 1987. In February, each set an all-time high: 173 days for Capital Expenditures, 97 days for Production Materials and 50 days for Maintenance, Repair and Operating (MRO) Supplies. The spike in lead times for CapEx — which include such business assets as machinery, vehicles, office equipment and furniture, and computers and software — is most dramatic; that figure has increased 28 days over the last 12 months.
The bright side is that the Supplier Deliveries Index increased 1.5 percentage points to 66.1 percent (indicating slower delivery times), but that was a smaller bump than expected, Fiore said: "Suppliers continued to struggle with labor issues, with the index reflecting slightly poorer delivery rates due in part to omicron. But the performance exceeded expectations."
.@ISM's Tim Fiore: "The impact of #omicron declined in February as swiftly as it appeared in December, leaving March and April #manufacturing environment favorable, especially with new orders and backlogs (having) strong growth." https://t.co/FBYbg7OUgb #ISMPMI #economy #COVID19

— Institute for Supply Management (@ism) March 1, 2022
The Employment Index decreased 1.6 percentage points to 52.9 percent, as Business Survey Committee respondents noted that their companies remain eager to hire but unable to keep up with retirements and other workforce departures. However, the subindexes gauging demand remain healthy, perhaps the biggest reason Fiore is bullish on U.S. manufacturing's fortunes, at least for the short term.
The New Orders Index was up 3.8 percentage points in February, to 61.7 percent. The Customers' Inventories Index decreased to 31.8 percent, meaning products are flying off shelves. And the Backlog of Orders Index increased 8.6 percentage points — its biggest monthly positive change in 11 years — to 65 percent.
"I think omicron created some buyers' pause, but now the demand numbers are the strongest that I've seen in a while," Fiore said. "The backlogs indicate that we still cannot flow product through our factories fast enough, but I expect that to improve, and we'll get back on the path to a proper supply-and-demand equilibrium."
He concluded, "I've always said as long as demand is good, we can deal with everything else, and (February) was really good month as we approach a (second) quarter that is annually strong for the manufacturing sector."
ISM for Feb showed continued strong activity, with high readings on new orders 61.7. Employment index still expanding but slipped to 52.9 from 54.5 in Jan. Prices paid 75.6 vs 76.1. This is old news for markets but shows mfg activity still strong.

— Kathy Jones (@KathyJones) March 1, 2022
The Report On Business® roundup:
Barron's: Ukraine Conflict Won't Hurt U.S. Manufacturing. Industrial Stocks Are Dropping Anyway. "The U.S. manufacturing sector continued to grow in February, and at a faster pace compared with January. That's good news. Inflationary and supply chain headwinds remain, but demand is still strong. What's more, the Ukraine-Russia conflict isn't expected to derail growth. That's more good news for investors to digest Tuesday morning."
Bloomberg: U.S. Manufacturing Growth Firms on Stronger Orders, Output. "(The New Orders Index) advanced nearly four points to a five-month high of 61.7 following COVID-19 related softness in January. While production improved, the data highlight how manufacturers are still struggling to keep up with demand for consumer merchandise and business equipment."
Dow Jones Newswires: U.S. Factory Activity Kept Growth Momentum in February. "Economists polled by The Wall Street Journal expected the (Manufacturing PMI®) to come in at 58.0. The index is well above the 50.0 level that indicates continued expansion of manufacturing activities, but it is signaling that the pace of growth is cooling compared with 2021. The data showed that bottlenecks were still persistent and continued to constrain production."
ISM Manufacturing stronger in Feb at 58.6 vs. 58 est. & 57.6 in Jan; new orders surged to 61.7 vs. 57.9 prior; prices paid ticked down to 75.6 vs. 76.1 prior … inventories, production, and supplier deliveries all up; unfortunately, backlogs rose and employment ticked down pic.twitter.com/fSU2T9n3f8

— Liz Ann Sonders (@LizAnnSonders) March 1, 2022
MarketWatch: U.S. Factories Grow Faster as Omicron Wanes, ISM Finds, but Shortages Still a Barrier. "The receding wave of omicron cases and end of government restrictions is giving the economy a boost, but widespread shortages and high inflation are still restraining growth. Now, the war in Ukraine threatens to exacerbate inflation in the short run owing to higher prices of oil and other key commodities. The conflict could also add further disruptions to global trade."
Reuters: U.S. Manufacturing Activity Regains Speed in February; Hiring Slows. "Manufacturing is regaining momentum in line with the broader economy after hitting a speed bump as coronavirus infections, driven by the omicron variant, surged across the country. The United States is reporting an average of 64,200 new COVID-19 infections a day, a fraction of the more than 700,000 in mid-January, according to a Reuters analysis of official data."
ISM's Services PMI® will be unveiled on Thursday, and the Hospital PMI® on Monday. For the most up-to-date content on the reports under the ISM® Report On Business® umbrella, use #ISMPMI on Twitter.
(Photo credit: Getty Images/Don Mason)