As Ukraine-Russia Tensions Mount, So Do Supply Chain Concerns
February 22, 2022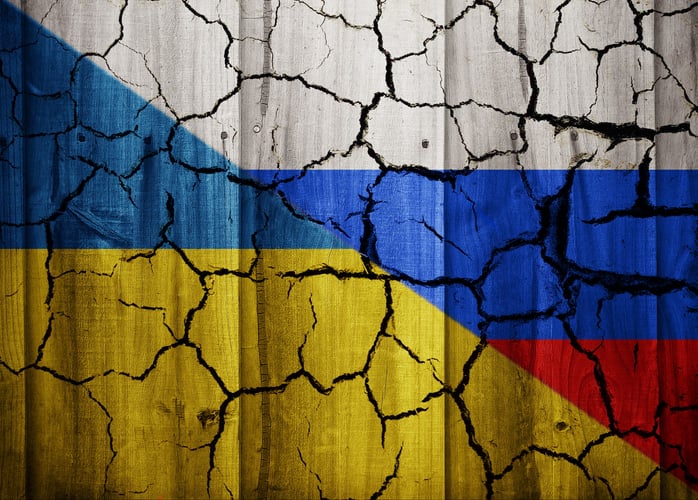 With Russia having launched a military attack on Ukraine, there is growing concern about potential economic and supply chain disruption like materials shortages, increasing prices and logistics challenges.
President Joe Biden announced sanctions that target Russia's 10 financial institutions and political and business elites as well as stringent export controls "that will have profound impact on Russia's economy, financial system, and access to cutting-edge technology," a White House Fact Sheet states.
Biden met Thursday with Group of Seven (G-7) leaders; the group is moving forward with "devastating packages of sanctions and other economic measures to hold Russia to account. … The leaders also agreed to intensify ongoing efforts to mitigate any spillover effects from Russia's actions and to secure stability in global energy markets," a White House statement read.
On Thursday morning, oil prices rose above US$100 a barrel, the highest level since 2014, before declining in the afternoon — and gas prices in Europe have risen as much as 62 percent.
Germany previously announced it had halted certification of the Nord Stream 2 gas pipeline from Russia.
@POTUS made clear that if Russia invaded Ukraine, we would act with Germany to ensure Nord Stream 2 does not move forward. We have been in close consultations with Germany overnight and welcome their announcement. We will be following up with our own measures today.

— Jen Psaki (@PressSec) February 22, 2022
There is speculation that Russia could cut off or reduce oil and gas supply to Europe — Russia is big energy exporter and Europe gets about a third of its natural gas from Russia — and that energy prices would be impacted. Amid the tension, oil prices did rise early last week before declining Friday. There also is speculation that the situation could spark a renewed energy deal with Iran.
South Korean trade minister Yeo Han-koo told CNBC that, amid the rising tensions, his first supply chain concern is rising energy prices; the country imports much of its energy and gas. Other concerns: Manufacturing disruption and raw materials shortages, including potential key materials for chip production, he said, adding that the South Korean government was still determining the vulnerability of critical products.
Several critical raw materials used in chip-making come from Russia and/or Ukraine. Russia is a large producer of palladium, needed for sensors as well as memory. Nearly all the neon supply used in lithography processes in chip-making comes from Ukraine and Russia. according to Techcet, an advisory services firm.
Agricultural and food products could take a hit; prices for wheat and edible oils have risen, and consumers could be impacted — both Ukraine and Russia export a lot of grain.
Gartner Supply Chain Practice analysts anticipate other shortages, among them hydrocarbon and metals. "Prices for those items will likely spike, thanks to both the shortages and behaviors such as irrational buying and protectionism. This will, in turn, impact manufacturing operations up- and downstream as much as raw material mining," state Koray Köse, senior director analyst, and Sam New, senior principal analyst, in the Gartner article "How to Manage Ukraine's Effect on Your Supply Chains."
Other potential ramifications of the escalating situation:
Rising corn and wheat prices; Russia is a major wheat exporter and Ukraine exports both.
Increasing cyberattacks, causing ripple effects to infrastructure, trade and logistics. Last week, Ukraine experienced cyberattacks that temporarily blocked access to websites of the country's defense agencies and banks.
Logistics disruption along the Black Sea route as well as rail and road routes, according to Köse and New. "Spillover to Chinese ports and other key transportation nodes is also expected," they say.
To handle potential supply chain disruption, Köse and New recommend such strategies as diversifying suppliers and logistics routes, determining the company's risk appetite and creating resilience through end-to-end risk management.
(Photo credit: Getty Images/George Mdivanian/EyeEm)