Report On Business® Roundup: January Services PMI®
February 03, 2022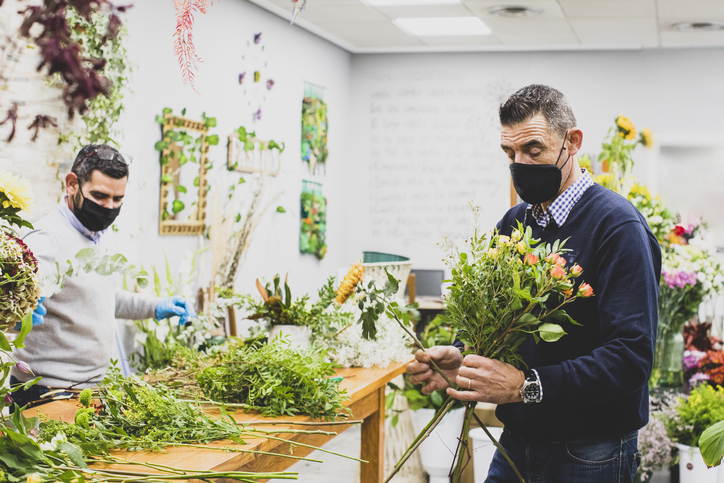 The release of the Services ISM® Report On Business® data on Thursday confirmed what this space discussed last month: While the composite index continued to reflect strong growth, the coronavirus omicron variant was going to have a significant impact in January.
It did, as the Services PMI® reading of 59.9 percent ended a streak of 10 consecutive months above 60, and many businesses reported high levels of workers out due to COVID-19. There is plenty to discuss on that dynamic, but a history lesson is in order first.
Echoing the mfg sector of late, services sector business activity continued to cool in January via the ISM Services Index, which fell to the lowest level in nearly a year: https://t.co/KnQHYWFmWp pic.twitter.com/VrVwUq15Xi

— James Picerno (@jpicerno) February 3, 2022
Prior to the 10 straight months of composite index readings above 60 percent, that level had been reached just nine times since Services PMI® data was first collected in 1997. And there was just one instance of consecutive months, September-November 2018.
The ISM® Report On Business® indexes measure rate of change month over month, so perspective is necessary as the U.S. economy has climbed from its pandemic depths. But the recent sustained services sector growth level has been in previously unreached heights, and the January composite index was just 0.1 percentage point below the 60-percent threshold.
With the forward-looking New Orders Index at 61.7 percent in January, the sector's overall growth rate is not expected to dip much further, at least in the short term, Anthony Nieves, CPSM, C.P.M., A.P.P., CFPM, Chair of the Institute for Supply Management® Services Business Survey Committee, told a conference call of reporters on Thursday.
"(The index was) setting all those highs in the prior months, and I felt that it would start leveling off," he said. "We just could not keep going at that pace, but this was still a strong reading. I could see (the index) moving sideways with a slight bump up or down, but I don't expect a huge spike based on the evidence right now. The New Orders Index suggests a good rate of growth going forward; we'll have to see exactly where it winds up."
The @ISM purchasing managers:
▶️"Supply constraints persist"
▶️"Rebounding from labor shortages"
▶️"Costs have escalated to what we believe are unsustainable levels"
▶️"Labor continues to be in short supply"
▶️"New orders are delayed"
▶️"Business outlook cautiously optimistic" pic.twitter.com/oPyLB5TfA0

— Gregory Daco (@GregDaco) February 3, 2022
That said, as ISM's Manufacturing report indicated regarding U.S. factories, omicron walloped services companies in January. A Business Survey Committee respondent in Information wrote that "between 20 and 25 percent" of the company's employees were out each day due to illnesses related to COVID-19. Wrote another respondent, in Other Services: "Downturn in business in the last month due to outbreak in COVID-19 cases."
The pandemic's impact on head counts was acute; the Employment Index decreased 2.4 percentage points in January, though it remained in expansion territory at 52.3 percent. That reading — along with Wednesday's private-payrolls report by ADP and Moody's Analytics that indicated companies cut 301,000 jobs in January — could be harbingers for the federal jobs report on Friday.
Employment challenges are evident in the Prices Index, which dipped 1.6 percentage points to a still-lofty 82.3 percent. While commodities received most of the attention regarding inflation, labor costs and wage pressures can be onerous for services companies. That's been especially evident during the pandemic, as businesses have struggled to attract workers fearful of virus exposure while contending with the Great Resignation and other workforce dynamics.
"The recovery for the labor market is going to take some time," Nieves said. "We're seeing a shift in the workforce where some of the lower paying jobs or the less-skilled oriented jobs are struggling the most, as people have left certain industries. In restaurants and retail, workers are going into jobs that are higher paying, so (companies must) incentivize workers. As a result, wage pressure will continue. The labor pool is restricted at this point."
"The #Omicron hit continues, but not for much longer" @IanShepherdson on ISM Services Index #PantheonMacro

— Pantheon Macro (@PantheonMacro) February 3, 2022
Another eye-popping subindex reading was the New Export Orders Index, which had a month-over-month drop rarely seen in the ISM® Report On Business® — a 15.6-percentage point decrease to 45.9 percent. And COVID-19 was a culprit.
In the services sector, most exports are of information, consulting and support services. Business Survey Committee respondent comments indicated that (1) omicron has decreased worker availability and (2) public-health restrictions in other countries have limited travel. "Companies are having trouble getting their boots on the street overseas," Nieves said. "A lot of consulting is still done face to face, and that's limited."
While many analysts on Thursday suggested a recent decline in COVID-19 cases in the U.S. portends that the economy's omicron funk will be temporary, the virus will remain a fact of life for businesses, especially in the services sector, for some time. For a look at how the COVID-19 is impacting business conditions for the economic subsector on the front lines of the pandemic, ISM's Hospital PMI® data will be released on Monday.
The Report On Business® roundup:
Bloomberg: U.S. Services Growth Cools to Almost One-Year Low on Omicron. "The moderation in growth last month followed a 6.1-point plunge that was the sharpest since April 2020, indicating the omicron variant of the coronavirus continued to discourage spending on in-person services like travel and dining out. … Even with the latest omicron-related setback, the figures remain well above pre-pandemic levels and reflect still-strong demand as Americans benefit from mostly steady job and income growth."
Jan ISM Services dipped to 59.9 vs. 59.5 est. & 62 in Dec; prices paid, new orders, backlogs, and imports all fell (but still expanding); new export orders plunged into contractionary territory; supplier deliveries hooked back up … employment dipped to lowest since summer 2021 pic.twitter.com/fn5eUYO54T

— Liz Ann Sonders (@LizAnnSonders) February 3, 2022
MarketWatch: Businesses Grow at Slowest Pace in 11 Months During Omicron Wave, ISM Services Survey Finds. "Businesses big and small, in manufacturing and services, all took a hit last month as the contagious omicron strain of the coronavirus raced across the country. Millions of people called in sick. Service sector companies suffered the most because they usually deal with customers directly and are more affected by government restrictions."
Modern Materials Handling: ISM Report Points to Services Sector Growth in January. "(Nieves) added a there was a bit of post-holiday pullback that was more aligned with what has been seen historically, but it could not be viewed in the same way over the last year, due to the pent-up demand on the heels of pandemic-related lockdowns. 'Things are looking more traditional now, in terms of the trends we see with the services sector,' he said."
Reminder that @ISM® Report On Business® annual adjustments to seasonal factors go into effect with January's Manufacturing PMI® and Services PMI® data, so some previous-months index numbers may have changed from initial release. A primer: https://t.co/VD98zKzb2R #ISMPMI #economy

— Dan Zeiger (@ZeigerDan) February 3, 2022
Reuters: U.S. Service Sector Slows in January; Input Prices Remain Elevated. "With services industry hiring slowing, the improvement in supply chains experienced in December partially stalled. While backlog orders increased at a slower pace, the survey's measure of supplier deliveries rose to a reading of 65.7 (percent) from 63.9 in December. A reading above 50 percent indicates slower deliveries. That meant services inflation remained high."
In case you missed Tuesday's Report On Business® Roundup on the release of the January Manufacturing PMI®, you can read it here. ISM's Hospital PMI® will be released on Monday. For the most up-to-date content on the three indexes under the ISM® Report On Business® umbrella, use #ISMPMI on Twitter.
(Photo credit: Getty Images/Lourdes Balduque)