Report On Business® Roundup: December Services PMI®
January 06, 2022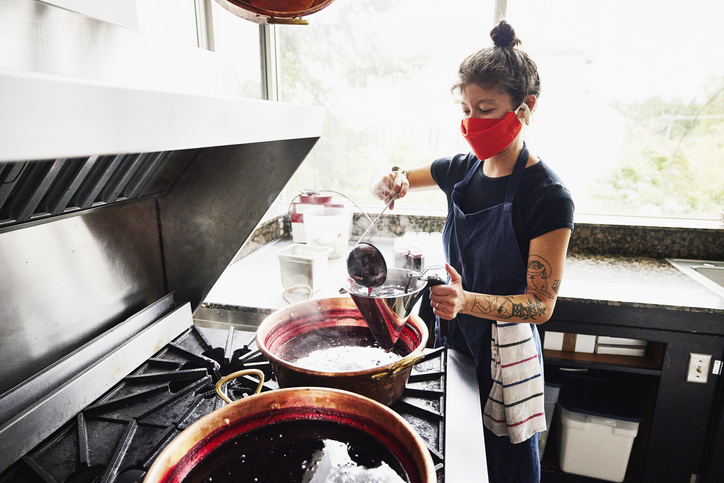 Since the debut of ISM® Report On Business® Roundup in 2018, a regular sentiment in this space regarding the composite PMI® and subindex readings: Location is more important than direction. The Services ISM® Report On Business® for December will — hopefully — not prove to be an exception.
The Services PMI® of 62 percent was a 7.1-percentage point decrease from November's all-time high, and much of the data was compiled before the impacts of the coronavirus omicron variant on businesses were evident. That's a spread in progress, especially in the services sector that makes up most of U.S. gross domestic product, and Report On Business® data in the coming months will tell the story. More on that in a moment.
ECONOMY WATCH: U.S. economy slowed in December from rapid growth. ISM services index falls to 62% from record 69%. Labor & supply shortages still a big headache. Higher prices - inflation - also a problem. Omicron effect limited in December. Expect a bit worse in January ...

— Jeffry Bartash (@jbartash) January 6, 2022
The location was still highly desirable: 62 percent is not far off the 63.7 percent reading in March 2021, the first of five record highs set last year. And the 12-month composite index average of 62.5 is white-hot, under any standard. However, if downward movement continues — with omicron remaining less deadly but highly transmissible, straining hospitals and other essential services on both U.S. coasts — direction becomes paramount.
Anthony Nieves, CPSM, C.P.M., A.P.P., CFPM, Chair of the Institute for Supply Management® Services Business Survey Committee, told a conference call of reporters on Thursday that a leveling off was inevitable: "We couldn't keep setting records every month," he said. "But it's still a very strong number. You can't sustain the level over previous months over a period of time. There would be some overheating if that was the case."
Also: Much of the decline was due to an 11.8-percentage point drop in the Supplier Deliveries Index, one of four equally-weighted subindexes that directly factor into the Services PMI®. (Business Activity, New Orders and Employment are the others.) Supplier Deliveries is the only Report On Business® subindex that is inversed; a lower reading indicates faster lead times and improved delivery rates.
A combined 19.1-percentage point decrease in the Manufacturing and Services Supplier Deliveries indexes in December could be a sign that supply chain constraints are easing. However, ISM Business Survey Committee respondents submitted several comments about constraints, and the Inventories and Inventory Sentiment indexes in December indicated that services businesses were still struggling to replenish stocks.
U.S. ISM Services Survey in December "Still strong; supply pressures beginning to ease, a bit." @IanShepherdson #PantheonMacro

— Pantheon Macro (@PantheonMacro) January 6, 2022
The Services PMI® "eased in December from a red-hot 69.1 (percent) in November, to a still-hot 62.0," Robert A. Dye, Ph.D., chief economist at Comerica Bank in Dallas, wrote in a memo to clients and investors. "Eight out of ten subindexes were positive, including (Business Activity), New Orders and Employment. The two subindexes still below the break-even 50 mark both deal with inventories. Lean inventories reflect strong demand conditions and ongoing supply chain constraints."
While the Manufacturing and Services reports had Supplier Deliveries Index synergy in December, that was not the case regarding prices. The Manufacturing Prices Index fell 14.2 percentages points to a still-lofty 68.2 percent, but there was no such relief for the services sector. The Prices Index was up 0.2 percentage point in December to 82.5 percent, its third-highest reading ever.
The Services Prices Index can be a lagging indicator, as Nieves says many manufacturing commodities start "upstream" in the supply chains, going into finished products sold by services businesses. "On the services side, (Survey Committee) respondents also look at things that aren't associated with tangible goods, especially the labor component," Nieves said. "I think we'll see pricing come down a bit (in the next quarter) as the demand wanes and hopefully supply increases as some of the bottlenecks at ports and in trucking."
ISM Services much softer than expected, 62.0 in Dec vs 69.1 in Nov. Supply chain pressures are easing, which should help dampen inflation in the coming months. However, with Omicron rising there could be further pullback in activity as workers continue to call out.

— Andrew Davis (@adavis_wsfs) January 6, 2022
A day after the private-payrolls report by ADP and Moody's Analytics revealed a surprisingly strong 807,000 jobs added in December, the Services Employment Index was down 1.6 percentage points to 54.9 percent. The share of Business Survey Committee respondents indicating an employment increase at their companies was 30.1 percent, the highest since October 2018 (31 percent). The federal jobs report will be released on Friday.
Throughout the pandemic, the biggest employment impact has been on in-person services businesses, and Nieves expects another moment of truth this month, as omicron spreads. "I think we'll see more of the impact (on the January Services PMI® data) if it doesn't get corralled before then," he said. "This variant looks not as dangerous as past COVID-19 (strains), but it's still very contagious and is keeping people out of the workforce."
And that will impact more than employment — omicron likely will, in the short term, determine the services sector's direction.
Considering the uptick in Omicron etc, not so bad overall. The next ISM Services report will be the one to watch though. pic.twitter.com/QV9YJZ2Ogs

— Andrew Horowitz (@andrewhorowitz) January 6, 2022
The Report On Business® roundup:
Associated Press: U.S. Service Industry Grows More Slowly in December. "Some strengths in the services sector (are) the result of those supply chain troubles that are making it harder to meet increased demand. Longer supplier delivery times and rising prices register as strengths for the services sector. Companies are still reporting some difficulty hiring with a job market healthier than it's been since the pandemic began nearly two years ago. The unemployment rate fell to 4.2 percent last month, a level that most economists consider close to full employment."
Bloomberg: Growth at U.S. Service Providers Sees Sharp Pullback From Record. "The (Prices Index) reading for services was at odds with a separate report from ISM on Tuesday that showed a gauge of prices paid by manufacturers slumped in December to the lowest level in more than a year. (However), demand indicators remained firm and suggested the sector will continue to expand at a healthy pace in coming months."
Bad start of the year for the US: ISM services index falls to 62.0 in December, from 69.1, much worse than consensus and the third biggest monthly fall on record.

Still in expansion, but weakening rapidly.

— Daniel Lacalle (@dlacalle_IA) January 6, 2022
MarketWatch: Economy Cools Off, ISM Finds, as Firms Cope With Shortages and Omicron. "While the survey still shows strong growth in the economy, parts of the service industry are likely to experience hiccups as omicron works its way through the population. Restaurants and entertainment venues in particular. … Still, the biggest problem for most companies in the longer run are ongoing shortages of labor and supplies. Businesses can't find all the workers and materials they need and the cost of everything is going up."
Reuters: U.S. Weekly Jobless Claims Rise Slightly Despite Spiraling Omicron Cases. "The survey found that fast food restaurants were offering sign-on bonuses and high pay for lower-level jobs. Other businesses reported there were 'not enough potential employees in the pipeline," and "employees (were) leaving for other opportunities at higher wages.' There were 10.6 million job openings at the end of November, with a record 4.5 million people voluntarily quitting jobs."
In case you missed Tuesday's Report On Business® Roundup on the release of the December Manufacturing PMI®, you can read it here. ISM's Hospital PMI® will be released on Friday. For the most up-to-date content on the three indexes under the ISM® Report On Business® umbrella, use #ISMPMI on Twitter.
(Photo credit: Getty Images/Thomas Barwick)