Report On Business® Roundup: January Manufacturing PMI®
February 01, 2022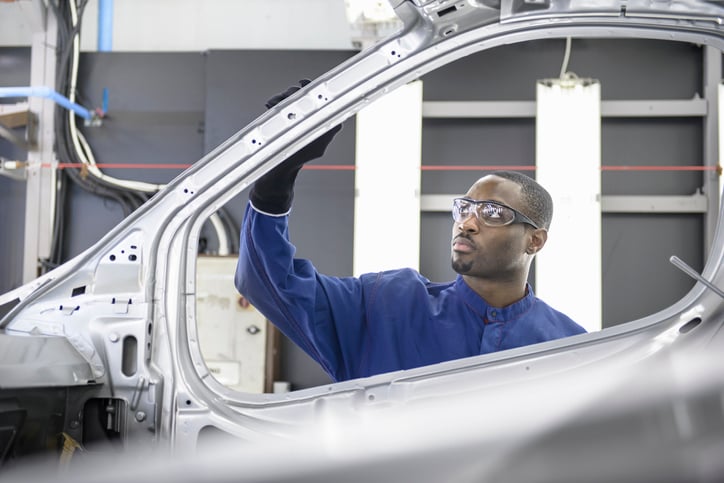 As the calendar turned, this space indicated that, while its impact on U.S. manufacturing was not fully evident, the omicron variant would be at least a "pothole" for the sector. It became clear as January progressed that the latest COVID-19 strain has made the road to supply chain equilibrium longer and much bumpier.
That rough ride was confirmed on Tuesday, as the Manufacturing ISM® Report On Business® data for January revealed the pandemic's continuing and tightening grip, felt on factory floors, delivery schedules and invoice sheets. The Manufacturing PMI® of 57.6 percent was a 1.2-perecentage point decrease from the previous month and the lowest reading since November 2020 (57.3 percent).
ECONOMY WATCH: U.S. factories hang tight in January despite omicron wave, ISM index shows. Manufacturing PMI falls just slightly to 57.6% from 58.8% in prior month. Many workers got sick, but manufacturers still expanding at a rapid rate and supply snafus easing.

— Jeffry Bartash (@jbartash) February 1, 2022
Some analysts suggested the composite figure could have been worse, considering that the seven-day average of COVID-19 deaths in the U.S. at the end of January was more than 2,500, according to data compiled by The New York Times. That's the highest figure in about a year, prior to mass availability of vaccines.
Timothy R. Fiore, CPSM, C.P.M., Chair of the Institute for Supply Management® Manufacturing Business Survey Committee, told a conference call of reporters on Tuesday that omicron's biggest impact on manufacturing has been through worker absenteeism. "There was not as much labor on factory floors," he said. "When you have that situation in factories, it's also likely happening with the support functions, and that will impact new order levels."
Ironically, of the five subindexes that directly factor into the PMI®, the only one with a month-over-month increase was the Employment Index, up 0.6 percentage point to 54.5 percent as many Business Survey Committee respondents noted greater hiring ease. However, illnesses, retirements and turnover remain issues; wrote one respondent, "Lack of skilled production personnel, either from missing work due to (COVID-19) variants or leaving for better opportunities, making it more difficult to complete work."
The pandemic's thumb was felt on the scale with the New Orders and Production indexes, which decreased a combined 4.7 percentage points. Fiore noted that likely impacted the Backlog of Orders Index, which was 56.4 percent, a 6.4-percentage point drop and its lowest reading since October 2020 (55.7 percent). The New Orders and Production indexes directly factor into the PMI®; the Backlog of Orders Index does not.
There's "no fundamental cause" for the backlogs decrease, Fiore said, adding that the index could rebound in February. Backlogs might also have been affected by companies delaying orders in hopes of prices decreasing, he said. The January ISM® Report On Business® data did not offer much encouragement, however.
After the Prices Index dropped 14.2 percentage points in December, Fiore said that relief was likely temporary. In January, the index rose 7.9 percentage points to 76.1 percent, as steel; aluminum; electrical and electronic components; petroleum products; and packaging supplies remain among the biggest pricing drivers. Lead times are adding to stocker shock, Fiore said.
The Supplier Deliveries Index deceased 0.3 percentage point to 64.6 percent, indicating slight improvement in delivery rates. However, average lead time for capital expenditures increased in January to 167 days, the highest figure since ISM began collecting such data in 1987. Average lead times for production materials (95 days) and maintenance, repair and operating (MRO) supplies (46 days) were near their all-time highs.
Lunar New Year (LNY), which began on Tuesday and runs though February 11 in China, should allow U.S. coastal ports to burn off ship backlogs as transit from Asia is on hold. "Hopefully, that will provide a return to a normal pace of ships waiting offshore," Fiore said, though he added that the rush will likely resume after LNY — and those ships could sail straight into possible labor turbulence at West Coast ports in July, when contracts for 15,000 dock workers expire.
ISM Manufacturing dipped in January to 57.6 vs. 57.5 est. & 58.7 in prior month; new orders fell alongside production, backlogs, supplier deliveries, and inventories … prices paid reversed higher to 76.1 vs. 68.2 prior … employment still hanging in there pic.twitter.com/gl3fGDajuQ

— Liz Ann Sonders (@LizAnnSonders) February 1, 2022
The Report On Business® roundup:
Barron's: The Manufacturing Economy Is Slowing. Blame COVID. "A key gauge of U.S. industrial activity showed deceleration in January. The U.S. manufacturing sector is growing, but COVID-19 and inflation still loom over everything. The Institute for Supply Management® Purchasing Managers' Index, or PMI®, came in at 57.6 (percent) for January, down from 58.8 in December. Economists projected a reading of 57.5."
Bloomberg: U.S. Manufacturing Growth Eases for a Third Straight Month on COVID Surge. "The group's measures of production and new orders both dropped to the lowest since mid-2020, suggesting the recent wave of infections due to the omicron variant may have hampered plant operations. Prices for materials used in the production process — already elevated amid lingering pandemic-related supply and demand imbalances — jumped nearly 8 points last month. That was the largest advance since the end of 2020 and was probably a reflection, at least in part, of higher crude oil prices."
The prices paid number on today's ISM manufacturing report is the latest sign of this. It's relatively low, but well above expectations and higher than last month. Inflation does not appear to be peaking. And why would it?

— Dion Rabouin 🇺🇸 (@DionRabouin) February 1, 2022
CNBC: There Were 4.6 Million More Job Openings Than Unemployed Workers in December. "Federal Reserve officials are watching the latest data closely as they prepare to embark on their first tightening cycle since 2018. Policymakers say they feel the economy is close to fulfilling the Fed's mandate of full employment, while inflation remains higher than its 2-percent benchmark. Indeed, the ISM index reflected inflation pressures in the pipeline, as the Prices Index in January hit 76.1 percent, up 7.9 percentage points from December."
MarketWatch: U.S. Factories Grow at Slowest Pace in 14 Months Amid Omicron Wave, ISM Finds. "Although the index is still quite strong historically, it's fallen three straight months. Prices for raw materials and others supplies also rose again, complicating the decision by manufacturers on how much to buy. The good news? Orders and production are still quite robust, a sign of steady customer demand. 'Given the rapid spread of omicron last month and the number of people missing work from sickness, the results here aren't as bad as they could be,' said senior economist Will Compernolle of FHN Financial."
Reuters: U.S. Manufacturing Sector Slows in January; Employment Rises. "There was another tentative sign of improving supply chains. The survey's measure of supplier deliveries was little changed at 64.6 (percent). … The steady reading in the index is encouraging given the omicron wave, which economists had feared would keep more factory workers at home and further stress supply chains. Still, prices at the factory gate continued to march higher."
Be aware that @ISM® Report On Business® annual adjustments to seasonal factors take effect with January's Manufacturing PMI® and Services PMI®, so some previous-months index numbers may change from their initial release. More information: https://t.co/pSiRWlOsfH #ISMPMI #economy

— Institute for Supply Management (@ism) February 1, 2022
The Wall Street Journal: U.S. Stocks Waver Ahead of Earnings. "Fresh data showed that U.S. manufacturing activity slowed last month to the lowest level since September 2020. The (Manufacturing PMI®) decreased to 57.6 — a reading above 50 generally signals expansion — in January from 58.8 in December, according to Institute for Supply Management. The report showed that the COVID-19 omicron variant and supply-chain impediments were among the issues that weighed on activity."
ISM's Services PMI® will be unveiled on Thursday, and the Hospital PMI® on Monday. For the most up-to-date content on the reports under the ISM® Report On Business® umbrella, use #ISMPMI on Twitter.
(Photo credit: Getty Images/Monty Rakusen)