Inside Supply Management Magazine
The 30 Under 30 Roll Call
March 14, 2018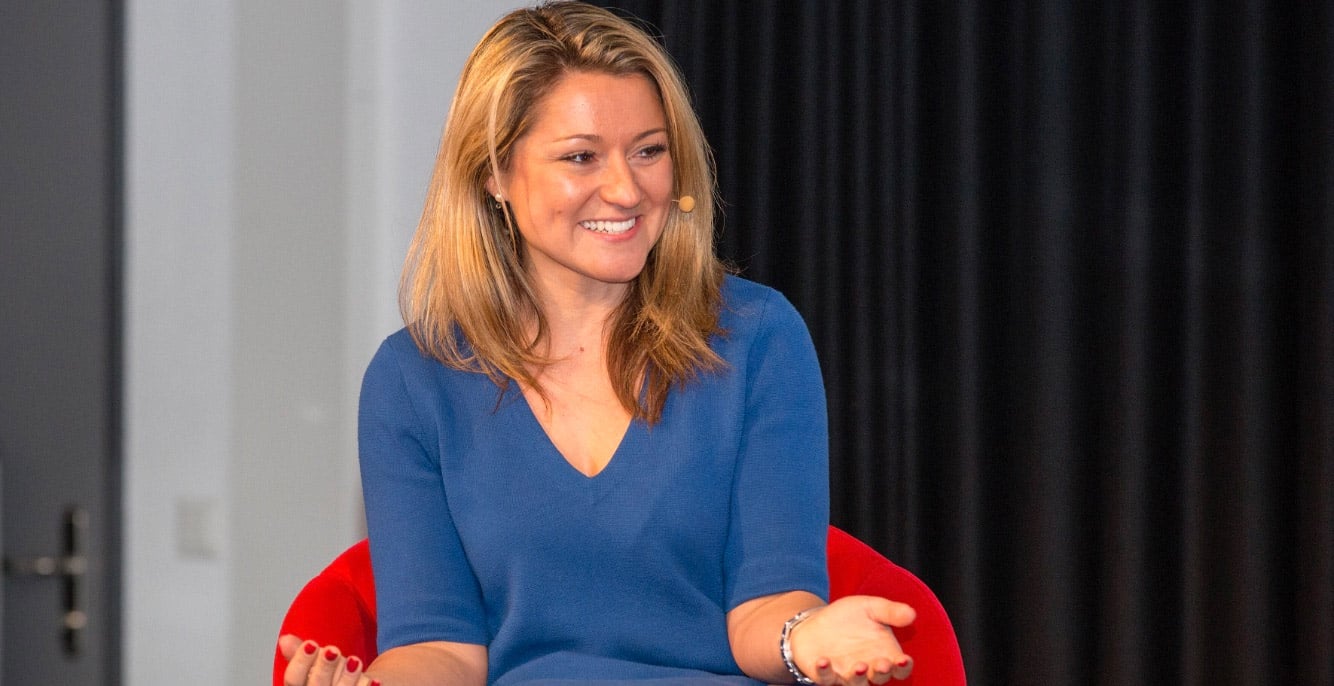 The 2017 honorees in the 30 Under 30 Rising Supply Chain Stars Recognition Program, announced today, have collectively saved more than US$10 million, updated technology across 8,900 stores, displayed proficiency in the latest digital tools and repeatedly proven their procurement chops to top management.
Among that array of promising young talent honored by the program — a joint effort by Institute for Supply Management® (ISM®) and Thomas —  it's clear that the Megawatt Winner will own an especially impressive resume. Charlotte de Brabandt (pictured), the 2017 recipient, fits that bill.
The category associate at Johnson & Johnson created a market engagement program for global energy procurement for 920 sites across three continents. Such an endeavor that typically takes nine months to complete, but de Brabandt did it in less than four, generating savings that, in effect, gave the company one free year in a three-year contract, compared to the previous supplier.
At the ISM2018 Annual Conference May 6-9 in Nashville, Tennessee — the largest annual supply management gathering in the world — de Brabandt and the other 30 Under 30 honorees will be recognized as the future of the profession. "The accomplishments and talents of this group are nothing short of remarkable," said Thomas W. Derry, CEO of ISM. "They stand out for their international sensibility, cross-border innovations, digital problem-solving ability, and commitment to driving enterprise-wide value. These next-generation leaders are providing their organizations with a powerful competitive advantage on the worldwide stage."
In its fourth year, the 30 Under 30 program honors individuals that demonstrate leadership, innovation, collaboration and other noteworthy attributes, at work and through professional associations. It is intended to bridge the supply management talent gap by providing role models to millennials seeking to enter or advance in the profession. "The latest 30 Under 30 winners exemplify the new generation of supply chain leadership," said Tony Uphoff, president and CEO of Thomas. "They demonstrate daily what is possible to achieve in a profession that is riding the wave of innovation and creativity."
The honorees come from positions based in the U.S., Spain, Switzerland and Singapore. Most work in manufacturing; other industries represented include military/government, aerospace and defense, business services, health care, oil and gas, pharmaceuticals, and utilities.
The full list of winners:
●Mitchell Agee, manager — supply chain contracts, The Boeing Company, Seattle
●Manuel Allendesalazar, forecasting business manager — Global Supply Chain Center of Excellence, Teva Pharmaceuticals, Madrid, Spain
●Ajay Kumar Arjunan, global commodity management senior adviser, Dell Global B.V., Singapore
●Neta Berger, supply chain program manager, Google, Mountain View, California
●Charlotte de Brabandt, category associate, Johnson & Johnson, Zurich, Switzerland
●Steven Clowney, CPSM, global commodity manager, AGCO Corporation, Duluth, Georgia
●Rhiana Gallen, contract specialist, Denver Water, Denver
●Chelsey Graham, commodity manager, U.S. Steel Corporation, Pittsburgh
●Jordan Haller, procurement supervisor, ExxonMobil, Spring, Texas
●Luis Huazano, procurement analyst, Northrop Grumman Corporation, El Segundo, California
●Trenton Lara, senior operations performance manager, Pacific Gas and Electric, San Ramon, California
●Chang Liu, business intelligence analyst, Royal Philips, Highland Heights, Ohio
●Jim Lorditch, staff buyer, Curtiss-Wright Engineered Pump Division, Bethlehem, Pennsylvania
●Blake Malburg, category specialist, AbbVie, Mettawa, Illinois
●Madeline Martin, strategic sourcing manager, dry animal proteins and palatant, Mars Petcare NA, Franklin, Tennessee
●Caitlin Michaelis, strategic sourcing consultant, Anthem, Inc., Indianapolis
●Meer Parekh, global sourcing specialist, Dover Fueling Solutions, Austin, Texas
●Josh Pratt, commodity manager, U.S. Steel Corporation, Pittsburgh
●Conor Quarry, analytics-as-a-service lead, IBM, Durham, North Carolina
●Elizabeth Richter, CPSM, chief of staff, Flex, Inc., San Jose, California
●Tanner Ryan, trucking coordinator, Shell Trading Company, Denver
●Daniel Sanchez, CPSM, category manager — operations and marketing, Aquanima, Boston
●Sharndeep Singh, category manager, Johnson Controls, Milwaukee
●Lauren Sylvester, manager, cargo air acquisitions, U.S. Postal Service, Washington
●Nicholas Ulmen, project lead, 3M Company, Maplewood, Minnesota
●Keith Unton, senior supply chain manager (Walmart Group), The Hershey Company, Bentonville, Arkansas
●Patrique Veille, sourcing project manager consultant, Renew Design Inc., Winston Salem, North Carolina
●Lisa Weaver, category manager, E. I. Du Pont de Nemours and Company, Wilmington, Delaware
●Hilary Wendt, category manager, Shell Exploration and Production Company, Houston
●Leah Williams, supply chain planning analyst, Northrop Grumman Corporation, Linthicum, Maryland.