Report On Business® Roundup: August Manufacturing PMI®
September 01, 2023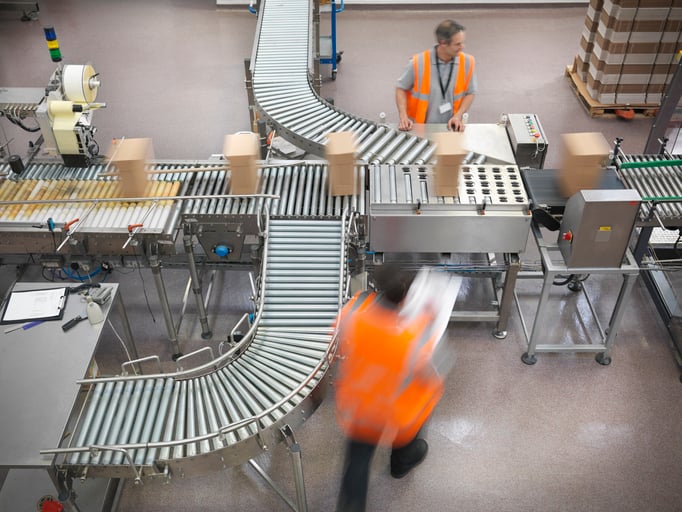 After the release of the July Manufacturing ISM® Report On Business®, Timothy R. Fiore, CPSM, C.P.M., said that the data suggested that U.S. factory activity had bottomed out and the climb out of that valley was underway.
On Friday, the sector could look forward to Labor Day weekend with the knowledge that the August numbers affirmed the presence of an upward path, said Fiore, Chair of the Institute for Supply Management® Manufacturing Business Survey Committee put it. "We're likely still in the trough," he told a conference call of reporters. "The issue is how long we'll remain there."
The Manufacturing PMI® of 47.6 percent was a 1.2-percentage point increase compared to the previous month, exceeded analysts' expectations for August and was the highest reading since February.
Manufacturers remained challenged for the 10th straight month, but with the ISM® Manufacturing Purchasing Managers' Index® rising for the 2nd consecutive month from 46.4 in July to 47.6 in August. Despite being in contraction territory, it was the strongest reading since… pic.twitter.com/wQcAWQuznI

— Chad Moutray (@chadmoutray) September 1, 2023
The gain occurred despite a slight drop in the New Orders Index (46.8 percent, down 0.5 percentage point). However, Fiore said, companies mitigated that pain by continuing strategies deployed earlier in the summer, including (1) adjusting production levels to match order books, (2) right-sizing employment levels and (3) judiciously watching inventory levels.
In August, the Production Index increased to 50 percent (or "unchanged" status), the first Manufacturing subindex to register out of contraction since May. On the same day the federal jobs report revealed that U.S. payrolls increased by 187,000 in August, the Employment Index elevated 4.1 percentage points to 48.5 percent. The Inventories Index registered 44 percent, down 2.1 percentage points.
"It feels like the sector is moving toward stability with new order rates better matching production output rates," Fiore said. "It's been evident for several months that production would have to realign with the order books. And companies continue to manage employment down, though they haven't had to use the more severe action of layoffs."
Business Survey Committee respondents noted that their companies were adjusting head counts primarily through attrition, rather than with hiring freezes or layoffs. This suggests, Fiore noted, that such employment decisions are not driven by a desire to reduce labor costs, but by right-sizing staff levels commensurate with consumer demand.
In August, 14 percent of respondents reported higher employment levels at their companies, compared to 9.4 percent the previous month. "People aren't quitting as much now, so companies are sizing head counts. That they think they can get there easier through attrition rather than layoffs or freezes is a positive thing," Fiore said. "They are slowly bringing head counts down as people quit."
There is still anxiety regarding the global economy and recent softness in China and Europe, and Fiore said some of those dynamics are reflected in the New Export Orders Index, which at 46.5 percent was in contraction territory for a third straight month. However, Fiore noted that the ISM® Report On Business® is a leading indicator, and the subindexes and other data point to stability, at least in the U.S.
Manufacturing is showing signs of recovery. The ISM #Manufacturing PMI rose a 2nd straight month, reaching a 6-month high of 47.6. While still in contraction, the last 2 months were "less bad." The production component is back in expansion territory. pic.twitter.com/1SjDk9coYa

— Cetera Investment Management (@ceteraIM) September 1, 2023
In August, 62 percent of U.S. manufacturing gross domestic product (GDP) contracted, down from 92 percent the previous month. And the share of GDP with a PMI® at or below 45 percent — a good barometer of overall sector weakness — was only 15 percent in August, down from 44 percent in June. The Manufacturing PMI® is inching closer to the 48.7 percent reading that, based on historical data, indicates an expansion of the U.S. economy.
While ISM's Business Survey Committee Chairs typically don't make big proclamations, preferring to let the data speak for itself, Fiore said he's confident that a PMI® showing growth in manufacturing is not far off. "Barring an (unforeseen) external influence like a geopolitical issue or a major change in the financial markets," he said, "the composite index should continue to climb and pass 50 percent at some point in the next three or four months."
He concluded, "The global economy looks different … but the U.S. is sitting pretty good at this point."
The Report On Business® roundup:
Agence France Presse: U.S. Manufacturing Slump Continues Into 10th Month. "The continued slowness in new manufacturing orders aligns with recent inflation figures, which showed a contraction in the prices of goods, while those of services continued to rise. The Federal Reserve has been on an aggressive campaign since March last year to bring down high inflation through interest rate hikes, which hits consumer demand."
Bloomberg: U.S. Factory Activity Gauge Suggests Stabilization at Weak Level. "While the overall gauge of manufacturing has contracted for 10 straight months, the figures hint conditions are stabilizing at weak levels. Producers are starting to see some signs of relief after companies made strides reducing an inventory overhang and consumer spending on merchandise picked up."
Mace News: Manufacturing in Contraction for 10th Straight Month on Slow New Orders but Output Balanced, Job Cuts Less Severe. "Fiore told reporters that the U.S. manufacturing sector relies largely on domestic demand, and thus that he is not so concerned about slowing global growth, China's economic ills or spillover effects of geopolitical developments. 'It feels like we are in a trough,' he said. 'New orders, production, employment, prices, supplies are all moving towards a better balance.' "
Happy ISM manufacturing day to all who observe (oh and also payrolls)

— Steve Goldstein (@MKTWgoldstein) September 1, 2023
MarketWatch: ISM Factory Index Stumbles for 10th Consecutive Month in August. "Manufacturing has contracted for 10 straight months, although the August level is the highest since February. (The sector) has been hurt by the Fed's rapid push to raise interest rates and the weakening global economy."
Reuters: U.S. Manufacturing Sector Stabilizing at Weaker Levels in August. "Economists polled by Reuters had forecast the index rising to 47. Manufacturing, which accounts for 11.1 percent of the economy, has been hammered by 525 basis points worth of interest rate increases from the (Federal Reserve) since March 2022. Spending on long-lasting manufactured goods has slowed after booming during the COVID-19 pandemic, with services like airline travel, visits to amusement parks and concerts now in favor."
ISM's Services PMI® will be unveiled on Wednesday, and the Hospital PMI® on September 8. For the most up-to-date content on the reports under the ISM® Report On Business® umbrella, use #ISMPMI on Twitter.
(Photo credit: Monty Rakusen/Getty Images)