Report On Business® Roundup: July Manufacturing PMI®
August 01, 2023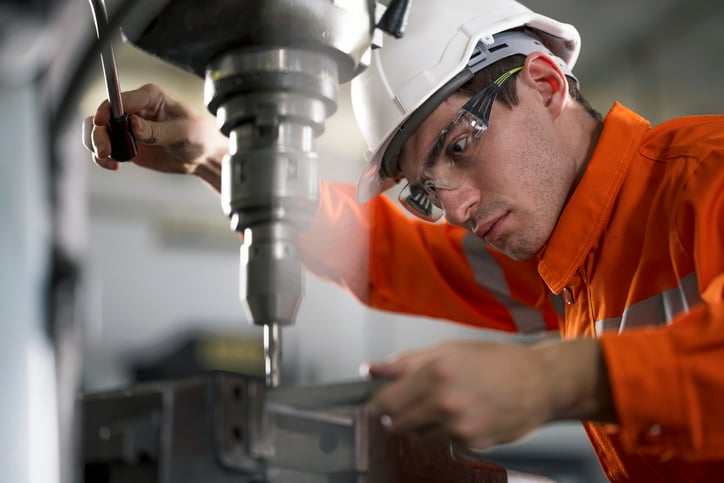 This sentiment has appeared regularly in this space to describe the ISM® Report On Business® data: Location is often more important than direction.
The Manufacturing PMI® numbers for July could prove to be an exception — a potentially powerful one that could have significant ramifications for the U.S. factory sector and the overall economy. "I think that we're probably in the trough" or the bottoming out has occurred, Timothy R. Fiore, CPSM, C.P.M., Chair of the Institute for Supply Management® Manufacturing Business Survey Committee, told a conference call of reporters on Tuesday.
The location of the composite index, a reading of 46.4 percent, isn't ideal, reflecting a ninth straight month of contraction, the longest such stretch since the Great Recession (September 2008-July 2009). But it has been stable, between 46 percent and 47.1 percent for the last five months.
Meanwhile, the direction of some of the subindex readings — all 10 remained below 50 percent, but eight increased, indicating weaker contraction — suggest "demand could be coming back," Fiore said. "It isn't the strongest positive to point to, but if August and September bring more of the same … it could be the start of a build out. I don't think it will be dramatic or a spike, but we'll start to see recovery toward a 50-percent (PMI®) reading."
Earlier on Tuesday, Fiore told Bloomberg TV: "There have been three or four months in the 46-percent range, and the subindexes that make up the Manufacturing PMI® are shifting. In July, they shifted in a positive direction, so we could be in the trough."
The New Orders Index registered 47.3 percent, a 1.7-percentage point increase compared to the previous month, and the Backlog of Orders Index elevated 4.1 percentage points, to 42.8 percent. The Production Index continued showing resiliency amid sluggishness in new orders and employment — especially the latter in July; more on that in a moment — with a reading of 48.3 percent, a 1.6-percentage point increase compared to June.
The composite PMI® would have been higher and possibly met analysts' expectations of 46.9 percent if not for a dent in the Employment Index, which registered 44.4 percent, down 3.7 percentage points compared to June and the lowest reading since July 2020 (43.7 percent). While that was a disappointment at first glance, Fiore said it reflected a head-count adjustment that was castor oil the manufacturing sector needed to take.
Is #manufacturing sentiment bottoming? The ISM Manufacturing PMI rose slightly in July, though it contracted for the 9th straight month. Positively, the new orders index climbed to a 9-month high, signaling an improving outlook. pic.twitter.com/3yYVRDq765

— Cetera Investment Management (@ceteraIM) August 1, 2023
Companies hoped to hold on to employees until growth resumed, but "they had to adjust to the reality that there have been seven or eight months of a lack of demand," Fiore said. "And if we've seen the bottom on new orders and backlogs contraction, companies are taking actions to right-size their head counts, consistent with the next six months of output."
In other positive data:
Nearly all (92 percent) of manufacturing gross domestic product (GDP) contracted in July, up from 71 percent the previous month. However, the share of GDP with a PMI® at or below 45 percent — a good barometer of overall sector weakness — was only 25 percent in July, compared to 44 percent in June.
The Chemical Products industry, which Fiore calls a bellwether for the sector, registered a PMI® above 45 percent.
"Last month, I mentioned that I'm not sure if the drop was over yet, and if you don't know if you've hit the bottom, it's a lot harder to plan for the future," Fiore said. However, July brought some desperately needed clarity, he added: "I don't see anything in this report — absent any other external issues — that the (PMI®) is going to go below 46. I see lots of opportunity to go in a different direction."
Similarly, inventories (up from 44.0 to 46.1) and customer inventories (up from 46.2 to 48.7) have been consistent with manufacturers working through their existing stockpiles, even as the pace of decline in July slowed for both measures.

— Chad Moutray (@chadmoutray) August 1, 2023
The Report On Business® roundup:
Agence France Presse: U.S. Manufacturing Struggles With Ninth Month Of Contraction. "The headline ISM figure however signals contraction 'for the longest stretch since the global financial crisis,' said economist Oren Klachkin of Oxford Economics. 'We see tougher times ahead,' he said. He added that big-ticket and credit-sensitive goods stand to suffer the biggest losses in a mild recession, expected around (the end of) 2023."
Bloomberg: U.S. Manufacturing Activity Contracts for a Ninth Straight Month. "Measures of new orders and production improved in July, with the former rebounding to a nine-month high. Even so, both remained in (contraction) territory. … While other parts of the economy remain firm, high interest rates paired with an ongoing rotation in consumer preferences toward services have stifled the manufacturing sector. Sluggish demand abroad has proved to be an additional headwind."
CNBC: Manufacturing Activity Contracts for a Ninth Straight Month. "ISM manufacturing index for the month of July, expecting a headline number of 46.9 percent; it's 46.4. It hasn't been above 50 percent since September 2022," analyst Rick Santelli said. "Let's move down the list to (the Prices Index). This is a number we prefer move lower, and indeed, it's lower than expected at 42.6 percent."
Mace News: Manufacturing in Contraction for Ninth Straight Month on Job Cuts Amid Uncertainty, but Key Index Up Slightly on New Orders, Output. "Fiore told reporters that employment reduction is "positive" as it cools wage inflation, adding that deeper job cuts and a more moderate production adjustment are a good combination for the sector. The method used by manufacturing firms to reduce their workforces in July is more balanced than in June, when the share of layoffs rose substantially compared to those of attrition and freezes, he said."
How is it possible to have a manufacturing downturn without an overall US recession? Manufacturing is only 11% of US GDP. pic.twitter.com/CeT2o0AGTx

— Charlie Bilello (@charliebilello) August 1, 2023
MarketWatch: U.S. Manufacturers Remain Mired in a Slump, ISM Finds. "The industrial side of the economy is unlikely to make a full recovery until the Federal Reserve stops raising interest rates or the threat of recession passes. The Fed increased rates again last week as it battles to bring down high inflation. The central bank could lift rates again in September if prices pressures don't continue to ease."
Reuters: U.S. Manufacturing Shows Signs of Stabilizing at Lower Levels in July. "Spending on long-lasting manufactured goods has slowed after booming during the COVID-19 pandemic, with services like airline travel and visits to amusement parks now in favor. … Despite the continuing drag from higher borrowing costs, the outlook for orders is improving as demand for goods holds up, encouraging businesses to rebuild inventories. Inventories for factories and customers remained low in July, which bodes well for future production."
ISM's Services PMI® will be unveiled on Thursday, and the Hospital PMI® on Monday. For the most up-to-date content on the reports under the ISM® Report On Business® umbrella, use #ISMPMI on Twitter.
(Photo credit: Nitat Termmee/Getty Images)