Report On Business® Roundup: June Manufacturing PMI®
July 03, 2023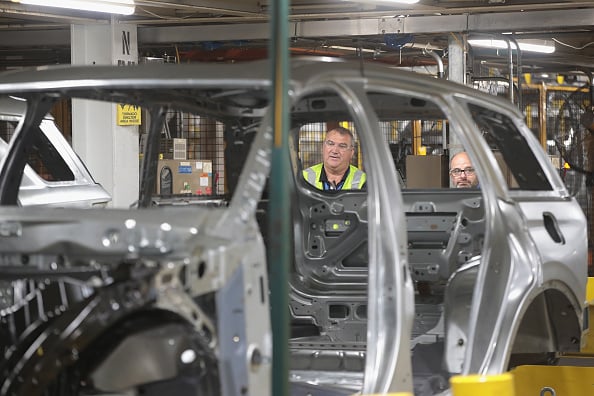 The Manufacturing ISM® Report On Business® has frequently ventured into rarely charted territory since the onset of the coronavirus pandemic in 2020, but Monday brought an especially unique instance: perhaps the first Yogi Berra-ism to describe the data.
In breaking down the June numbers, with a Manufacturing PMI® at 46 percent (the eighth straight month of contraction), Timothy R. Fiore, CPSM, C.P.M., Chair of the Institute for Supply Management® Manufacturing Business Survey Committee, included a line that could have been said by the baseball Hall of Famer who famously had a way with words.
"Until there's more certainty, we'll all be uncertain," Fiore told a conference call of reporters. He chuckled after that comment, but the subject — the continuing waiting game for demand, which impacts supplier orders, inventories, capital investments and employment, among other business dynamics — is no laughing matter.
The effect on labor was a focus of Fiore's appearance on Bloomberg TV after the release of the June data. For months, Manufacturing Business Survey Committee respondents have projected stronger performance in the second half of the year, but continuing sluggish demand is pushing those expectations back. In June, the Employment Index dropped int contraction, down 3.3 percentage points to 48.1 percent.
While many companies have tried to maintain head counts in preparation for a return of growth, for some, business plans no longer allowed it. And the quickest way to stay in alignment with labor budgets is layoffs, Fiore told Bloomberg TV. "We saw layoffs come into play in the month of June than we have since (the starts of) the pandemic recovery. ... This was the first month I saw a shift in layoffs as part of labor force management, compared to hiring freezes and attrition," he said.
While all three major U.S. markets were slightly higher at the end of Monday's abbreviated trading session before the July 4 holiday, investors were hoping "to see solid data, and that means the ISM Manufacturing PMI® moving closer toward 50 (percent) and beating expectations," Sevens Report Research founder and president Tom Essaye wrote in a memo. They didn't get it, with the composite reading the lowest since May 2020 (43.5 percent) and none of the 10 subindexes in expansion territory.
Three indexes provided potential bright spots. The Supplier Deliveries Index — which is inversed, meaning a lower reading indicates faster deliveries — registered 45.7 percent and has averaged 44.9 percent in the last seven months, not far from the index's lowest reading in 14 years, which was in March 2009 (43.2 percent), So, delivery performance has been optimal.
Maybe it's a good thing manufacturing doesn't dominate U.S. economy anymore. Business conditions are the worst at least since the pandemic, if not the 2007-2009 Great Recession, ISM shows. Services are keeping the economy afloat and out of recession. pic.twitter.com/GKSeHVoEa0

— Jeffry Bartash (@jbartash) July 3, 2023
Also, the Prices Index was 41.8 percent, down 2.4 percentage points from May, and the Customer's Inventories Index, which measured the amount of product on shelves, decreased 5.2 percentage points to 46.2 percent, back in "too low" territory. That's considered a positive for future demand and production.
However, supplier delivery times and prices have been buyer catnip for months. And factories are still waiting for orders, and with the Backlog of Orders Index (38.7 percent in June) remaining at an unusually low level, there's less for floor workers to do. Hence, the head-count reductions and investment pullbacks by companies.
"The uncertainty is definitely continuing, which is preventing new order placements, which is holding the PMI® number down, which is preventing people from keeping employees and investing in CapEx (capital expenditures), which is impacting production, so around and around we go," Fiore said.
And it seems the answers aren't clear-cut. Is inflation, which appears to have peaked but remains high, discouraging consumers from major purchases and companies from investing? Have most Americans, after splurging during the COVID-19 "stuff economy," determined they have all the goods they need for now?
#ISMPMI survey respondent in Primary Metals: "Continue to struggle with hiring hourly factory workers and finding qualified management candidates — higher turnover than desired. Pricing has stabilized, but labor costs remain high." https://t.co/yTrjeSL0GG #economy #employment

— Institute for Supply Management (@ism) July 3, 2023
Fiore said his instinct is that the wait for demand will persist. A key sign in the July data will be the direction of Production and Employment indexes. After displaying resiliency in recent months amid slowing new orders, the Production Index registered 46.7 percent in June, down 4.4 percentage points.
"One month doesn't make a trend, so we'll see," Fiore said. "But if production and employment remain below 50 percent and perhaps move into stronger contraction for July, that would support that companies are really starting to dial back and planning for lower revenues."
The Report On Business® roundup:
Bloomberg: U.S. Manufacturing Activity Shrinks by Most in Three Years. "Many Americans continue to limit their spending on merchandise as they rotate to services and experiences. Others are simply tightening their belts as still-high inflation takes a toll on their incomes. … At the same time, recent government data has shown business demand for equipment is still healthy and, if sustained, could provide some support for manufacturers."
CNBC: Late Morning Rundown — July 3. "U.S. manufacturing activity slumped further in June, according to the Manufacturing PMI® data, which dropped to the lowest reading since May 2020," reporter Silvana Henao said. "This marks the eighth straight month that the PMI® stayed below 50 percent, a sign of contraction in manufacturing and the longest streak since the Great Recession."
Mace News: Manufacturing in Contraction for 8th Straight Month on Weaker Demand, More Layoffs. "Fiore told reporters that the uncertainty is continuing but (did not say) the possibility of recession in the U.S. is higher. … It would be 'concerning' if the index were headed toward 45 (percent) and below and if there were no new demand, he added."
MarketWatch: Manufacturers Contract for Eighth Month in a Row, ISM finds, and Are Weakest Since the Pandemic Lockdowns. "Manufacturers have responded to slack demand by reducing inventories and slowing production. ... The industrial side of the economy is unlikely to rebound until the Federal Reserve stops raising interest rates. ... The strength of the economy, meanwhile, has been in services such as travel, recreation and leisure."
The ISM manufacturing report has dropped to its lowest level since May 2020. That extends the period of 'contraction' (sub-50 reading) and aligns to the US 10-year / 2-year yield spread inversion. Still no #recession? pic.twitter.com/5ZtU7gG4xk

— John Kicklighter (@JohnKicklighter) July 3, 2023
Reuters: U.S. Manufacturing Extends Slump in June. "Manufacturing is struggling under the weight of 500 basis points worth of interest rate increases from the Federal Reserve since March 2022, when the U.S. central bank embarked on its fastest monetary policy tightening campaign in more than 40 years. Spending is shifting to services and away from goods, which are typically bought on credit. Businesses are also carefully managing inventories in anticipation of weak demand."
The Wall Street Journal: America's Factory Building Boom. "Institute for Supply Management® said that its index of manufacturing activity slipped to 46 (percent) in June from the previous month's 46.9. … This is likely a reflection of the fact that while the economy still appears to be growing, it is growing slowly, with Americans buying less of the manufactured goods they stocked up on during the pandemic."
ISM's Services PMI® will be unveiled on Thursday, and the Hospital PMI® on Friday. For the most up-to-date content on the reports under the ISM® Report On Business® umbrella, use #ISMPMI on Twitter.
(Photo credit: Scott Olson/Getty Images)