Shenzhen Lockdown Ends, But Supply Chain Issues Will Persist
March 22, 2022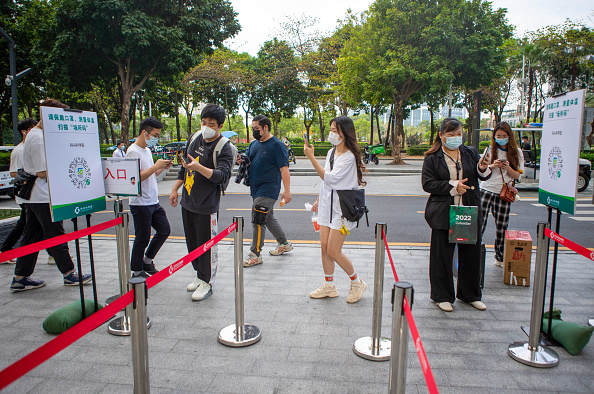 Employees scan the quick-response code before entering their workplace at Kexing Science and Technology Park in Shenzhen, China, on Monday as normal work resumed in the city following the latest COVID-19 resurgence. (Photo credit: Getty Images/Southern Visual/VCG)
After a weeklong lockdown due to a coronavirus outbreak, Chinese technology hub Shenzhen resumed normal production on Monday, but cargo flows will remain impacted, says Tony Pelli, practice director of security and resilience at British Standards Institution (BSI), a business improvement solutions and supply chain intelligence provider.
"Supply chain managers should prepare for longer disruptions," says the Scottsdale, Arizona-based Pelli, who compared the lockdown in Shenzhen — home to the Port of Yantian, the fourth-largest container terminal in the world — to the Suez Canal blockage in April 2021. He adds that the biggest lesson from Suez also applies to Shenzhen: shipping flexibility.
"Giving yourself more than one option, while difficult to arrange, can help lessen the impact of these types of disruptions," Pelli says. "Another lesson is decreasing concentration in your supply chain. The companies that have weathered this latest disruption effectively have suppliers in many parts of China or even in other East and Southeast Asia countries, giving them flexibility to shift production."
Also, supply management organizations must consider that the highly transmissible omicron variant could re-erupt in the region at any time. Due to Beijing's zero-tolerance COVID-19 policy, the definition of "outbreak" in the country is much different than in almost all other parts of the globe. For example, Shenzhen's lockdown came after it reported 66 new cases on March 13, bringing the city's total to 400 since February.
While Shenzhen's municipal government insisted on Monday that the virus was "under control" following three rounds of COVID-19 testing of the city's 17 million residents, rising case counts prompted tightening of controls in Jilin, Changchun and other areas; measures included the closure of Disney's theme park in Shanghai. Perhaps most critical, the virus surge in Hong Kong, believed to be linked to the outbreak in Shenzhen, has become so severe that there is a shortage of coffins in the semi-autonomous region.
"We will likely see more COVID-19 shutdowns (in China)," Pelli says. "Though vaccination rates in China are fairly high, the zero-COVID strategy has necessitated lockdowns when cases rise. Other locations that are key to global supply chains, like South Korea and Taiwan, have adopted similar policies that could lead to disruptions if cases spike."
The Impact on Port Traffic
While there is never a good time for a supply chain disruption, Pelli says, the lockdown at Shenzhen — called the "Silicon Valley of China" and site of multiple campuses for Foxconn, the world's leading producer of information technology (IT) and other electronic components — was especially inconvenient: Chinese factories had been ramping up production following Lunar New Year (LNY).
Technically, the Yantian port remained open, but with warehouse operators and truckers forced to remain at home, container loading came to a standstill. Vessels awaiting berth at the port increased by 44.1 percent in the days after the lockdown, according to research by project44, a Chicago-based shipping and third-party logistics research and technology firm.
"With other export hubs in China like Hong Kong and Shanghai already suffering from bottlenecks, rerouting container ships from Yantian may have little effect on easing the supply chain crisis," says Adam Compain, project44 senior vice president, supply chain insights.
The post-LNY traffic increase combined with the post-lockdown surge could create another long parade of container ships heading toward West Coast ports, which were able to catch up and relieve congestion earlier this year. "There is risk that the current disruptions in China will create a bullwhip effect," Pelli says. "The glut of products coming out at the same time will cause congestion and disruption further down the supply chain."
He adds, "While I don't think (the congestion) will be as severe as we saw last year, it will certainly be disruptive for a number of weeks."
Issues Don't End When Lockdown Does
As companies and consumers have learned throughout the pandemic, supply chains are not like rubber bands that snap back into place once a disruption ends, Pelli says. Shenzhen was already dealing with strained trucking resources, which have further intensified as backlogs grew during the lockdown. Danish shipping giant A.P. Moller-Maersk reported that it expects a 40-percent cut in trucking "service efficiency" between Shenzhen and other cities, due to strict road controls and frequent driver COVID-19 testing.
Among Foxconn's highest-profile customers are Apple Inc., Sony, Nintendo and HP Inc., meaning component shortages could delay production of consumer electronics products. And a slowdown in Chinese exports could reduce inventories for many businesses, leading to even more inflationary pressure.
And that, Pelli says, could be a best-case scenario, as there is no guarantee COVID-19 will remain at bay in China. The situation reinforces the theme that began after the start of the global trade war in 2018 and intensified during the pandemic: Global supply chains will always exist in some form, but for many organizations, alternate sourcing and/or moving operations closer to customer bases is critical.
"Shifting sourcing is here to stay," he says. "It's been proven that one of the best ways to increase supply chain resilience is to reduce the concentration of your supply chain in a single country, regardless of such other considerations as tariffs. As a result, companies are looking to nearshore. Most industries are moving in this direction, including those with supply chains that have been (traditionally) cemented in place, such as the semiconductor industry."