Managing Supply Chains' Interconnectedness After the Suez Canal Blockage
April 05, 2021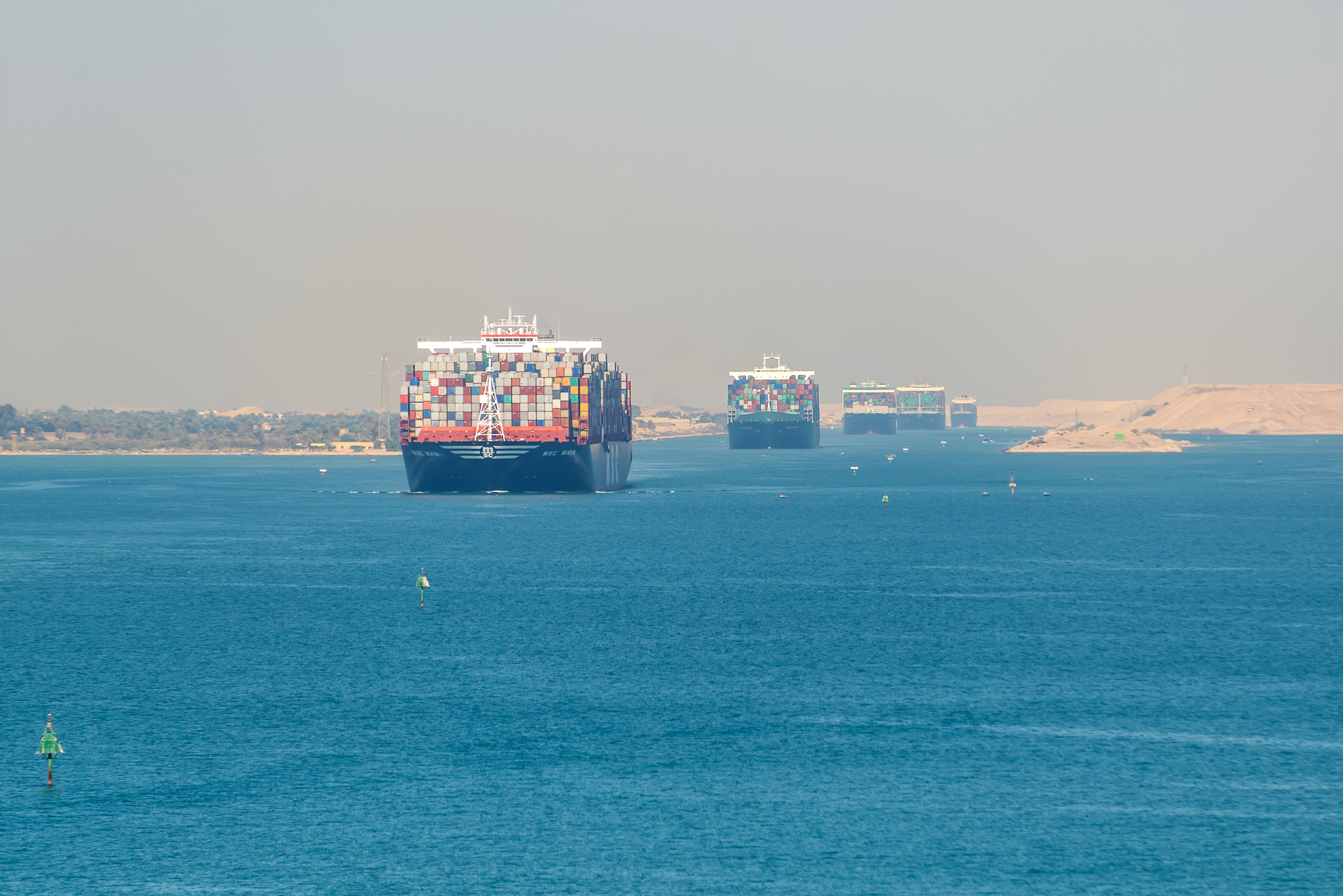 Just like the coronavirus (COVID-19) pandemic, the Suez Canal incident — in which the container ship Ever Given blocked the canal for nearly a week, holding up billions of dollars in trade goods — emphasizes how globally interconnected supply chains are.
"(It provided) the business world with another example of the true impact that the disruption of a single link can make on an entire chain of supplies," says Brian Alster, general manager, third-party risk and compliance at Dun & Bradstreet, a Short Hills, New Jersey-based business data and analytics provider. Over time, companies have developed a higher level of dependency on suppliers and third parties from other countries, he says: "(T)hat dependency is highlighted when a single shipping artery that is a major channel for the transportation of goods between the East and the West is impacted and disrupts the entire world's supply chain."
The 1,312-foot-long ship, which was carrying around 1,800 containers, was freed on March 29 after getting stuck on March 23. More than 300 ships awaited passage, while many others opted to sail the longer, more time-consuming route around the Cape of Good Hope. According to reports, about 12 percent of seaborne trade passes through the Suez Canal, and during the blockage, as much as US$10 billion in cargo — like toilet paper, oil, vehicles, furniture and electronics — was delayed.
"Whether you're a retailer waiting on finished goods or a manufacturer waiting on work in progress, this will negatively impact your supply chain," says Alex Wakefield, CEO of Longbow Advantage, a Montreal-based supply chain consulting and technology company. It puts more stress on already stressed supply chains, he says.
Beyond-Regional Impact
There's a perception that the Ever Given blockage principally affects Asian-European trade, says Pawan Joshi, executive vice president, products and strategy at E2open, an Austin, Texas-based provider of cloud-based supply chain software. However, he notes, "The Suez is a main shipping lane for countries such as India, that exports to America. Roughly 20 percent of containers shipped through the Suez are destined or originating to and from America."
Alster says that incident has had a ripple effect that is causing massive disruptions across the U.S., United Kingdom, Germany, Belgium, France and the Netherlands, among other critical supply chain strongholds. "The impacts also reverberate through almost every industry," he says, "particularly for the U.S., where we see implications for grocery stores, hardware stores, surgical and medical equipment suppliers, plumbing, heating and air-conditioning, semiconductor, general warehousing and storage, trucking and sporting-goods sectors."
The immediate and obvious impact, Joshi says, is delayed shipments of goods to distribution centers, where they are then sent to end consumers. "There is an economic impact associated with these goods and their delay," he says. "However, the greater impact of the cargo stuck at sea will be due to goods used as raw materials and the business impact that these delays have on the downstream production that relies on the availability of these materials."
Downstream economic impacts can be much greater than the financial value of the cargo itself, Joshi says: "Many industries have just-in-time (JIT) manufacturing models and delays of such critical materials as machine parts or automotive components from China, India and Vietnam can directly impact European and American production."
Wakefield expects the impacts to last weeks, possibly months. Distribution strategies will shift in cases where customer satisfaction of delivering an order outweighs the cost of a transportation mode shift, he notes.
"Companies may be forced to tightly manage allocation of product to customers and make tough decisions about who gets their orders and who doesn't," he says. "These are hard decisions to make, and companies will need to balance what's important when it comes to their strategies. Warehouse operations will need to adjust their process to be able to prioritize inbound trailers for unloading — relying more on cross docking and prioritize orders going out the door."
Joshi notes that the Suez Canal disruption occurred during an unprecedented shortage of shipping containers. "This incident further exacerbates the existing crisis of containers and vessels delayed in reaching ports, and ports getting congested — adding even further delays," he says. "The result is shipping schedules are being disrupted both for goods that are in containers ready to be shipped but waiting for ships, as well as goods waiting to be packed into available containers. Several carriers are also pausing their short sail lanes to focus on the longer ones to deal with the situation."
Digital Mitigation Strategies
What strategies and best practices can supply managers use to avoid fallout from the Suez Canal incident, as well as third-party risk in general?
"It is critical that leaders assess their key vendors and suppliers to determine if any businesses they work with have been impacted by the incident to avoid forcing a major shutdown to a company's supply chain due to a single point of failure," Alster says. "For years, supply chain managers have embraced the global nature of their supply chains, and this incident is a perfect example of how managers can leverage the benefits of a more globally diverse supply chain by working with their alternative suppliers in non-impacted regions of the world to offset the delays."
Alster says that effective risk-management solutions also are a growing necessity to manage a company's supply chain as well as its overall reputation. "By investing in data-driven technology today, supply chain leaders can more easily evaluate and on-board new suppliers, while also continuously monitoring their full global network," he says. This allows them to create an agile, geographically dispersed supply chain that can quickly pivot during any circumstance, he adds.
"Digital-enabled supply chains can also drive some efficiency, but the best way to manage a company's supply chain is to really know your suppliers and your suppliers' suppliers," Alster says. "Transparency into your network of suppliers, as well as a diversified supply chain will help mitigate risk in the short and long-term."
Supply transparency also is key. "A major contributor of making supply chains more stressed is an over reliance on just-in-time inventory and planning models that cannot possibly take into account unexpected events," Wakefield says. He recommends that companies invest in a real-time visibility solution that offers a full picture of available inventory and how warehouses are processing that inventory, which will make pivots more effective, he says.
"Building additional physical stock at various points throughout the chain will help as well," he says. "Companies need to get used to the fact that this will increase their carrying costs, and they will need to decide whether to reset shareholder expectations or pass costs onto their customers."