Pandemic Emphasizing Value of Augmented- and Virtual-Reality Devices
August 10, 2020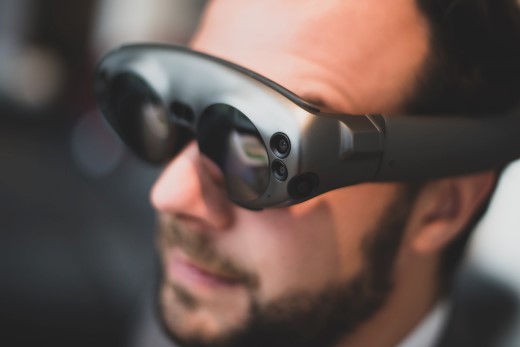 The coronavirus (COVID-19) pandemic-caused remote work by companies generally lacks at least one element: visualization. According to ABI Research's Augmented and Virtual Reality: Visualizing Potential Across Hardware, Software, and Services white paper, visualization is one area that has been missing from most companies' digitization efforts.
The pandemic, the white paper states, has only served to emphasize the benefits that augmented reality (AR) and virtual reality (VR) can provide. "Interestingly, COVID-19 did not present many new challenges for AR and VR implementations, but instead emphasized potential and value," it states. "When examining the changes necessitated by the pandemic, many overlap significantly with high value-added solutions within AR/VR that have existed for years."
These technologies, according to the white paper, can benefit companies in four areas:
Remote work. Among the ways both devices can add value are through spatial awareness, visualization integration and step-by-step instruction.
AR and VR devices can provide visualization to training that is done off-site and in place.
Data capture. AR "is being positioned as a promising longer-term approach to content capture, creation and distribution," the white paper states.
Hands-free activities. AR and VR head-worn devices enable data to be accessed hands-free, and given the pandemic, offers sanitation potential.
Other white paper highlights:
Shipments. While the pandemic has caused adjustments to pre-coronavirus device shipment forecasts — lowering them, particularly in 2020 — the adjusted forecast merges with the pre-pandemic forecast in 2024. Standalone devices, which have experienced growth in both the consumer and enterprise markets, are projected to make up 70 percent of shipments in 2024.
Markets. The consumer market is expected to expand for both devices. Additionally, VR usage in several industries — including health-care, retail, and industrial markets — is growing.
There have been several barriers to implementation: (1) the high price of head-worn devices, (2) difficulties with systems integrations and (3) uncertainty surrounding content value, according to the white paper. Improvements and new offerings are helping allay the first two issues, the report states, while pilot programs are helping to improve confidence.
In the future, development of as-a-service models and lower-price devices that crossover from the consumer to the enterprise space will be among the solutions that will help drive adoption, the white paper says: "Despite hardware being a key component in the end-to-end AR and VR ecosystem, a wider approach covering immersive content/services/applications more broadly better bridges near-term value with longer-term visions and applicability."