Inside Supply Management Magazine
ROB Roundup: October PMI®
November 01, 2018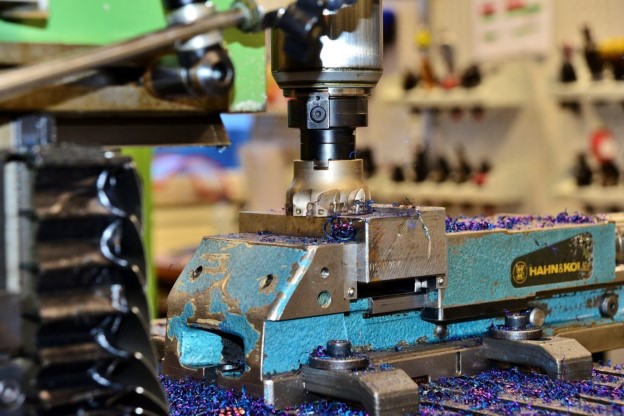 All summer, the Manufacturing ISM® Report On Business® hummed along with dispassionate efficiency, so much so that the monthly composite index appeared to be scraping its ceiling, suggested Timothy R. Fiore, CPSM, C.P.M., Chair of the Institute for Supply Management® Manufacturing Business Survey Committee.
The last two months of have served as a sobering reminder that conditions can change quickly, particularly when there is instability in an arena — international trade — that is critical to the manufacturing sector. Let's be clear: The October composite PMI® of 57.7 percent is a good number. However, put in the context of a 3.6 percentage-point decrease in the last two months, combined with potential red flags among the sub-indexes, industry-performance gauges and Survey Committee respondents' comments, Fiore offered a simple assessment on Thursday: "Something's happening."
.@ISM® Report On Business®: U.S. #manufacturing sector grows at slowest rate since April. Decreases in New Orders, Production and Employment indexes help put PMI® at 57.7% in October, down 2.1 percentage points from the previous month. https://t.co/oSTyssOu6h #ISMROB #economy

— Institute for Supply Management (@ism) November 1, 2018
He adds, "We have had high PMI® levels, but this brings us back to a level we haven't seen since before the summer. When you have these high levels month after month and you have a two-point decline, something's happening. We're seeing complications about getting materials, and (the manufacturing community) would like to see these trade issues resolved."
Customer-demand expansion softened for the second straight month; the New Orders Index reading of 57.4 is down from 65.1 in August. The Production Index had its steepest decline since March 2017, falling 4 percentage points, from 63.9 to 59.9. The fabricated metal products sector — which makes many of the parts that go into machines and other goods — contracted for the first time since September 2016, thanks in part to two straight months of declining new orders.
Said a Survey Committee respondent in machinery: "While order intake remains steady, the pace has slowed since the first half the year. Instead of growing, the backlog is declining. We were processing orders at a high level; now they are at the point of status quo from late 2017. We are not concerned yet, but there is certainly trepidation about the future."
Decline in the ISM composite index is consistent with other indications of a slowing growth rate from very high level reported earlier in the year. Current growth cycle looks to have peaked. Question is what comes next: gentle slowdown, growth recession, or outright recession?

— John Kemp (@JKempEnergy) November 1, 2018
For months, Fiore said that September and October would be the first telltale months of the impact of tariffs turbulence, beyond anxiety, on the manufacturing sector. Have the effects become more tangible? For the fifth straight month, tariffs and trade accounted for more than 40 percent of respondents' comments. Fiore says there is less confidence that price increases can be passed along to customers, and some respondents noted that their companies are considering or implementing changes to their manufacturing footprint to avoid counter-tariffs.
The markets weren't deterred by the PMI® data, in part because of another potential trade development: President Donald Trump stating that he had a positive conversation with Chinese President Xi Jinping on trade. The Dow Jones Industrial Average recorded a 264-point gain.
As has been stated before in this space, ISM's editorial position on the Report On Business® is to refrain from speculation on what it means for the future of markets and the economy, preferring to let the numbers speak for themselves. Fiore says he'll continue to evaluate the data on a "month-to-month" basis, although he noted that the holiday months are typically slower for the manufacturing sector (which is accounted for in the PMI® through seasonal adjustments).
"Historically, the PMI® does not collapse quickly," Fiore says. "It comes down over a period of months. We'll have to see if this is the first month of an easing that continues."
The Report On Business® roundup:
Advanced Manufacturing: Manufacturing Expansion Slows in October, ISM Says. "The PMI® has averaged 59.2 percent the past 12 months (with) a high of 61.3 percent in August. Thirteen of 18 industries reported economic expansion in October. They included textiles, apparel, miscellaneous manufacturing, machinery and transportation equipment. Four sectors reported economic contraction, including fabricated metal products and primary metals."
The @ism index landed at 57.7%, slightly below expectations. Any number about 50% means the manufacturing part of the economy is generally expanding.

— CEA (@WhiteHouseCEA) November 1, 2018
Bloomberg: U.S. Factory Gauge Slumps to Six-Month Low Amid Trade War. "Elevated price pressures and a pickup in measures of backlogs and supplier deliveries show lingering supply-chain bottlenecks. Disruptions and data volatility related to major storms in September and October may have played a role. … Some of the results may reflect an unwinding of gains from previous months when manufacturers were rushing to purchase materials and export their products ahead of U.S. tariffs and counter-levies by China. Trump has threatened to raise the tariffs further and on more products."
Business Insider: American Manufacturers are Seriously Worried About the 'Mounting Pressure' Caused by Trump's Trade War. "It may be just the beginning of price pressures within the manufacturing sector. Jeffries economist Thomas Simons said some of the effects may have been masked as businesses try to rush orders ahead of anticipated price increases. 'According to comments by survey respondents, backlogs are starting to fall, so we may start to see more of the negative effects of the tariffs put downward pressure on the ISM PMI® heading into the end of the year,' Simons said."
CNBC: ISM Manufacturing Index Comes in at 57.7, Lightest Since April. "This one was also a bit of a miss, expecting 59 and ending up with 57.7. ... Prices paid zoomed, but that's when you don't necessarily want to see them," analyst Rick Santelli said.
MarketWatch: ISM Manufacturing Index Falls to Six-month Low in October as Price Rises, Shortages Weigh. "On the eve of the jobs report, the employment index fell 2 points to 56.8 percent, while the prices index shot up 4.7 points to 71.6 percent. The new-exports-orders index fell 3.8 points to 52.2 percent. … The manufacturing sector is being buoyed by a strong domestic economy, which is being goosed by federal stimulus money. That said, price concerns continue to be a worry, with tariffs a concern."
US ISM #manufacturing index cools to still strong 57.7 as New #orders (57.4), Production (59.9) & Employment (56.8) fall. Still all three at "strong expansion" level.
Rising concerns abt tight #supplychains & rising costs passed onto consumers. Beware of #tariffs impact. pic.twitter.com/WkiFPEDqdd

— Gregory Daco (@GregDaco) November 1, 2018
The Wall Street Journal: Factory-Sector Growth Retreated in October; Tariffs Could Be to Blame. "Metal prices have grown this year, with analysts blaming recent trade actions. … Some companies appear to be adjusting to the higher prices in numerous ways. Some firms, including United States Steel Corp. and Century Aluminum, are ramping up domestic production to make up for imported products that could be priced out of the market. Other companies, like Harley-Davidson Inc., appear to think the higher prices will remain an economic reality for now and plan to shift production overseas to offset retaliatory tariffs."
The Non-Manufacturing ISM® Report On Business® will be released on Monday. For the most up-to-date content on the PMI® and NMI® reports, use #ISMROB on Twitter.