Inside Supply Management Magazine
ISM Indirect 2015 Conference Highlights
December 03, 2015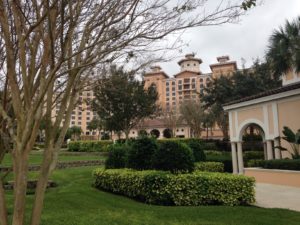 When it comes to being indispensable as a procurement professional, it's key to be considered a trusted resource. That was one of the common takeaways during today's presentations at ISM Indirect 2015. We're in warm Orlando, Florida at the Rosen Shingle Creek Resort to soak up as much information about indirect procurement best practices as possible. (Soaking up the sun in true Florida fashion hasn't been possible due to clouds and some rain, but it's a wonderful atmosphere all the same!)
Indirect 2015 opened with a warm welcome from Institute for Supply Management® (ISM®) COO Tony Conant, and attendees met the 15 scholarship recipients for this year's ISM Services Scholarship. Then it was time for Richard Wertsching, C.P.M. to take the stage and share an intriguing and thoughtful look at Disney Worldwide Services, Inc.'s sourcing and procurement strategies. Wertsching, who is vice president of sourcing and procurement for Theme Parks and Resorts at Disney, explained why it's so important for supply management/procurement to be considered a trusted advisor in the organization. "We (supply management practitioners) are teachers. We touch so many businesses in our companies," said Wertsching. "We have strong value propositions and if we get early involvement in initiatives we can make impacts, but ... the only way to get early involvement is to be thought of as trusted advisors."
People are the key ingredient when building a strategic sourcing team for indirect sourcing, said Danielle Gorla, director of supply chain and strategic sourcing for Shaw Communications in her presentation. Gorla shared insights about how Shaw built a team from the ground up, while transforming spend into a value-creating process. "Overall, it's about having one voice across the company and having good processes in place," said Gorla.
[caption id="attachment_11485" align="alignleft" width="300"]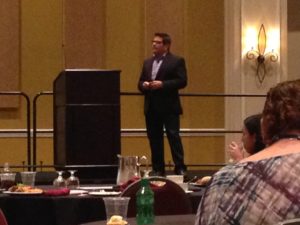 Lou Mongello of wdwradio.com speaks at ISM Indirect 2015
After Gorla's presentation, attendees broke out into hour-long roundtable discussions about a variety of indirect procurement challenges. Lunch was highlighted with an inspirational talk about the man, the legend — Walt Disney. Lou Mongello, author and podcast expert from wdwradio.com, gave attendees a brief overlook at the personal leadership philosophies of the man who was once fired for a lack of creativity and went on to build an animation and theme park empire. This author's favorite Walt Disney quote from Mongello's speech: "Of all the things I've done, the most vital is coordinating those who work with me and aiming their efforts at a certain goal."
[caption id="attachment_11486" align="alignright" width="300"]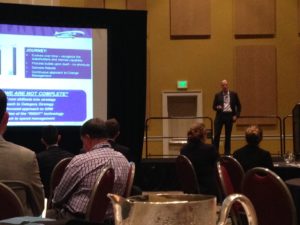 Jeffrey Schneider from Goodyear Tire and Rubber Company talks about category strategy and supplier collaboration.
Two breakout sessions followed lunch: attendees chose between learning about the USPS' indirect rate analysis processes, or E & J Gallo Winery's energy management program. To round out the afternoon, Goodyear Tire and Rubber Company executives Peter Retterer, director of North America Procurement, and Jeffrey Schneider, senior category manager of polymers talked about effective category strategy and how to collaborate with suppliers to maximize procurement's impact on the organization. One great piece of advice from Retterer: "Make it easy for users to use your processes, but very hard to go around." He and Schneider shared details about their strategic sourcing, joint category profiling and supplier relationship management philosophies and techniques.
Andrew Palascak, senior manager of finance GSM and Business Processes for BorgWarner Morse Division at BorgWarner gave the final presentation of the day about how to handle risk mitigation when commodity price fluctuations are a concern, and the best ways to develop a long-term strategy that the entire organization can understand. Palascak shared a number of takeaways as he explained the actions his team took to get a grip on volatility and fluctuations for commodities like copper and nickel. "Understand commodity impact on operational performance in isolation, because then you can show the executive team that, when everything else is taken out of the price equation, commodity price movements affect things," he said.
ISM Indirect 2015 continues tomorrow with three more presentations:
●Lessons From a (Former) CPO: 5 Costly Mistakes to Avoid with Indirect Procurement by Deborah Stanton, executive managing director of CAPS Research
●Technology Contracting — Moving Into the Cloud by Mark Trowbridge, CPSM, C.P.M., principal of Strategic Procurement Solutions
●Maximizing Your Impact in the World! by Jill Bossi, C.P.M., CEO and founder, Thrive GPO, Inc. & SCM3, LLC
If you've been in attendance at this year's event, please feel free to contact us to share your thoughts and feedback.