Report On Business® Roundup: October Manufacturing PMI®
November 01, 2023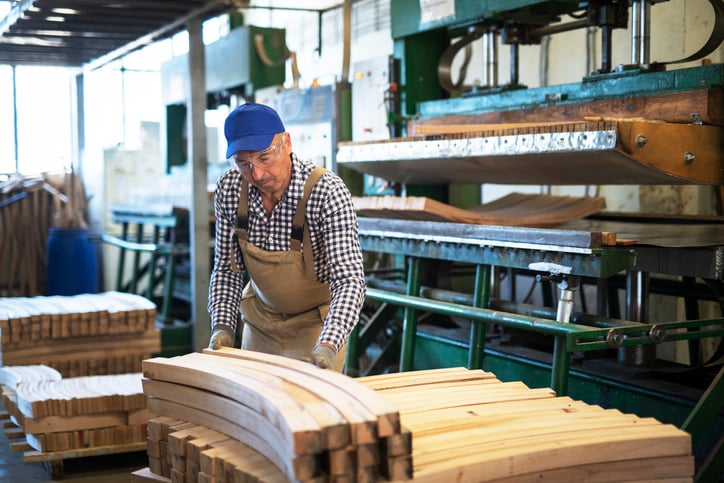 Amid a flurry of other economic data and at the start of a meeting of the U.S. Federal Reserve, the Manufacturing ISM® Report On Business® data for October had to be especially eye-popping to dominate conversation on Wednesday morning.
It was. The release of a Manufacturing PMI® of 46.7 percent was a big miss compared to economists' projections, extended Treasury yield declines and heightened manufacturing demand worries, a dynamic not exclusive to the U.S.
Concerns on how the Federal Reserve (Fed) would respond were eased later on Wednesday, when it announced a hold on interest rates at their 22-year high. But a 12th straight month of manufacturing contraction, and at a faster rate — especially considering the PMI® appeared to be on the cusp of expansion in September — was a sobering development.
JOLTS comes in above expectations, but ISM manufacturing is weak across the board.

— Kathy Jones (@KathyJones) November 1, 2023
However, some of the data served as another dose of the castor oil the sector needs, said Timothy R. Fiore, CPSM, C.P.M., Chair of the Institute for Supply Management® Manufacturing Business Survey Committee. "We're still in the trough, but at the lower end of it," he told a conference call of reporters.
The Employment Index fell into contraction at 46.8 percent, down 4.4 percentage points compared to September, and the Inventories Index reading of 43.3 percent was a decrease of 2.5 percentage points. Those are silver linings, Fiore said. "The employment number sagging is a good thing, because it shows companies are lowering staffing levels, which we've seen coming for some time," he said. "Inventories is a point-in-time issue, and I think that number will improve. The big issue for the month was new orders."
The New Orders Index registered 45.5 percent, down 3.7 percentage points compared to September. It was a head-scratching reading, on multiple fronts:
The Prices Index (45.1 percent) remained in "decreasing" territory, and the Supplier Deliveries Index (47.7 percent) indicated faster lead times — conditions that normally bring buyers and sellers to the table.
The New Export Orders Index has been in contraction territory for 14 of the last 15 months, but a reading of 49.4 percent in October suggests trade conditions are improving, Fiore said.
The Production Index remained in expansion at 50.4 percent, and the impact of the apparently resolved United Auto Workers (UAW) strike on the PMI® data might have been minimal.
The strike did not dominate Fiore's interview time on Wednesday, and Business Survey Committee respondents' comments were neutral. Wrote one respondent in Primary Metals, "Despite the (UAW strike), there's a firmness and pickup in orders for the rest of the (year)."
Regarding the labor turbulence at U.S. automakers, Fiore told Bloomberg TV, "The good thing is that it's behind us now, so we won't be looking at it as a headwind in November." A deeper dive into the New Orders Index data, he added, revealed sluggishness at three capital-focused industries: Computer & Electronic Products, Machinery and Fabricated Metal Products.
That suggests higher interest rates have impacted investment in those industries, Fiore said: "I think they're seeing the brunt of the tight (federal) monetary policy, and they've had to tighten their belts."
He added that there should be more clarity when capital expenditures (CapEx) data for this year and projections for 2024 are revealed when ISM's Semiannual Economic Forecast for the manufacturing and services sectors is released in December. "I will be especially interested in those CapEx numbers," Fiore said.
The Manufacturing PMI® has been in contraction for a year — the longest stretch since the global meltdown of 2008-09 — but other data does not indicate a U.S. recession. It could be a sign that COVID-19 continues to challenge and confound companies, factories and supply chains, and some of the old rules may no longer apply. (The January/February issue of Inside Supply Management® will further examine this dynamic.)
"The index normally does not stay below 50 percent for this long," Fiore said. "It's usually five or six months, but I think this is an oddball contraction — the pandemic shut everything down, everyone did crazy buying to meet demand, creating a backlog that wasn't real. And we may still be paying the price for that."
🚨 For the first time in *3 YEARS* (35 months), manufacturers are no longer reporting a shortage of semiconductors in the ISM manufacturing survey.

Manufacturers still report a (3yr+) shortage of electronic components and electrical components

h/t @vebaccount pic.twitter.com/xw3O1ClW9H

— Skanda Amarnath (@IrvingSwisher) November 1, 2023
The Report On Business® roundup:
Barron's: Manufacturing Sector Contracts for 12th Consecutive Month, ISM Survey Shows. "The reading is a miss, and it isn't great news. The sector is contracting faster than it was earlier in the year. What's more, the new order index came in at 45.5 (percent), down from the September reading of 49.2. New orders are a predictor of future manufacturing levels. … The manufacturing economy just isn't recovering."
Bloomberg: U.S. Manufacturing Gauge Contracts at Fastest Pace in Three Months. "The October decline wiped out much of the progress in the prior three months, leaving the ISM index close to its lowest level since the aftermath of the pandemic. The gauge may well snap back after labor deals were reached between the United Auto Workers union and Big Three automakers."
CNBC: JOLTS Report Comes in at Strongest Level Since May, Higher Than Expected. "Here's where the weakness seems to be showing up: the ISM (Manufacturing PMI® data)," analyst Rick Santelli said. "You look at 46.7 percent on the (composite) index, the weakest since July and the 12th sub-50 reading in a row. … There's where your impetus is on some of the buying on Treasuries, those ISM numbers."
Mace News: Manufacturing Contraction Deepens in October as New Orders Remain Sluggish, Firms Resort to More Layoffs. "Asked whether the cumulative effects of the past interest rate hikes by the Federal Reserve that are set to emerge months ahead would prevent a meaningful recovery in new orders, Fiore replied, 'No, I wouldn't say that yet. We are going to have to wait and see here.' Backlog orders have been contracting for 13 months and they will eventually run out, Fiore said."
MarketWatch: ISM Factory Index Drops to Lowest Level Since July. "Economists surveyed by The Wall Street Journal had forecast the index to inch up to 49.2 percent. Manufacturing had reached a floor of 46 (percent) in June and was starting to rebound, but higher interest rates caused firms to pull back capital spending plans, economists said. In addition, the United Auto Workers strike might have had some impact on the data."
The last thing you want to see in ISM Manufacturing and Services diffusion indexes is new orders collapsing and prices paid rising sequentially m/m at the same time. If sustained, that's what stagflation looks like and it's on display in today's data.

— JaguarAnalytics (@JaguarAnalytics) November 1, 2023
Reuters: U.S. Manufacturing Sector Slumps in October. "Economists polled by Reuters had forecast the index unchanged at 49 percent. … Backlog orders were little changed at a depressed level. Inventories at factories continued to be depleted, which bodes well for future production. Prices for factory inputs were subdued. The survey's measure of prices paid by manufacturers rose to a still-depressed reading of 45.1 (percent), from 43.8 in September. This likely reflected slight delays getting some materials from suppliers."
ISM's Services PMI® will be unveiled on Friday, and the Hospital PMI® on Tuesday. For the most up-to-date content on the reports under the ISM® Report On Business® umbrella, use #ISMPMI on Twitter.
(Photo credit: Getty Images/ArtistGND Photography)