Visibility Without Oversight Is Increasing Shipping Vulnerability
July 24, 2023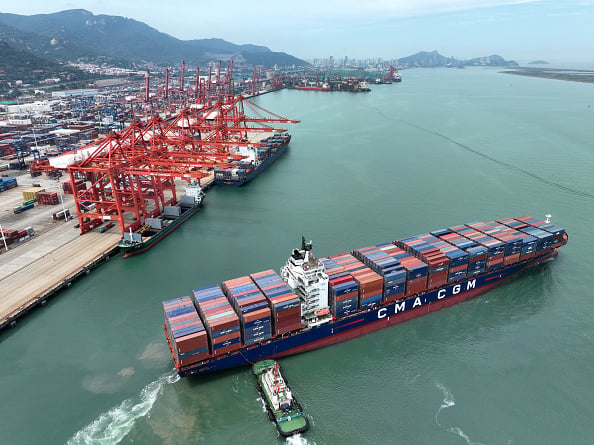 End-to-end supply chains have experienced shifts in geographic locations of interest, with some moving from China to adopt friendshoring as a means to reduce costs and spend and minimize geopolitical-based disruptions.
However, vulnerabilities remain within U.S. ports of call. In fact, one coveted aspect of transparency permeating platforms across the profession is now the backbone of foreign-originated cyber intrusion — visibility.
It's been two years since the U.S. Federal Emergency Management Agency (FEMA) awarded the American Association of Port Authorities (AAPA) US$100 million to better protect critical port infrastructure. Priority was given to projects specifically focused on mitigating risks of cyber-based threats and soft target exposures. For maritime shipping, FEMA funding brought greater critical port infrastructure while bolstering domain awareness, enhancing security risk management and the protocols required for recovery and ongoing resiliency, including worker protections.
But one force behind the need for added protective measures is big data. Discovering the "what, where and when" of products as they move through cargo shipping is knowledge that private enterprise and public agencies use to gain strategic advantage — a standard business practice. However, those with malice aforethought can also follow suit.
A Risk Is Born
Rumblings of increasing risks associated with Chinese cargo data networks caught the ear of the U.S.-China Economic and Security Review Commission last year. As the world's largest exporter, China has expansive shipping operations worldwide, touching numerous ports.
U.S. legislators sought to strengthen control and defense of commercial and military data throughout global cargo and shipping operations to avert national security risks and business threats through compromised supply chains.
The Wall Street Journal reported that findings in the commission's analysis stated that the Chinese Communist Party has a "clear ambition of increasing global reliance on China." It further noted that "the U.S. should be wary of embracing China's participation in global logistics data exchange," specifically citing the logistics data-sharing software National Transportation and Logistics Public Information Platform (LOGINK).
Why Visibility Needs Limits
Since its 2007 inception, not-for-profit LOGINK operates under the umbrella of the China's Ministry of Transportation, pulling information from public databases and more than 450,000 users in China, as well as ports worldwide. Data gathering touchpoints also include Beijing's Belt and Road Initiative, launched in 2013, to connect continents through physical infrastructure, a trillion-dollar investment in the making.
But as China continues to gain a foothold in global economics through countries' external reliance on its resources, dominance through LOGINK's widespread data access could gain momentum. It occurs much like a byproduct to how shipping, port facilities and logistics work. Data moves through the process of end-to-end supply chains through last mile delivery. For ocean carriers, accounting, docking and distribution of cargo is logged and tracked by data systems, including LOGINK. How that information is gathered and used caused trepidations for the U.S.-China Economic and Security Review Commission.
Easily accessible destination and routing information and customs clearance forms providing cargo valuations through use of LOGINK poses "commercial and strategic risks to the United States and could expand the Chinese government's power and influence," the report stated.
Culling China's Unfair Competitive Advantage
The National Defense Authorization Act (NDAA), a defense spending bill approved by the U.S. House of Representatives for fiscal year 2023, includes directives that focus on (1) data accessibility, (2) the procurement of military-grade vessels such as destroyers and aircraft, (3) R&D in bio industrial manufacturing and (4) the designation of a chemical security analysis center.
However, an amendment to the NDAA supports data protections for U.S. ports, as more than 90 percent of goods are shipped via ocean transport. The new provision's requirements, which are meant to garner domestic stability, will set hard boundaries for international maritime shipping, particularly for China, amid collective changes in cooperative trade.
Should the 2023 NDAA pass the Senate, American ports receiving federal grant money will be prohibited from using the LOGINK platform. U.S. Representative Dusty Johnson (R) of South Dakota, who backed the bill, said, "LOGINK provides massive amounts of monitoring, data, and logistics infrastructure to the (Chinese Communist Party). Blocking their access to American port data is one small step to keep this advantage to a minimum."
Gaining Informational Control
Information outflow and intake can bear value at a subversive price. Depending on the recipient, data can be bought and sold under-market or on the black market, bringing more data through LOGINK. According to the Baker Institute for Public Policy, LOGINK provides data to third-party logistics firms in the People's Republic of China at an estimated worth of $1 trillion per year.
Beyond gaining an unethical competitive advantage, visibility without oversight across cargo and logistics points harbors greater risks during times of international instability. A paper by Jon Bateman, senior fellow in the technology and international affairs program at the Carnegie Endowment for International Peace and published in April 2022, posed the dangers of a "U.S. — China Technological Decoupling." The research work brings attention to how China can instigate digital sabotage through the
Economic hardships can be inflicted from country to country by blocking access to key exports, imports or halting cargo from ports, as evidence by Russia pulling out of the Black Sea grain deal. More than political posturing, governments can digitize acts of foreboding war by breaching the technology humans and infrastructures rely on.
Disruptions to power grids, telecommunications and transportation networks can cripple a country quickly, thwarting attempts to defend, protect and act against an aggressor. Perhaps data visibility — buffered by geopolitical boundaries — will provide a fair and equitable balance across maritime shipping and logistics.
(Photo credit: Costfoto/NurPhoto via Getty Images)