ISM World 2023: Shipman Panel Discusses Preparing for the Future
May 09, 2023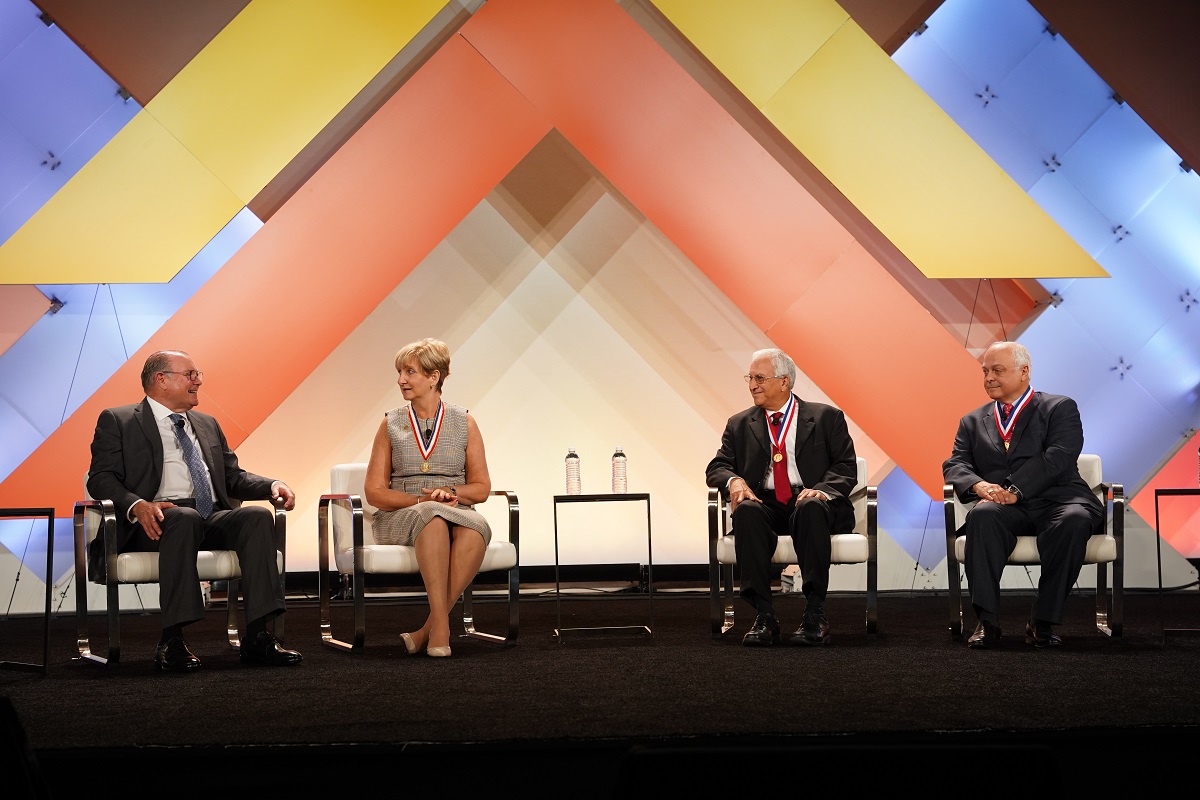 The three J. Shipman Gold Medal Award panelists each brought a distinct perspective to "A Conversation with Supply Chain Leaders" session on Tuesday at the ISM World 2023 Annual Conference at the Gaylord Texan Resort & Convention Center in Grapevine Texas.
Jimmy Anklesaria, MBA, FCA, LL.B., founder of the Anklesaria Group, talked about relationships, emotional intelligence and incorporating historical perspective. Sue Spence, MBA, vice president, sourcing, procurement and disbursements at FedEx Corporation, talked about strength, confidence and flexibility. John Blascovich, the 2023 medalist and partner in Kearney's procurement practice, discussed innovation and being open to new ideas.
While the perspectives were different, all talked about "rising up" in the face of disruption, mirroring the theme of ISM World 2023, Rise Up, with the "R" standing for resilience, "I" for innovation, "S" for solution and "E" for execution.
In the next five years, said Anklesaria, the 2022 Shipman winner, technology is going to advance a lot faster than it has in the past five years, and the profession will continually improve and evolve.
But doing so requires learning from each other and from the past. "Good leaders are students of history," he said. "I try to tell people: Look into the rear-view mirror, not just your own, but those of others" and learn from their experiences. "I have learned from so many."
Anklesaria also advised:
Identify people who can help you: Use them but don't abuse them.
Make work/life balance a priority.
Be more compassionate; help each other.
Spence, the 2020 Shipman winner, noted that data is among the factors that offers the biggest impact on supply management: It shows facts. "I'm all about seeking the truth," she said. While people's feelings are important, taking an analytical approach through data enables better business decision-making, she said. She advised asking questions and searching the data for answers and trends.
Additionally, Spence said, supply management practitioners should:
Be more confident. Know your worth but don't magnify abilities you don't have.
Be flexible.
Blascovich noted that it is imperative to expand practitioners' views of what innovation is. "Innovation is not the R&D lab," he said. (Innovation) can be anything from a new product to a new process to a refresh."
Kearney holds an employee innovation day, where workers can pitch their ideas, no matter what they are, to see if there is support from others. "It's a competition of ideas, and it has turned up some powerful tools for our firm," he said.
He advises thinking outside the box — and giving employees permission to do so.