ISM World 2023: Inaugural Awards Gala Highlights the Best and Brightest
May 08, 2023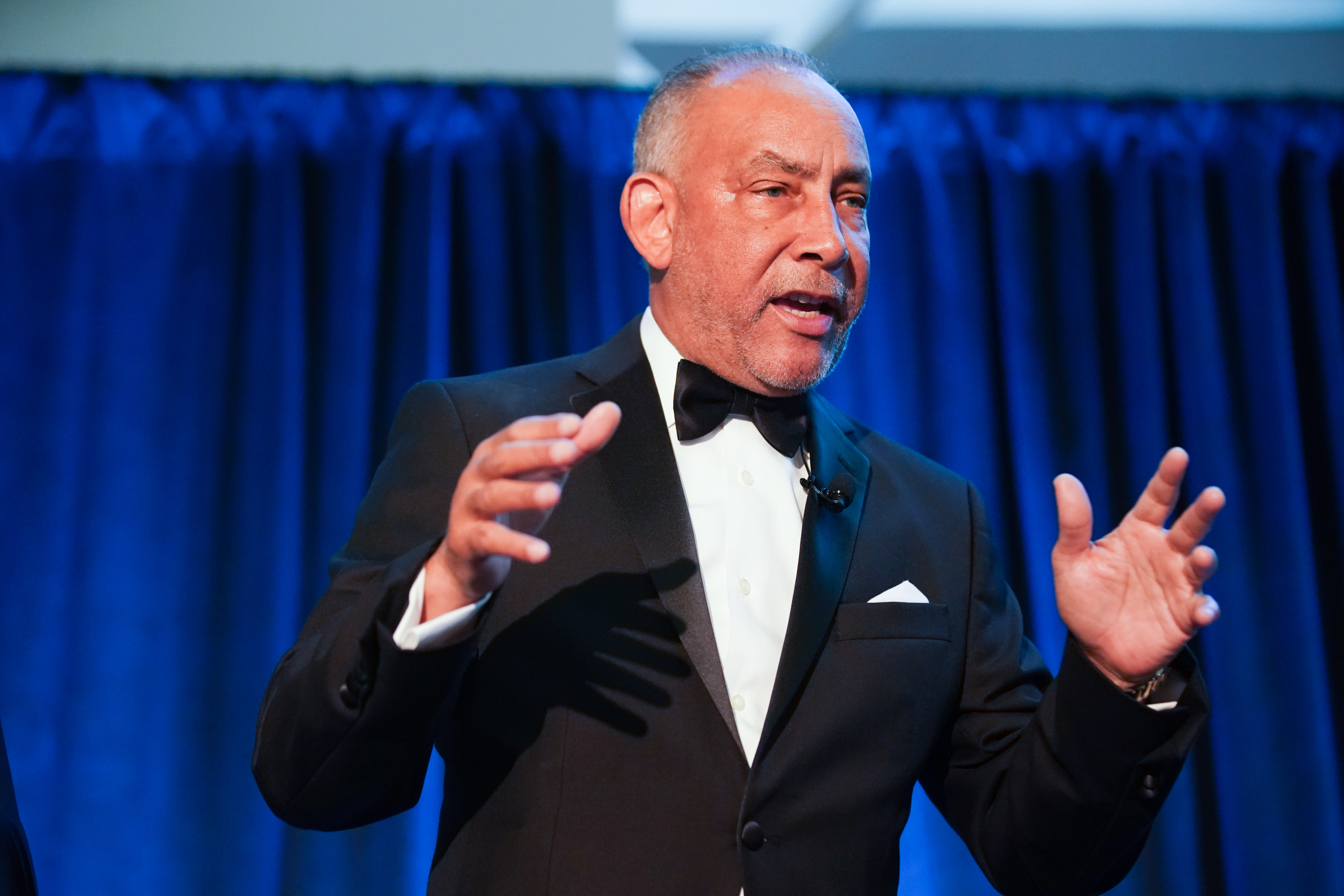 Many of the most revered global supply management practitioners, from near and far, gathered at the Gaylord Texan Resort & Convention Center in Grapevine, Texas at the Institute for Supply Management®'s (ISM®) first Awards Gala.
The capacity-filled room was vibrant as ISM®'s 30 Under 30 Rising Supply Chain Stars, Trailblazer Award designees and others took in moments of praise from colleagues, mentors, former award winners, ISM® Board of Directors members, Committee chairs and executives, and had a sneak preview of the 2023 J. Shipman Gold Medal Award winner to be officially announced on Tuesday.
ISM CEO Thomas W. Derry set the tone for the profession's star-studded event, saying, "It was a pleasure to see old friends and new friends together, celebrating the best of the best." Master of ceremonies Shelley Stewart Jr., CPSM, (pictured above) guided the black-tie evening, telling attendees to "prepare for a celebration of notable talent."
Networking and fine dining were interspersed with ceremony, as Stewart, the 2011 J. Shipman Award recipient, called winners to the stage for accolades, award presentations and photo opportunities.
Tomorrow's Leaders and Learnings
The 30 Under 30 Rising Supply Chain Stars recognition program honors global emerging leaders across various industries and supply management disciplines. One recipient, Khalid Al Barwani, contract engineer for Petroleum Development Oman (PDO), a joint venture with Shell Oil Company, was given the Megawatt Award.
Al Barwani joined his 2022 30 Under 30 peers representing companies including such companies as International Business Machines (IBM), U. S. Steel, Northrop Grumman, Boston Scientific, H. B. Fuller, GlaxoSmithKline (GSK), Danone and Hilton Supply Management.
The Trailblazer Awards recognize companies across the profession that not only made an impact but provide learnings to glean from. The program provides an opportunity for "organizations to participate and learn what's great by flex-managing a supply chain network," said Derry.
"The work is pertinent. The principles of sustainability notably advanced the profession," said Stewart as he introduced the Trailblazer Award winners. Six categories comprise the Trailblazer awards: diversity champion, innovation, risk and crisis management, sustainability commitment, thought leadership game changer, and transformation.
Trailblazer Award winners include Charter Communications, MGM Resorts International, San Jose Water, Flextronics Technologies India Pvt. Ltd., GSK, Vantiva, Hilton Supply Management, WESCO International, Mercury Marine, Zimmer Biomet, Johnson & Johnson, Loadsmith, ADM, DC Water and Schneider Electric.
Rising Innovation
Since 2004, the R. Gene and Nancy D. Richter Foundation and ISM® have celebrated notable supply management majors talent from universities across the country through the R. Gene Richter Scholarship Program.
The program was created in memory of R. Gene Richter, a formidable force in the field of procurement. Admired for helping elevate the function to a "seat at the table," Richter led the supply management organizations at Stanley Black & Decker, Hewlett-Packard and IBM.
As the 20th anniversary of the program, this year carries historical significance, bringing the scholarship honoree total to 140 students. The 2023 Richter Scholars are 2023 recipients are David Hinkle of Lehigh University, Garrett Callenberger of Penn State University, Madison Dober of Western Michigan University, Peter Estefan of Michigan State University, Zach Abdulnour of Wayne State University and Nicole Carvagno of the University of Tennessee.
Throughout the gala, discussions echoed gratitude and exhilaration for being part of a profession that empowers business, people and the world to perform better. Madison Mobley, head of performance strategy for Fairmarkit, said that gala puts the "focus on what matters most." That is the profession's best asset — its people.