Stagnation on the Seas: Ocean Freight Demand Falls
February 13, 2023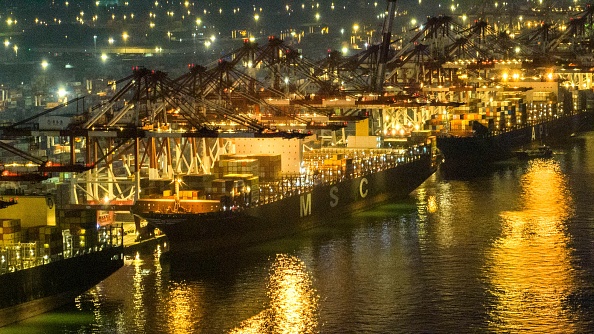 Just as containers and cargo fleets across the globe "got their bearings" from doing business on rough geopolitical waters, the tides have likely shifted again — where time, policy and economies will steer the way. This time, ocean freight demand has tumbled.
"It's the perfect recipe for falling freight rates, spot rates," says Simon Heaney, senior manager for London-based marine consultancy Drewry. The demand has eased, reducing port congestion, allowing the backlog to clear. And capacity has increased, he says: "When the demand pull was strongest, cargo owners were desperate to secure space commitment from carriers and couldn't resist the extreme freight rates."
But coronavirus pandemic-driven demand pull is starting to stabilize, Heaney notes. "With macroeconomic factors taking effect and reduced discretionary spend affecting the market, the 77-percent decline of the 40 FEU (foot equivalent unit) from early January 2021 to January 2023 is understandable, and thus, the large drop to freight rates."
According to S&P Global, "Spot pricing in most transportation modes is normalizing, though supply chains aren't reverting to a pre-pandemic 'normal.' " Heaney says that traditionally, spot market rates have tracked above longer-term contract rates, but that relationship has flipped in recent months due to the speed of decline in the spot market. "Some owners are coming back to the negotiating table, well before their contract term is ending," he says, to adjust the terms and reflect a new contract rate below the spot market rate.
Blanked Sailings and Price Wars
As demand wanes, the ability to catch or retain business could entail carriers constructing creative and effective diversions to oversupply. Logistics forecasters anticipate dropping volumes in sea, air and trucking transport but the benefits to supply chain tiers and consumers are lower shipping costs and the subsequent cost reduction for some goods.
German logistics container platform Container xChange indicated to DC Velocity that "the significant oversupply of containers and a further influx expected in 2023 could prompt shipping lines to reduce vessel capacity and suspend services." The company noted that the shipping cost reductions will somewhat temper inflation, though they no longer are a root cause for inflation. Further, Container xChange warned that recent investments in new ships and containers "could come to roost" as the associated new debt will need to be serviced, regardless of lessened demand.
"With this mismatch of capacity and demand, 8 percent of fleets may sit idle which will increase scrapping, perhaps by as much as 900,000 TEU (20-foot equivalent units)," Heaney says. "Blanked (or canceled) sailings will be an inevitable feature for 2023." With blanked sailings and dropping rates, he expects a price war.
Christian Roeloffs, Container xChange CEO, says that with the competitive dynamics in the container shipping and liner industry, "I don't expect the big players to hold back, and we do expect prices to come down to almost variable costs."
Heaney says his biggest question is where will the market settle? "We knew the high rates were temporary," he says, "but how far down will rates go — will they land above or below breakeven? The excessive ordering of new ships during the bull run will come back to bite carriers." The days of extreme rates and carrier profits are over, he says, contemplating how operators could manage that going forward.
Will More Regulations Sustain Shipping's Future?
A proposed Federal Maritime Commission billing rule that could take effect in June addresses language in the Ocean Shipping Reform Act of 2022, but dives deeper. If approved, it would require common carriers and marine terminal operators to include demurrage and detention invoice details. The ruling would also stipulate specific billing practices, including the timeframes to issue invoices as well as how to dispute and resolve charges with the billing party.
Heaney says the new regulations are not posing a problem thus far; he does not foresee a dramatic change in U.S. exports — yet. With the industry push toward more transparency, shipping reporting is a more "streamlined process, with an open platform to air grievances, which helps ease frustration," he says.
However, there may be some pain going forward. "Environmental regulations kicking in this year will be cumbersome to some," he says. "Ships will go slower, helping the carbon footprint. But there is no consequence for averting environmental regulations, leaving response for non-compliance murky, allowing unscrupulous owners to run their ships without adhering to the guidelines."
Carriers' and Containers' Ambiguous Growth
Shipping and its near future forecast are riddled with unknowns: the length and depth of the Ukraine-Russia conflict, China's reopening, an evolving COVID-19, inflation and interest rate hikes.
A December research report indicated a 4.79 percent compound annual growth rate (CAGR) of expansion in the global shipping container market, equating to US$19.3 million by 2027. The findings included small container (20 feet), large container (40 feet) and high cube container (40 feet) units. Points of consideration incorporated varied perspectives on emerging market trends, mergers and acquisitions, as well as COVID-19, geographic conflicts and more.
"The industry is posed for an 0.8 percent drop in growth this year," Heaney says, but manufacturing and distribution shifts to nearshoring "would negatively impact shipping market volume and threaten the shipping industry over time."
Ultimately, this speaks to a "China plus one" strategy. The 2018 trade war initiated the reduction in China's shares to the U.S., though "China still has the lion's share of container volume (61 percent) compared to the U.S., declining 10 percent over the last four years," Heaney says.
For now, sourcing is diversifying, shifting from Asia to additional landscapes and seascapes in hopes of supporting the adage that there is safety in numbers.
(Photo credit: Getty Images/Visual China Group)