Report On Business® Roundup: December Manufacturing PMI®
January 05, 2021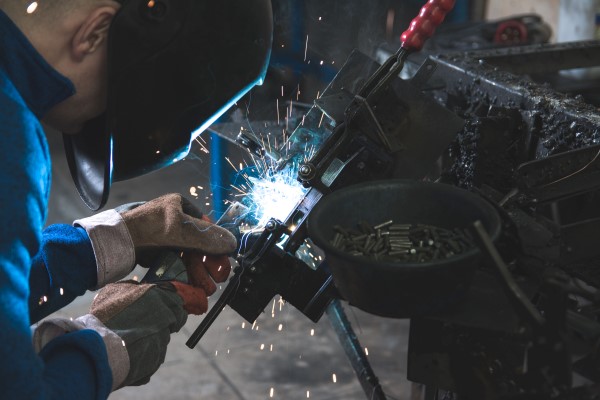 As the Manufacturing ISM® Report On Business® documented the recovery of U.S. factories following the spring lockdowns, this space brought up the coronavirus (COVID-19) caveat — growth will be limited as long as the pandemic remains uncontrolled.
That was the theme again on Tuesday, even as the December Manufacturing PMI® registered 60.7 percent, the highest figure in 2½ years. The manufacturing sector's resiliency was evident in much of the data, with the New Orders and Production indexes above 60 percent for the sixth straight month and the Inventories Index expanding despite continuing supplier delivery challenges. However, COVID-19 exposures and fears are resulting in labor issues for suppliers that, with cases and hospitalizations continuing to surge in the U.S. and a hamstrung vaccine rollout, are likely to get worse before they get better.
#Manufacturing momentum remains positive, but supply constraints are visible in the decomposition of the headline @ism #manufacturing index.

Less employment supply & supply chain issues are artificially lifting the supplier deliveries component & pushing up the headline reading pic.twitter.com/iTFtTWOoGk

— Gregory Daco (@GregDaco) January 5, 2021
"Suppliers are struggling with retaining people, and that's driven by the virus," Timothy R. Fiore, CPSM, C.P.M., Chair of the Institute for Supply Management® Manufacturing Business Survey Committee, told a conference call of reporters on Tuesday. "That has a direct effect on people reporting for work: People are worried about it, they have been exposed, or their children have been sent home from school. It's still a big issue. With the vaccines, we can see the end, but we don't know when that will be."
Additional fears, or at least whispers, were raised on another issue — inflation — thanks to a Prices Index reading of 77.6 percent, a 12.2-percentage point gain from the previous month and the highest number since May 2018. Steel, aluminum, copper, petroleum-based products and transportation costs were the biggest drivers of increases, and no commodities were listed as down in price.
In addition, prices (up from 65.4 to 77.6) increased very robustly, rising at the swiftest rate since May 2018, highlighting strengthening raw material costs in light of increased economic activity and—as noted above—lingering supply chain constraints.

— Chad Moutray (@chadmoutray) January 5, 2021
Fiore said that, with prices rising for some time (the index has been in increasing territory for seven straight months), companies' 2021 business plans have accounted for higher costs — which are likely to be passed on to consumers. "There's no sign of easing, which is a positive (for manufacturing)," he said. "Pricing pressure continues, and I'm sure price expansion has been baked in at (Business Survey Committee) panelists' companies. I can't see them simply absorbing those increases and having their margins shrink."
In other developments:
Fabricated Metal Products was the best-performing manufacturing industry for a second straight month, and the steel and aluminum markets have been strong — the former despite steel mill capacity utilization down significantly from a year ago. That could be a sign, Fiore said, of metal-fabrication reshoring.
The Imports Index declined 0.5 percentage point to 54.6 percent, as port congestion issues are likely to continue with Lunar New Year beginning in mid-February. "That's where the import supply chain (challenges) are," Fiore said.
The Backlog of Orders Index increased to 59.1 percent; Fiore said that high number, combined with lofty New Orders and New Export Orders readings, indicates strong, sustainable demand. "If you have good new orders, you can deal with anything else," he said. "High backlogs are a sign that the order rate is stronger than the production output. That's good; I'd rather have that than the other way around."
.@ISM's Tim Fiore: Though sector grew for a seventh straight month, "labor market difficulties at panelists' companies and their suppliers will continue to restrict #manufacturing #economy expansion until the #coronavirus (#COVID19) crisis ends." https://t.co/AoPxHU6BO9 #ISMPMI

— Institute for Supply Management (@ism) January 5, 2021
However, the coronavirus caveat continues to loom over labor. The Employment Index moved into expansion territory at 51.5 percent; however, workforce constraints also factor into that reading. "The need for labor slowed compared to November," Fiore said.
Robert A. Dye, Ph.D., and Daniel Sanabria, economists at Comerica Bank, wrote in a note to clients and investors: "The strength in the manufacturing sector, both within the U.S. and globally, is an important counterbalance to the drag on the services sector caused by the coronavirus pandemic. However, even with improving conditions, the manufacturing sector simply is not large enough within the U.S. to absorb the millions of displaced workers currently seeking employment."
Fiore said the first quarter of the year could be "a turbulent time" for manufacturing labor. "The situation is getting worse," he said. "We'll wait to see what happens with the new (presidential) administration and how hospital (capacity is affected), but employment is the biggest headwind, for sure."
The Report On Business® roundup:
Associated Press: U.S. Factories Grew in December at Fastest Pace Since Mid-2018. "While manufacturing has recovered since spring, Timothy Fiore, Chair of the ISM (Manufacturing Business Survey Committee), said that it continues to face virus-related headwinds such as factory shutdowns needed to sanitize facilities and difficulties in hiring new workers as the virus again surges in the U.S. … The worry is that a resurgent virus could hit manufacturers where they have been thriving."
Bloomberg: U.S. Manufacturing Gauge Expands at Fastest Pace Since 2018. "For months, the manufacturing sector has been steadily recovering from the pandemic's devastating blow early last year. Though a full recovery will take time, the latest data underscore how a strengthening economy and lean inventories should continue driving production and factory employment gains. … The overall manufacturing figure was also boosted by longer lead times, likely a result of still-challenged supply chains and COVID-related effects on the labor force."
The ISM Manufacturing Index for December increased to 60.7% from 57.5% in November. This was the 7th month running of expansion territory (50.0% or greater).

Bullish

— Paul Ebeling (@Redroadmaster) January 5, 2021
MarketWatch: U.S. Manufacturers Shrug Off Coronavirus, ISM Finds, and Grow at Fastest Pace Since Pandemic. "The economy is expected to make a stronger rebound later in the year if the vaccines prove effective and become more widespread, but the next few months could be rocky. Manufacturers are likely to outperform most other key segments of the economy, but they can't fully return to normal until the rest of the country does. One of their most pressing problems, for instance, is keeping their production lines fully staffed with the coronavirus running rampant again."
Reuters: U.S. Factory Activity Near 2½-Year High; COVID-19 Disrupting Supply Chains. "Despite strong demand, manufacturing output is still about 3.8 percent below its pre-pandemic level, according to the Federal Reserve. That could persist for a while as the new wave of infections causes disruptions to labor and the supply chain. Food manufacturers complained the virus was "affecting us more strongly now than back in March." Similar sentiments were echoed by transportation equipment makers who said the outbreaks were constraining suppliers. Plastics and rubber products also reported that their suppliers were having difficulty finding and retaining labor."
More US ISM mfg PMI: "The Production Index hit a 10-year high, as the last reading above 64.8 percent was in January 2011 (65.3 percent), with five of the top six industries reporting moderate to strong expansion." #ISM #manufacturing #economy

— Mace News (@MaceNewsMacro) January 5, 2021
The Wall Street Journal: For Manufacturers, a Different Sort of Recession. "(ISM Manufacturing Business Survey Committee respondents' comments) in the report suggested manufacturers are doing well, with some saying that business is now above pre-COVID-19 levels. That is a reflection of the atypical nature of the downturn, which usually hit recession-resistant services industries badly, but also spurred demand for a variety of manufactured goods, such as cars and washing machines. In past recessions, it has been the manufacturing sector that has been the most hobbled."
ISM's Services PMI™ will be unveiled on Thursday, and the Hospital PMI™ on Friday. For the most up-to-date content on the reports under the ISM® Report On Business® umbrella, use #ISMPMI on Twitter.