Report On Business® Roundup: October Manufacturing PMI®
November 02, 2020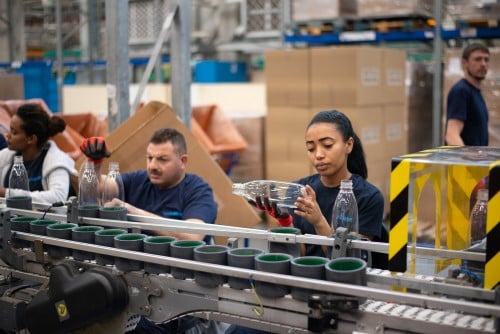 Rick Santelli's normal broadcast location is on the floor of the Chicago Board of Trade, where the background noise has sometimes served as the soundtrack when the ISM® Report On Business® data is released. With the coronavirus (COVID-19) pandemic sequestering the CNBC analyst in a remote studio, there has been no such accompanying audio from traders.
On Monday, however, Santelli's pleasant surprise at the Manufacturing PMI® data for October was all the joyful noise that was necessary: In the last significant piece of economic data before Tuesday's elections, the composite number of 59.3 percent exceeded expectations and signaled U.S. factory growth for the fifth consecutive month.
"Wow, there are some surprises here. Everybody ready for this?" Santelli said. "The ISM manufacturing index for October is really zooming here. We were expecting a number around 56 — 59.3 (percent). This is the best number since (September) of 2018, and that follows a 55.4 (last month). … The Employment (Index), which is a big number this week, because we have the ADP (job report) on Wednesday and the big (federal) labor report on Friday. It moved from under 50 to over 50, in expansion territory at 53.2. So, these are good numbers. Of course, they can always be better, but considering the effects of COVID-19, surprisingly strong."
The numbers were somewhat surprising to Timothy R. Fiore, CPSM, C.P.M., Chair of the Institute for Supply Management® Manufacturing Business Survey Committee. "I figured it would be in the 53 percent-to-55-percent range," he said. "(The data) continues to surprise me, particularly the strength of new orders. I'm not that surprised at the inventory growth, but a little surprised that supplier deliveries remained as strong as they did. Employment shifted four points, strongly into expansion. The scale of it surprising to me, but the strength of the numbers looks really good."
That's a massive increase on New Orders, pretty much a leading indicator to the leading indicator.

— Lockdown Investment (@lockdowninvest) November 2, 2020
The New Orders Index, after falling 7.4 percentage points in September, rebounded in a big way — with a 7.7-percentage point increase, the index's second-largest positive gain in 11 years. The Customers' Inventories Index remained at its lowest level in a decade, indicating that companies are unable to keep products on the shelf, a good sign for future production levels. "It's a demand-driven expansion," Fiore said.
The ISM® Report On Business® measures rate of change from month-to-month, so it's not going to provide a full picture on current manufacturing activity levels, especially in comparison to before the pandemic. The data gauges direction, not location, but multiple Survey Committee respondents commented that their business is approaching pre-coronavirus levels.
The Dow Jones Industrial Average got a slight boost after the announcement of the Manufacturing PMI® numbers; however, on the day before the U.S. presidential election, many factors likely contributed to market noise.
However, COVID-19 remains an area of concern, especially with cases in the U.S. threatening to eclipse 100,000 a day, and lockdowns returning in Europe. "Increased production due to stores stocking up for the second wave of COVID-19," wrote a Survey Committee respondent in Food, Beverage & Tobacco Products, one of four industries, Fiore said, that are most impacting the low Customers' Inventories number. Also, the Prices Index increased to 65.5 percent; Fiore said that plastic products and resins were the main drivers, but food products also showed increases.
Still, after September's Manufacturing PMI® report, Fiore said, "(T)here's not a single thing I can see that would cause me to be overly concerned about the future." That sentiment was even greater on Monday. "It was a great report — a strong performance (by the manufacturing sector) yet again," Fiore said. "I'm looking forward to similar performance in November."
ISM mfg index showed a rise in the employment index to 53.2 from 49.6. Good precursor for manufacturing jobs in October. Jobs report out this Friday. Also ahead this week: FOMC meeting Thursday.

— Jennifer Schonberger (@Jenniferisms) November 2, 2020
The Report On Business® roundup:
Associated Press: U.S. Manufacturing Activity at Highest Levels in Two Years. "The gauge had fallen into recession territory from March through May, as much of the country shut down in an effort to contain the coronavirus. … But economists are concerned about the country heading into widespread lockups, as it did in the spring. Many parts of Europe are already doing so because of surging infections. 'Manufacturing rebounded strongly with fewer restrictions on economic activity and stimulus efforts but the path forward will be more difficult as the economy continues to cope with the pandemic,' said Gus Faucher, chief economist at PNC Financial.
Bloomberg: U.S. Manufacturing Gauge Expands at Fastest Pace Since 2018. "The figures follow a report last week that pointed to firmer consumer spending and income gains in September and suggest economic growth could be stronger than forecast this quarter, though still down from the third quarter's record pace. Firmer demand helps explain the surge in the ISM's gauge of orders, which was accompanied by a pickup in production and encouraged more producers to add to payrolls.
.@ISM's Tim Fiore: "The #manufacturing #economy continued its recovery in October. … (C)ompanies and suppliers continue to operate in reconfigured factories; with every month, they are becoming more proficient at expanding output." https://t.co/GIvTlE1c50 #ISMPMI

— Dan Zeiger (@ZeigerDan) November 2, 2020
ING Think: U.S. Manufacturing Goes From Strength to Strength. "(T)he strength of the ISM manufacturing report is a very positive signal and underlines the robust performance of the sector at the beginning of the quarter. The headline rose to 59.3, the best outcome since September 2018, well above both the 56.0 consensus and September's 55.4 reading. … With customer inventories continuing to be run down — currently, at a decade low of 36.7 — this suggests ongoing healthy gains for orders and output in coming months. This in turn should be good news for ongoing employment growth — the employment component rose to its highest level since June 2019."
MarketWatch: American Manufacturers Speed up in October; ISM Survey Hits Two-Year High. "The strong rebound in manufacturing bodes well for the broader U.S. economy, but it's (not) entirely complete. Exports are still soft, customers are cautious and many companies are hesitant to invest until the pandemic recedes. The latest — and record — increase in coronavirus cases poses a fresh threat. Food manufacturers, for example, said new orders are rising again because of the latest outbreak. Customers are stocking up in case there are new government-ordered shutdowns."
Reuters: U.S. Manufacturing Near Two-Year High in October — ISM. The strength in manufacturing will likely keep the economy floating, with growth expected to slow sharply in the fourth quarter after a historic 33.1-percent annualized rate of expansion in the July-September period. Growth last quarter, which followed a record 31.4-percent pace of contraction the April-June quarter, was juiced up by more than $3 trillion in government pandemic relief. Government money has virtually dried up, and there is no deal in sight for another rescue package.
ISM registers a pick-up in Oct in new orders & production as well as return to growth in empl. Recall this index reflects the ch in growth rel to prior mth – it says nothing about the level of activity which remains depressed. pic.twitter.com/5pyVFJNcz2

— Steven Rattner (@SteveRattner) November 2, 2020
The Wall Street Journal: Factories Bounce Back as Consumers Snap Up Goods. Firms reported a surge in new orders as customer inventories shrank. Supply-chain problems continued to constrain production but at a slower rate, the report said. Firms also reported increased hiring for the first time in 14 months. … Over recent months, manufacturing output has been aided across the world by the strength of household demand for goods, in contrast to weak demand for services that require proximity to other people.
ISM's Services PMI™ will be unveiled on Wednesday, and the Hospital PMI™ on Friday. For the most up-to-date content on the reports under the ISM® Report On Business® umbrella, use #ISMPMI on Twitter.