Inside Supply Management Magazine
Dexterity and Lower Cost Setting Collaborative Robots Apart
July 22, 2019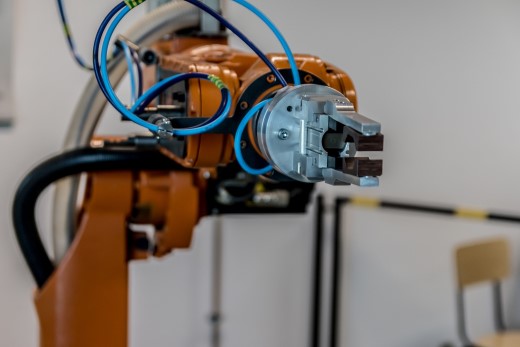 In manufacturing, there are robots. And there are cobots.
The latter — collaborative robots — are smaller and more dexterous than typical industrial robotic arms, and they require less complex programming. Such collaborative systems offer other benefits compared to their traditional counterparts — and aren't a revolutionary technology, according to a study from Oyster Bay, New York-based tech-market advisory firm ABI Research.
"Since 2008, collaborative robots have been adopted at a feverish rate," Rian Whitton, senior analyst at ABI Research, said in a press release about Collaborative Robots for Industrial Applications. ABI Research forecasts that the cobot market will reach US$5.8 billion in annual revenue by 2027, with more than of a third of that revenue coming from the manufacturing of vehicles and their components.
Companies looking to get into the robotics space should not consider cobots a replacement to industrial robotics arms, the report found, but instead think of them as two parallel systems that will likely converge in the future. ABI says that collaborative systems will become increasingly less distinguishable from conventional industrial robotic arms, thus potentially enabling the market to reach a higher valuation.
For many companies, cobots are a popular choice for reasons that include:
Cost. When made by cobot-only providers, collaborative robots are less expensive than typical robotic arms, making them a favorable option for manufacturers that don't have the capital to invest in more extensive automation, the report found. Industrial robot providers haven't fully capitalized on cobot opportunities — their offerings are generally too expensive or complicated, it said.
Safety. Cobots don't require external safety infrastructure.
Low footprint. They take up less space than traditional industrial robotic arms.
Other advantages include ease of use, flexibility and reprogrammability.
Differentiation, however, is a detractor. Despite more than 50 major providers in the cobot space, there is a lack of differentiation between their products, the report found. "Some providers emphasize the agility their seventh axis provides their arm, others focus on the intuitive controller and some focus on developing bots with higher payloads," Whitton said. "But overall, hardware innovation has been limited, and the current ecosystem is far too large to avoid consolidation over the next few years."
Other issues include failure to scale through use of digital technologies and a fractured regulatory landscape, ABI Research says.
The report notes that one provider, Danish manufacturer Universal Robots, stands out for its successful shift from an arm supplier to a platform provider through its ecosystem incubator UR+. Other companies, like Precise Automation, headquartered in Fremont, California, are working on improved mechatronics pertaining to safety and cost efficiency, while several Asian companies, including Techman Robot of Taiwan, are gaining in the electronics space. Also of note is that Asia is expected to surpass Europe as the prime market for collaborative systems.
Innovations — like advanced machine vision, improved localization and haptic sensors — are making cobots faster, ABI Research notes, while advances in cloud robotics, 5G technology and edge-enabled artificial intelligence are expected to improve the performance of numerous collaborative systems.
"This will gradually allow for the development of cobots that have the advantages of industrial robotic arms, while retaining the benefits of current collaborative systems, including ease of use, ROI, reprogrammability, low footprint and flexibility," Whitton said.