Inside Supply Management Magazine
Twitter's Last Blast at ISM2016
May 18, 2016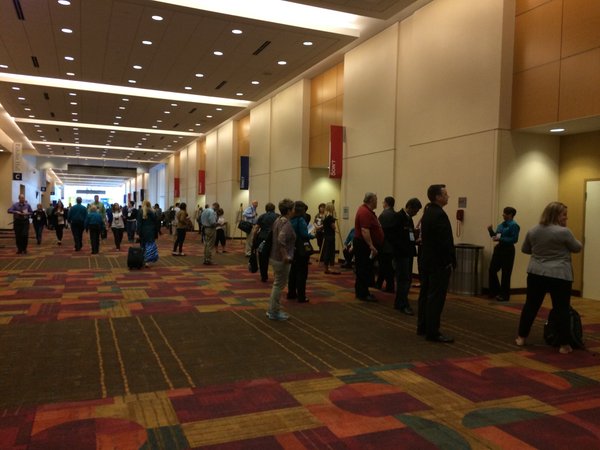 The ISM2016 Annual Conference in Indianapolis concluded with a half-day of activity on Wednesday, but participants showed an eagerness to finish strong — both onsite and on social media. The #ISM2016 hashtag received plenty of use as presenters, exhibitors and attendees shared thoughts from the Conference's last sessions and said farewell until next year.
Speaking of next year, can you imagine the variety of tweets #ISM2017 will provide from Orlando? There will be photos from sessions, the Exhibit Hall — and hopefully, Conference participants smiling (or screaming) on rides at nearby Walt Disney World. Don't forget to pack those selfie sticks, folks!
The keynote session on Wednesday featured former U.S. Trade Representative Susan Schwab and the ISM® Report on Business® team discussing trade policy (particularly the Trans-Pacific Partnership) and the economic forecast for the remainder of 2016.
Susan Schwab speaking @ism #ISM2016 pic.twitter.com/MfQJw06Dn8

— Kristina Cahill (@KristinaMCahill) May 18, 2016
ISM new forecasts for rest of 2016, manufacturing direction up, may be at inflection. #MNIIndicators #ISM #ISM2016 pic.twitter.com/KVg3Ai77WV

— Alyce Andres (@marketnewsgirl) May 18, 2016
Wrapping up on a high note #ISM2016 @ism @ISMArizona pic.twitter.com/g9xDTPSGVt

— Barb Sexton (@BabsSexton) May 18, 2016
Think like a CEO and use ISM Report on Business in your strategic planning #ISM2016

— My Purchasing Center (@mypurchasing) May 18, 2016
As Wednesday's activities began, attendees were wise to not have their minds on the trip home just yet, as there was lots of information to absorb in the morning sessions.
Attendees eagerly await the start of the next #ISM2016 sessions pic.twitter.com/OsjKUJxyVm

— Institute for Supply Management (@ism) May 18, 2016
Dr.Hugo Britt, Community Mgr., @procurious_ says when hiring Millennials, you have to go where they are. They are on social media. #ISM2016

— Andrea Stroud (@AJStroud_APQC) May 18, 2016
Check out the next #procurement trend: Chief Spend Officer. An #ISM2016 session: https://t.co/pVu7kFNddg @ISM #supplymanagament

— Dan Zeiger (@ZeigerDan) May 18, 2016
Ultimately, it was time to depart. Among the goodbyes:
Thanks for all the new knowledge and networking opportunities @ism! I have enjoyed my first conference. #ISM2016 #learning #timetogohome

— Katherine Eboch (@keeboch) May 18, 2016
Heading for home from #ISM2016. Another valuable event!

— My Purchasing Center (@mypurchasing) May 18, 2016
Thank you @ism for another amazing conference! It was another energizing learning experience. Hope to go to Orlando next year. #ISM2016

— SA Procurement (@sa_procurement) May 18, 2016
Proud to be a part of #ISM2016. Thanks for stopping by @APQC's booth. Hope everyone has safe travels home.

— Madison Lundquist (@maddylundquist) May 18, 2016
We love our members from all over the globe! Thanks for attending #ISM2016 and see you all in Orlando for #ISM2017 https://t.co/Z0ZCa2Dcly

— Nora Neibergall II (@NNeibergallISM) May 18, 2016
And finally, here's a toast to an amazing four days in Indianapolis. Until the supply management profession reconvenes in Orlando in 2017 ... cheers.
Enjoying a @Leinenkugels Summer Shandy on draft @YardHouse Indy. #ISM2016 pic.twitter.com/P7NDmndPtv

— Doug Grubbe (@DougGrubbe) May 17, 2016