Inside Supply Management Magazine
All A-Twitter at ISM2016
May 16, 2016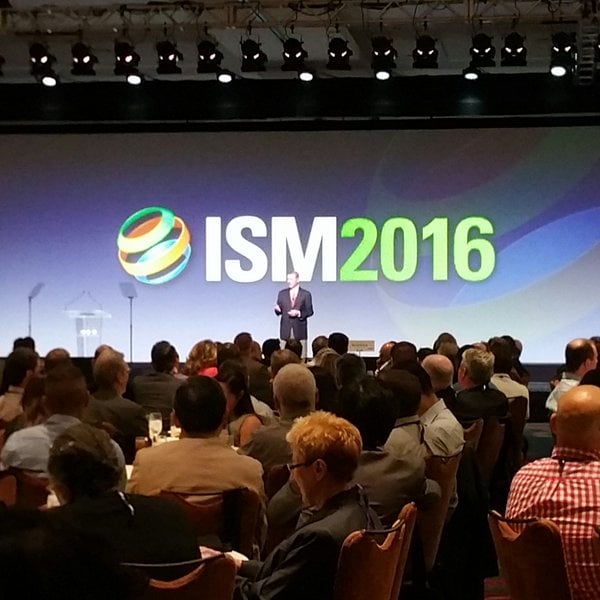 The ISM2016 Annual Conference in Indianapolis began in full swing on Monday, and while the Exhibit Hall and Conference sessions were the epicenter of bustle, Twitter tried its best to keep up. There was plenty of activity involving the #ISM2016 hashtag as Conference presenters, exhibitors and attendees shared their experiences.
We'll pass along the best of ISM2016 Twitter through Wednesday. Among Monday's highlights:
Expectations were high for keynote speaker Alan Mulally going into the Conference, and the former Ford Motor Company president and CEO pleased his audience with an informative and inspiring address.
Keynote Alan Mulally of @Ford sharing a wealth of experience at #ISM2016 - insightful, fun, great delivery pic.twitter.com/uKoiSMyzrg

— Genevieve Gil (@inkietud) May 16, 2016
Alan Mulally = inspired leadership. Great talk at #ISM2016. #supplychain #supplymanagement pic.twitter.com/tWnuKcUyD0

— Cecilia (@cece258) May 16, 2016
Love that slide from @ford at #ISM2016, so much truth in those bullet points! https://t.co/GrgT0Nd0BG

— Bertrand Maltaverne (@bmaltaverne) May 16, 2016
What a great keynote! Who else suddenly wants to go out and buy a Ford? #ISM2016

— Jason Scheer (@jayscheer) May 16, 2016
Indianapolis is a good place to find hot rides, especially with the world's most famous auto race just two weeks away. The "Cruise and Connect" GM Car Show featured lots of horsepower.
"Cruise and Connect" at the car show off to the side of the #ISM2016 Exhibit Hall. Check out this 2016 Corvette Z06 pic.twitter.com/e22b8Tg0vi

— Procurious (@procurious_) May 16, 2016
The Exhibit Hall was busy. We noticed Sparty, Michigan State University's athletics mascot, in the background and would have loved to hear his supply management wisdom.
Plenty of interest at the CASME booth #ISM2016 pic.twitter.com/GyAfbFgrbV

— CASME (@CASMEnetwork) May 16, 2016
The Conference sessions featured no shortage of insights to take away.
"You can't innovate in the margins." - Chris Sawchuk @TheHackettGroup Smart #procurement orgs give top down resources to innovation #ISM2016

— CAPS Research (@CAPSResearch) May 16, 2016
Mr. Ferrell says to create a plan even if you don't know what you want to do. It will provide clarity. #ISM2016

— SA Procurement (@sa_procurement) May 16, 2016
93% of the presentation is forgotten 7 min post session. Best thing I learned @ #ISM2016

— AValente (@AllaValente) May 16, 2016
And finally, at ISM2016, we like to think everyone's a winner.
Breaking news: @procurious_ reporter mistakenly believes he has won a prestigious award at #ISM2016 ! @ISM_Magazine pic.twitter.com/kmz8QMkBZy

— Procurious (@procurious_) May 16, 2016