The Monthly Metric: Touchless Orders Index
April 25, 2023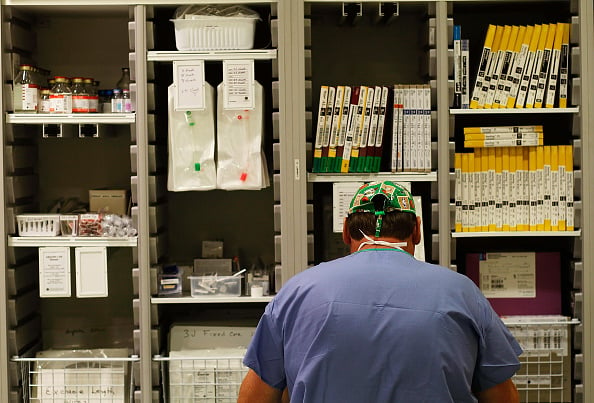 Touchless order performance has traditionally not been among the highest-profile supply management metrics, but that is changing as companies leverage automation technology to reduce human touches — and the chance for error.
This trend is especially critical in health care, where the best orders are those with the fewest touches possible between a manufacturer or distributor and a hospital loading dock. As such, it's become more important to measure, which is why the Touchless Orders Index was one of four subindexes unique to the Hospital ISM® Report On Business® when it began data collection in 2018.
While this edition of The Monthly Metric focuses on the that index, it will also examine touchless order performance in general. Though some benchmarks indicate high-performing companies across industry sectors should strive for 90 percent of their orders to be touchless, hospitals have been slower to adapt to such technology, says Nancy LeMaster, MBA, Chair of the Institute for Supply Management® Hospital Business Survey Committee.
"Hospitals can be slow decision-makers with some products and supplies," she says. "Every nurse thinks she needs to touch every single thing, and if you've got 15 hospitals in your system, all 15 will want to try (a product). It can be a cumbersome process, but hospitals have gotten better during the (coronavirus) pandemic. They found they can make quicker decisions."
Part of those inefficiencies are the nature of health-care work: Hospital supplies aren't normal widgets — clinical staff must be comfortable using them to treat patients. And COVID-19-induced supply chain issues led to a bevy of shortages and product substitutions, which impacted the Touchless Orders Index.
"It's a reading that you would expect to get better as supply chain issues improve," LeMaster says. "As you look at the history of that index, there appears to be some correlation. But it's a not a direct one, by any means."
Meaning of the Metric
The Hospital ISM® Report On Business® states the Touchless Orders Index gauges "automated orders from end-to-end" for that which hospitals acquire through a distributor or self-distribute. Such products include nursing supplies like bandages and dressings, plastic items like bedpans, and personal protective equipment (PPE). Many implantable devices and other high-end products are directly from a manufacturer, LeMaster says.
Products in short supply — a recent example is resin — will affect the Touchless Orders Index, she says: "Resins and polypropylene go into the products that go through distributors, so the process takes a hit when there are shortages." Heavy back orders for a product means humans must get involved, which also impacts the index calculation.
Like all Report On Business® indexes, Touchless Orders measures the rate of change compared to the previous month, with a reading above 50 percent indicating growth and a figure below showing contraction.
The Touchless Orders Index for March registered 49 percent, a fifth consecutive month in contraction territory. With rare exceptions, it has hovered between 48 percent and 52 percent since the start of the pandemic in March 2020. The index's all-time high is 57.5 percent in May and November 2018; its lowest reading is 40 percent in April 2020.
LeMaster says the Touchless Orders Index is a lagging indicator when viewed in tandem with the Supplier Deliveries Index. ISM's Hospital PMI® data indicates faster delivery performance in recent months. However, Touchless Orders has been slower to catch up, elevating just 1 percentage point in February and 0.5 percentage points last month.
"It's been a slow trajectory, but (the index) could be in growth range for April," she says.
Some Resistance at Hospitals
Another indication of the rising importance of measuring touchless order performance can be found in the annual Metrics of Supply Management survey by CAPS Research, the Tempe, Arizona based organization in strategic partnership with ISM and Arizona State University. Two years ago, the report added two KPIs related to automated orders.
In 2022, CAPS Research found that 61 percent of surveyed companies use automation to process POs, including 85 percent of those in the services sector. However, just 38.2 percent of companies' POs were processed automatically through automation. LeMaster says a high-performing hospital's ideal rate is about 60 percent.
What are some of the roadblocks to adoption? Capital investment is key, and the Hospital PMI® data suggests facilities have been eager: The Technology Spend Index (another measurement unique to ISM's Hospital report) was in expansion territory for 18 consecutive months before falling to 44 percent in March.
Jim Fleming, CPSM, CPSD, who serves as Manager, Product Development and Innovation at ISM, told The Monthly Metric in 2018 that many purchasing employees don't trust an automated system, preferring to stick to "how we've always done it" or simply wanting to keep control. That mindset clearly exists in hospitals, LeMaster says.
"It's matter of human nature," she says. "Some hospitals have had instances of people bypassing the system and reverting to manual ordering. The key is getting people to trust the process, educating them and emphasizing that this is the way we are going to do business from now on. It's definitely a challenge."
The Benefits of Fewer Order Touches
For years, proponents of automation have conveyed that machines performing routine tasks as POs enable human employees to take on more strategic roles. What that looks like at hospitals, LeMaster says, is procurement employees no longer fixing clerical errors and becoming more analytical.
"It would create an opportunity to look at supply spend per patient for nursing units and see if one unit is performing a lot better than another," she says. "Maybe there's a lesson to learn — a more efficient way to inventory supplies or a contracting opportunity to pursue."
As the pandemic raged, hundreds of labor hours at some facilities were lost due to PO and product substitution drama. But hospitals have made progress, LeMaster says, by streamlining processes and becoming more flexible on product substitutions (which can be made via automation). A Touchless Orders Index that is consistently in expansion territory would be a sign of continuing progress.
"If hospitals can move people into a more strategic focus, they can look for patterns," she says, "and those often result in areas to save money."
The May/June issue of Inside Supply Management® will include a feature article on the state of hospital supply chains; the digital edition will be available on May 9. To suggest a metric to be covered, email me at dzeiger@ismworld.org.
(Photo credit: Getty Images/Chris Hondros)