Report On Business® Roundup: March Hospital PMI®
April 07, 2023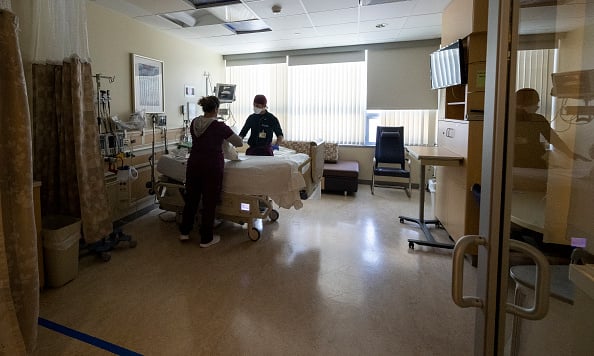 In a week where Institute for Supply Management®'s Manufacturing and Services reports elicited anxiety — especially among financial markets and watchers of the U.S. Federal Reserve — the Hospital ISM® Report On Business® on Friday provided a semblance of calm.
The Hospital PMI® of 53.4 percent was steady, down just 0.1 percentage point compared to the previous month, and featured a historically elevated Employment Index and an all-time low for the Inventories Index. Elective procedure volumes continued to rise as facilities get ready for a potential new normal with the U.S. preparing to end the 3-year-old coronavirus pandemic public-health emergency declarations on May 11.
To be sure, challenges still exist: While profit margins appear to be stabilizing, they remain negative for most facilities. And while the Manufacturing Prices Index is in contraction, and there are signs of relief in services, all three Hospital indexes — Prices, Prices: Pharmaceuticals and Prices: Supplies — remained above 60 percent in March.
#Healthcare facilities enjoyed rising elective care volumes and success in hiring permanent employees, but costs and margins remained concerns. Those details and more in the Hospital @ISM® Report On Business® for March; the PMI® was 53.4%. https://t.co/bQl4ME3Bfn #ISMPMI #economy

— Dan Zeiger (@ZeigerDan) April 7, 2023
Still, "March was a good month for the hospital subsector," Nancy LeMaster, MBA, Chair of the ISM Hospital Business Survey Committee, told a conference call of reporters on Friday. "Patient volumes were good, and the employment numbers suggested the staffing was there to meet those needs. Supply deliveries were faster and inventories more manageable. The pricing and margins pressures are still a concern, but it looked like there might be some relief on labor expenses."
On a day the federal jobs report revealed the U.S. added 236,000 jobs in March — including 34,000 in health care and 11,000 in hospitals — the Employment Index registered 60 percent or better for just the second time in the five years of Hospital PMI® data collection; the first was in October 2018.
After being reliant on temporary and traveling personnel for much of the COVID-19 era, hospitals have had more success filling permanent positions in recent months. Also, LeMaster said, some hospital systems are recruiting and training part-time workers, as well as embracing technology in shift scheduling.
"They're taking advantage of the gig economy to recruit diverse talent and bolster their employment numbers," she said. "Also, the need for traveling nurses isn't as great as when there were (high levels) of COVID-19 and other respiratory issues. Hospitals are converting more of those traveling personnel to full-time or part-time clinical staff, which has helped bring down some of the labor costs."
Hospital #ISMPMI survey respondent: "#Inflation and price increases continue to be an issue. Manufacturers cite raw materials, freight and labor costs." Another: "Product availability and distribution seems to finally have stabilized." https://t.co/mV3t2EU6r2 #economy #healthcare

— Institute for Supply Management (@ism) April 7, 2023
The Inventories Index fell below 40 percent for the first time. However, the Inventory Sentiment Index remained north of 60 percent as many facilities continued burning their stocks of personal protective equipment (PPE) and other pandemic-prevalent supplies. With supply chain issues easing, the need for PPE safety stock has decreased. "I'm not sure if the Inventories Index number will stay this low, but I would expect it to be in contraction for a little longer," LeMaster said.
The Technology Spend Index has been resilient amid concerns about inflation and profit margins, but the March reading — 44 percent, down 9 percentage points and falling into contraction for the first time since May 2021 — suggests such capital expenditures have been put on hold at many facilities. "We'll have to see if it's a blip or a trend," LeMaster said.
In case you missed the Report On Business® Roundup on the release of the March Manufacturing PMI®, you can read it here. The Roundup on the release of the Services PMI® can be read here. ISM's Spring 2023 Semiannual Economic Forecast for the manufacturing and services sectors will be released on May 8; it will also be the focus of a session that day at the ISM World 2023 Annual Conference in Grapevine, Texas.
For the most up-to-date content on the three indexes in the ISM® Report On Business® family, use #ISMPMI on Twitter.
(Photo credit: MediaNews Group/Orange County Register via Getty Images)