Report On Business® Roundup: March Manufacturing PMI®
April 03, 2023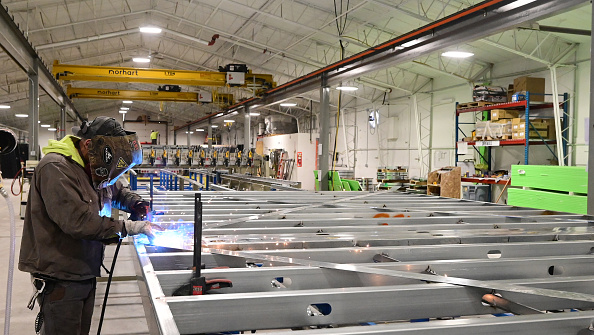 Although the Manufacturing ISM® Report On Business® for March did not meet analysts' projections, it had no surprises about the current state of the sector: For at least the first half of the year, the road will be a bumpy one.
However, the data released on Monday — with a Manufacturing PMI® of 46.3 percent that indicated a fifth straight month of contraction — included the somewhat sobering realization that the off-ramp to a smoother ride is likely farther away than first anticipated. The U.S. factory community still expects growth in the second half of the year, but the demand engine isn't revving fast enough for a July or August arrival, said Timothy R. Fiore, CPSM, C.P.M., Chair of the Institute for Supply Management® Manufacturing Business Survey Committee.
In December, ISM's Semiannual Economic Forecast indicated that Business Survey Committee panelists expect growth later in 2023. That's still the case, but it will be a little later than hoped, Fiore told a conference call of reporters on Monday and reiterated to Negocios TV of Spain.
"We're probably now looking at some amount of recovery sometime at the end of the third quarter (Q3)," he said in the conference call. "I don't see it happening in the July time frame — it's a difficult time anyway with the summer and vacation periods in July and August. So, it almost feels like we're looking at a recovery around Q4."
Take away the plunge at the start of the coronavirus pandemic, and the composite index reading is the lowest since June 2009 (46.3 percent). The New Orders Index contraction quickened in March, decreasing 2.7 percentage points to 44.3 percent. Fiore noted economies and Europe and Asia are not providing much demand help, as the New Export Orders Index fell to 47.6 percent, its eighth straight month with below-50 reading.
As this space has pointed out previously, lower prices, faster supply deliveries and diminishing backlogs are typically a recipe to stimulate new orders. In March, all conditions were friendly, as the Prices Index returned to "decreasing" territory at 49.2 percent, the Supplier Deliveries Index (44.8 percent) indicated the fastest performance in 14 years, and the Backlog of Orders Index contracted for the sixth straight month, at 43.9 percent.
Continued weakness in manufacturing. Note that prices paid, new orders and employment are all below 50 indicating contraction. Weakest new orders number since 2020. pic.twitter.com/ccpxEuIHL6

— Kathy Jones (@KathyJones) April 3, 2023
But demand isn't returning as quickly as hoped, in part to what Fiore called a "stalemate" on prices for some products. "Sellers are refusing to budge because buyers are still paying fairly elevated input prices on foundational commodities like steel, copper and, to some extent, aluminum," he said. "Those prices are probably within the budget levels of panelists' companies, which is not a bad thing. But we're not back to the pre-pandemic prices many are looking for."
Such buying discretion helped lead to the biggest surprise in the March data for Fiore: The Inventories Index registered 47.5 percent, down 2.6 percentage points compared to the previous month. That suggests companies are successfully coordinating their manufacturing and total supply chain inventories, said Fiore, who added, "over-ordering is likely done."
Finally, the Manufacturing PMI® data sparked discussion on Monday about the direction of the U.S. economy, particularly monetary policy. After all, the manufacturing sector was the first to feel the impact of the U.S. Federal Reserve's interest rate hikes designed to cool the economy and lower inflation.
For those only focused on how a lower than expected #ISM Manufacturing will end #Fed tightening:
- #equities underperform when the ISM falls
- based on YoY S&P 500 changes, the ISM now signals clear downside.
- we are inching toward #recession levels. Valuation ⬇️ in this phase. pic.twitter.com/6e9JskLFmT

— jeroen blokland (@jsblokland) April 3, 2023
Since federal price indexes have not yet lowered to levels targeted by the Fed, meaning additional rate hikes are not out of the question. "Overall, we continue to expect the wider economy to follow the manufacturing sector into recession soon," Andrew Hunter, deputy chief U.S. economist at Capital Economics, wrote in a note to clients and investors on Monday.
Manufacturing anxiety was most evident in the Employment Index, which decreased 2.2 percentage points to 46.9 percent. In previous months, that index's contraction was a product of companies struggling to find workers, but head-count reductions were more of a factor in March.
Fiore said that the hire-to-reduction ratio among respondents' comments was 1.3 to 1. He noted that companies have wanted to retain staff in preparation for demand to resume, but with a likely delay, "they're taking a much more conservative look than where they were in January and February," Fiore said. "Head counts are coming down as they get ready for a longer period of slower of performance."
The Report On Business® roundup:
Barron's: Manufacturing Is Shrinking, ISM Data Show. "Things have been weak for a while. The index for new orders has been below 50 for the past seven months. Investors, however, know things are weak. What's more, a slowing manufacturing economy shows that the Federal Reserve's program of interest-rate hikes is working. That bodes well for the likelihood of fewer interest rate hikes down the road."
Bloomberg: U.S. Factory Gauge Falls to Lowest Since 2020, Employment Measure Drops. "The latest data, released Monday, suggest rising interest rates, growing recession fears and tighter lending conditions may be starting to weigh on business investment. That's compounding the demand challenges the sector already faced as households continue to shift more of their discretionary spending toward services."
Mace News: Manufacturing in Contraction for Fifth Straight Month on Uncertainty Over Demand Pickup Timing. "Fiore told reporters that the timing of the pickup in demand appears to be delayed from earlier expectations of July to August. … (He added) there are no signs of tighter lending in the March survey amid bank failures, although he added that capital investment plans appear to be delayed."
MarketWatch: Manufacturing Shrinks for Fifth Month in a Row, ISM Finds, With One Gauge Signaling Recession. "The ISM report is viewed as a window into the health of the economy, and it shows growing strains. New orders shrank to a level historically associated with recession, for example. The near-term outlook for manufacturers is still quite cloudy. More companies are tackling the problem with hiring freezes or even layoffs."
ISM PMI mfg index slips further into red, lowest since COVID recession. March PMI 46.3 vs 47.7 in Feb, missing expectations for 47.5. Underlying data weak. New orders lost more ground, 44.3 vs 47.0; employment 46.9 vs 49.1; production 47.8 vs 47.3. Not a pretty picture for… pic.twitter.com/CYXhuiyinX

— Ken Kim (@KenKim_1) April 3, 2023
Reuters: U.S. Manufacturing Sector Weakest in Nearly Three Years in March. "It was the fifth straight month that the PMI® remained below (50 percent), which indicates contraction in manufacturing. But so-called hard data have suggested that manufacturing, which accounts for 11.3 percent of the economy, continues to grow moderately. Manufacturing expanded at a 4.5-percent annualized rate in the fourth quarter, the government reported last week."
The Wall Street Journal: ISM's Manufacturing Gauge Weakest Since Spring 2020. "From the standpoint of many Americans — and, in some respects, from that of factory bosses themselves — what is happening in the manufacturing sector is not all bad. … Alongside getting supplies more quickly, inflationary pressures are also abating, with the ISM report showing that the prices manufacturers paid for raw materials actually slipped last month."
ISM's Services PMI® will be unveiled on Wednesday, and the Hospital PMI® on Friday. For the most up-to-date content on the reports under the ISM® Report On Business® umbrella, use #ISMPMI on Twitter.
(Photo credit: MediaNews Group/St. Paul Pioneer Press via Getty Images)