The Monthly Metric: Scope 3 Emissions
November 29, 2022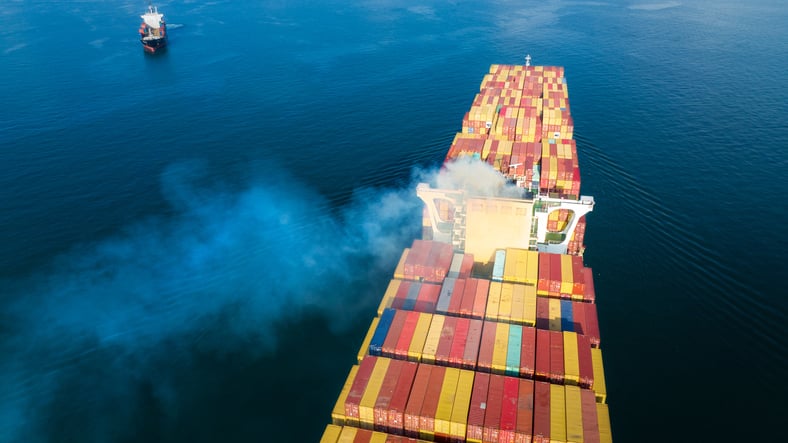 Amid continuing environmental, social and governance (ESG) awareness among policymakers, investors and consumers — leading to increased focus on more sustainable products — this edition features the first climate analytic in six years of The Monthly Metric.
Scope 3 emissions encompass supply chains end to end and make up the largest share of most companies' greenhouse gas (GHG) emissions, and measuring them is an inexact science. Data quality can be lacking, as it is reliant on third parties near and far, reporting standards and models are still evolving, and companies from the two biggest carbon emitting nations, China and the U.S., lag the rest of the world in Scope 3 reporting.
Still, trends indicate companies are warming to, or at least accepting, such disclosure. While Scope 3 emissions are outside a company's control, they are a significant ESG risk. Also, sentiment is growing that regarding Scope 3 reporting mandates, the matter is not if, but when. In March, the U.S. Securities and Exchange Commission (SEC) voted to propose expansive climate disclosure rules, including for Scope 3 emissions. Furthermore, the International Financial Reporting Standards Foundation has proposed global climate and sustainability disclosure standards.
While Scope 3 emissions have been a contentious part of the SEC's rules discussion process, with finalization not expected until next year, companies shouldn't wait for a mandate, researchers from Boston Consulting Group (BCG) suggest in the upcoming January/February 2023 issue of Inside Supply Management®. And the data collections and reporting process must be a team sport.
"Companies can most effectively address Scope 3 emissions by leveraging existing supplier relationship management programs," the BCG researchers wrote in the magazine's Sustainability department.
They continue, "Doing so can ensure that outreach to suppliers is coordinated across multiple strategic priorities, that requests are communicated consistently to suppliers, and that the sustainability agenda receives the appropriate senior attention needed to meet publicly communicated net-zero commitments. And for most companies, this will also require upskilling their current business functions on climate and sustainability."
Meaning of the Metric
Scope 1 emissions are those from sources owned or controlled by an organization, Scope 2 those associated with generation of purchased energy. The U.S. Environmental Protection Agency (EPA) requires "large GHG emissions sources" to report direct emissions. The EPA defines Scope 3 emissions as those "from assets not owned or controlled by the reporting organization, but that the organization indirectly impacts in its value chain;" there are 15 categories of such emissions, and not all categories may apply to an organization.
Deloitte, the London-based global management consultant, calls Scope 3 emissions "the big one," responsible for at least 70 percent of the carbon footprint of many companies. Reporting such emissions requires a large company to track potentially thousands of suppliers and tens of thousands of stock-keeping units (SKUs).
"Tackling Scope 3 emissions is especially complicated in the manufacturing sector," Kyra Whitten, vice president, sustainability at Flex, a global supply chain and manufacturing technology provider, wrote in a World Economic Forum (WEF) article. "It requires both the expert knowledge, measurement tools, and resources within an organization and the ability to collaborate across the value chain in scalable ways that bring others — like suppliers, customers and employees — along on the journey."
The most widely-used Scope 3 emissions accounting and reporting standard is from the Greenhouse Gas Protocol (GGP), a partnership of Washington, D.C.-based nonprofit organization World Resources Institute and the World Business Council for Sustainable Development (WBCSD), a CEO-led community of more than 200 international companies. The Partnership for Carbon Accounting Financials (PCAF), a global collaboration of financial institutions, developed The Global GHG Accounting & Reporting Standard for the reporting of emissions generated by investments and loans.
When companies are unable to get information from suppliers, the GGP allows for use of industry averages and other benchmarks to calculate Scope 3 emissions. That's important, say ESG advocates, as pursuit of perfect data should not be the enemy of good data.
Case Studies and a Big Benchmark
Whether to improve their own performance, build investors' interest or get a jump on mandates, companies are increasingly chasing Scope 3 data. In 2010, 937 companies included Scope 3 emissions in their reporting of climate information to London-based nonprofit organization CDP's global environmental disclosure system; last year, more than 3,300 did so.
Among notable company findings:
In broader data reporting dynamics, more than 3,500 companies have signed on to the Science-Based Targets Initiative, voluntarily surrendering an element of strategic planning to a sustainability algorithm. Many companies are taking Scope 3 reduction leadership, with one key benchmark in mind: a 2015 Paris Agreement goal of limiting global warming to less than 2 degrees (compared to pre-industrial levels) — the threshold to prevent, scientists believe, some of the worst impacts of climate change.
To reduce Scope 3 emissions, Whitten wrote in the WEF article, companies should take three steps across their value chains: (1) earn stakeholder buy-in, (2) develop supplier partnerships through education and empowerment and (3) standardize disclosure frameworks and standards, preferably building on what works with Scopes 1 and 2 reporting.
Technologies are also available to help collect Scope 3 emissions data. However, as Whitten wrote, "The greatest tool won't be much help if you don't have a solid strategy and strong internal alignment across your organization."
To suggest a metric to be covered, email me at dzeiger@ismworld.org.
(Photo credit: Getty Images/Suphanat Khumsap)