Report On Business® Roundup: March Services PMI®
April 05, 2022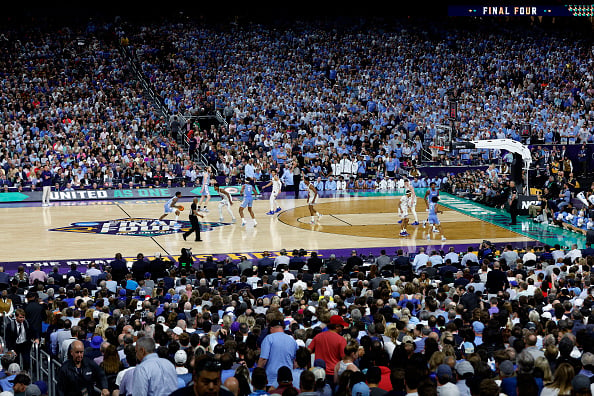 The scene that perhaps best sums up the normalcy the U.S. services sector longs for occurred less than 12 hours before the March Services ISM® Report On Business® data was released on Tuesday.
On Monday night, more than 70,000 people, most of them maskless, packed an indoor stadium in a city synonymous with hospitality, parties, and food and drink consumption to watch Kansas University defeat the University of North Carolina for college basketball's national championship. A big sporting event (which requires a lot of supply chain and logistics expertise, by the way) in the Big Easy — at a magnitude almost unthinkable a year ago — showed a services sector humming on a national stage and, in many ways, as it did before the coronavirus pandemic.
As the sector strives to break free of COVID-19 limitations, many of the ISM® Report On Business® readings for March were encouraging. The Services PMI® of 58.3 percent was a 1.8-percentage point increase compared to February, when many businesses were still grappling with the impacts of the omicron variant.
In March, however, Institute for Supply Management® Services Business Survey Committee respondents noted easing public-health restrictions, while new orders and employment picked up, and business activity was steady. "Restaurant sales have improved since Valentine's Day, with mask and vaccine verification mandates being dropped," wrote a respondent in Accommodation & Food Services.
* ISM services PMI off the boom and nearing normal.

* ISM employment report is exceptionally... normal

Unmarked up original image via BBG and @LizAnnSonders pic.twitter.com/QiatZgEOYM

— Ophir Gottlieb (@OphirGottlieb) April 5, 2022
As with almost all good news and positive trends since the start of the pandemic, there is a caveat: Cases in Europe — particularly in the United Kingdom — are on the rise, and lockdowns continue in China. While infections are rising in some states, officials are hopeful that transmission of the BA.2 (or "stealth omicron") strain does not reach a "surge" level in the U.S.
"The potential (of another wave) exists, but an impact has not been felt yet," Anthony Nieves, CPSM, C.P.M., A.P.P., CFPM, Chair of the ISM Services Business Survey Committee, told a conference call of reporters on Tuesday. "People in other parts of the world may be seeing the headwinds before the U.S. does. Other than the New Export Orders and Imports indexes, everything measures domestically in the U.S. services sector, and (the data) shows it's still on the path of continued growth."
Amid the cautious COVID-19 optimism, other issues remain. Costs and demand are still lofty: The Prices Index increased to 83.8 percent — its second-highest reading ever, just 0.1 percentage point below December 2021 — and the Backlog of Orders Index (64.5 percent) remained at historically high levels. While the Supplier Deliveries Index decreased to 63.4 percent, indicating faster lead times, the 2.8-percentage point change suggested that any relief was limited. Also, uncertainty about the war between Russia and Ukraine was evident among many Business Survey Committee respondents.
Strong @ism services report causing a good news is bad news reaction here...Bonds and stocks both dropping off the print... ISM index components were all strong with new orders back up over 60...The commentary was very inflation heavy so that's the problem. $SPY $TLT pic.twitter.com/Q7VfHZWdrt

— Marco Mazzocco, CFA (@MarcoMNYC) April 5, 2022
Services companies bolstered their stocks in March, as the Inventories Index expanded for a second straight month, with a reading of 51.7 percent. However, the Inventory Sentiment Index took a plunge, down 15.1 percentage points to 40.2 percent, indicating that those two gauges are not always in tandem, and supply managers generally feel their stocks are still too low when correlated with business activity and demand. While physical inventories are more associated with the manufacturing sector, services companies in industries like retail, construction and food service are heavily reliant on such stocks.
"Those inventories have grown from last month, but looking at the business needs and requirements, it's still not at a sufficient level," Nieves said. "That's why backlogs continue to be affected, as well as the slowing of deliveries. So, it shows how those three indexes are really interrelated." (The Supplier Deliveries Index is directly calculated into the Services PMI®; the Inventories and Backlog of Orders indexes are not.)
Depending on who did the surveying, the Services PMI® hit or was slightly below analysts' expectations. The Dow Jones Industrial Average dropped more than 200 points in the 25 minutes after the release of the Services ISM® Report On Business® data, but market activity has also been impacted by the (1) possibility of further interest rate hikes by the Federal Reserve, (2) potential for more European Union sanctions against Russia and (3) continuing yield-curve anxiety.
Nieves said that, of three key metrics — inflation, unemployment and gross domestic product (GDP) — that determine stagflation, prices is the only area of concern. "We still have strength in the services sector," he said. "There are some potential headwinds with inflation, but we still have strong GDP and employment, as we know from not only from the (ISM® Report On Business®) but also the (federal) jobs report. Hopefully, things stay on the right track."
"The rebound in the ISM services index to 58.3 in March, from 56.5, demonstrates that the real economy remains on a solid footing. But with labor shortages and supply chain pressures easing only marginally, price pressures remain intense." - @CapEconUS

— James Pethokoukis (@JimPethokoukis) April 5, 2022
The Report On Business® roundup:
Bloomberg: U.S. Services Growth Improves as ISM's March Gauge Climbs to 58.3. "The (New Orders Index) advanced for the first time since October, while (the Employment Index) jumped by the most since January 2021 as COVID-19 cases declined. (The Business Activity Index) — which parallels ISM's measure of factory production — also expanded at a faster pace. The pickup in services activity showcases an economy that's firming after the omicron variant slowed the sector's expansion early in the year."
MarketWatch: The Huge Service Side of the U.S. Economy Speeds up in March, ISM Finds. "The scores of service-providing companies that dominate the modern U.S. economy have gotten a lift from the decline in coronavirus cases and removal of government restrictions. People are going out more to eat, shop or entertain themselves. Yet companies are still struggling with shortages of labor and supplies and can't always keep up with customer demand. These problems have contributed to the highest U.S. inflation in 40 years and are not expected to ease quickly."
"Recovering from Omicron" @IanShepherdson on U.S. ISM Services #PantheonMacro

— Pantheon Macro (@PantheonMacro) April 5, 2022
Reuters: U.S. Service Sector Regains Speed in March; High Input Prices Persist, Survey Says. "COVID-19 restrictions have been lifted across the country following a massive decline in coronavirus infections, unleashing pent-up demand for services like airline travel and dining out. The government reported last week that consumer spending on services increased by the most in seven months in February, while goods outlays declined."
The Wall Street Journal: Stocks Slip; Oil Ticks Lower. "An Institute for Supply Management® survey of purchasing managers showed the U.S. services sector picked up in March after softening for three straight months. The ISM® Report on Business® (Services) PMI® increased to 58.3 (percent) in March from 56.5 in February, matching the forecast from economists polled by The Wall Street Journal."
In case you missed Friday's Report On Business® Roundup on the release of the March Manufacturing PMI®, you can read it here. The Hospital PMI® will be released on Thursday. For the most up-to-date content on the three indexes under the ISM® Report On Business® umbrella, use #ISMPMI on Twitter.
(Photo credit: Getty Images/Chris Graythen)