Report On Business® Roundup: March Manufacturing PMI®
April 01, 2022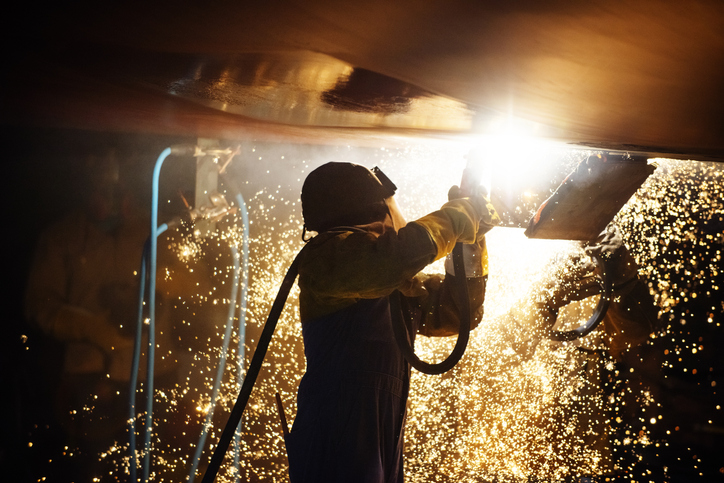 The Manufacturing ISM® Report On Business® for March, released on Friday, revealed just how disruptive events in Europe and China were to what is traditionally the biggest month for new business for U.S. factories.
The continuing combat after Russia's invasion of Ukraine and coronavirus outbreaks in China helped send commodity prices higher (again) and depress growth in new orders. Timothy R. Fiore, CPSM, C.P.M., Chair of the Institute for Supply Management® Manufacturing Business Survey Committee, told a conference call of reporters that if he were a purchasing manager, his transactional enthusiasm would have been tempered.
"If I was sitting at my desk and I had my orders laid out well in advance of my normal order stream, I probably wouldn't be rushing to place them in the month of March," he said on Friday, "not at the high prices we saw. I probably would wait a little bit." That sentiment was shared by many, if the lower-than-expected Manufacturing PMI® of 57.1 percent, collared by declines in the New Orders and Production indexes, is of any indication.
The ISM manufacturing activity index unexpectedly slipped 1.5 points to 57.1. That is still comfortably in 'growth' territory (above 50), but the 2-10 yield curve has once again inverted. Fear can breed in these conditions pic.twitter.com/O2ivXqRKiS

— John Kicklighter (@JohnKicklighter) April 1, 2022
In breaking down a composite index had its lowest reading since September 2020, let's discuss the good news first. The Manufacturing PMI®'s impact on markets was unclear, as much attention was on the monthly federal jobs report released by the U.S. Bureau of Labor Statistics earlier on Friday. The 431,000 non-farm jobs (including 38,000 in manufacturing) added in March was slightly below expectations, but the nation's unemployment rate fell to 3.6 percent, getting the U.S. jobs market close to its pre-pandemic condition.
The federal data was in line with ISM's Employment Index, which increased 3.4 percentage points to 56.3 percent, its highest reading since March 2021. The share of survey respondents reporting higher employment at their companies was 24.4 percent, up from 15.5 percent in December. "The labor market is back on an improvement path," Fiore said. "Gains being made in hiring should lead to more consumption improvement."
However, labor's impact on production was limited in March. Fiore labeled the slowing production growth — that index registered 54.5 percent, down 4 percentage points compared to February — as a "disappointment," considering the uptick in employment and that supplier delivery performance was steady. "With the ups and downs from COVID-19 and the situation in Europe, the normal pattern for March didn't follow," Fiore said. "The big month that the sector usually has didn't occur."
⚠️ ISM manufacturing miss matters more for the direction of bond yields than payrolls. ISM largely holding up because of prices paid but if that starts rolling over sharply too we could be sub 50 in 2H22. And historically US 10Y yield has followed ISM lower. Tricky times $USD pic.twitter.com/fKbTl0dMio

— Viraj Patel (@VPatelFX) April 1, 2022
While Fiore said no alarm bells should be ringing at this point, the situation could persist if procurement organizations hold off buying as long as possible due to sticker shock. The Prices Index shot up 11.5 percentage points in March to 87.1 percent and has registered above 70 percent in 15 of the last 16 months. Fiore said that suppliers, unlike in previous instances, did not wait to pass price increases to customers.
"(That process) probably took four to six months last year," he said. "This time, I think (suppliers) saw the increased coming and decided not to wait, telling their customers, 'We can't take all of this on; you'll have to help.' That's why there was such a dramatic increase in the Prices Index — it involved the energy markets, which impacts transportation. So, that means it's hitting everybody."
With Russia, the world's third-largest oil producer, currently ostracized from markets and not much reserves relief from Organization of the Petroleum Exporting Countries (OPEC), prices growth will remain a concern, Fiore said. Also, a Business Survey Committee respondent in Food, Beverage & Tobacco Products wrote that the war in Ukraine has created uncertainty and inflationary pressures in grain markets. Aluminum, palladium and neon are two more commodities from the region in which supply issues could impact U.S. factories in the coming months, Fiore said.
"We don't know how long the conflict will last," he said, "but (in March), I thought the manufacturing sector did well, given all the uncertainty about what the world will look like."
ISM manufacturing hasn't bottomed yet. pic.twitter.com/Z0HJryYl66

— Ian Shepherdson (@IanShepherdson) April 1, 2022
The Report On Business® roundup:
Bloomberg: U.S. Manufacturing Growth Loses Steam, Inflation Pressures Grow. "ISM's new orders measure slid nearly 8 points in March to 53.8 (percent), and the factory output gauge dropped 4 points to 54.5. The indexes — now both at their lowest levels since May 2020 — signal some softening in demand amid mounting price pressures and increased uncertainty. … (A large Prices Index) increase points to worsening price pressures after Russia's invasion of Ukraine further drove up the prices of petroleum and metals."
Dow Jones Newswires: U.S. Factory Sector Growth Slowed in March to 18-Month Low; Prices Increased Sharply. "The report — which is based on a poll among manufacturers — signals that activity expanded over the month, albeit at a slower pace than in February. Economists polled by The Wall Street Journal had forecast the index rising slightly to 59.0 (percent). … The Production Index also fell, to 54.5 (percent) from 58.5, signaling that manufacturing output cooled over the month."
After reading the ISM manufacturing report I've came to a conclusion. Purchasing managers are still complaining about rising prices, some even saying they are rising daily. So what does this mean? Inflation will keep on pushing and I expect higher than expected for April #1

— Rory McMullan (@insideoutblog1) April 1, 2022
Kitco News: ISM Manufacturing Index Disappoints, but Gold Price Focused on Bond Yields. "Following the release, gold prices posted additional losses, with June Comex gold futures last trading at (US)$1,932.70, down 1.09 percent on the day. Kitco's senior analyst Jim Wyckoff noted that gold's primary drivers from Friday were rising U.S. Treasury yields and a firmer U.S. dollar index. … After digesting the report, economists said that despite some easing in March, the manufacturing levels in the U.S. were still seeing healthy growth."
MarketWatch: U.S. Factory Activity Stumbles in March to Lowest Level in 18 Months, ISM Survey Shows. "Released after the U.S. March jobs report on Friday, the ISM Employment Index rose 3.4 points to 56.3 percent. The prices index shot up 11.5 points to 87.1 percent. Growing inventories also offset some of the weakness. Manufacturing activity continues at a solid pace despite supply-chain problems. Richmond Fed President Thomas Barkin said earlier this week that businesses still are frustrated by bottlenecks in their supply chains."
At the same time, employment (up from 52.9 to 56.3) strengthened notably, highlighting the strength in the overall labor market, even as firms cite ongoing difficulties in attracting and retaining workers.

— Chad Moutray (@chadmoutray) April 1, 2022
Reuters: U.S. Manufacturing Sector Activity Slows in March; Input Prices Surge. "The slowdown in manufacturing also reflects a shift in spending back to services amid a significant decline in COVID-19 infections, which has resulted in the rolling back of restrictions across the country. Government data on Thursday showed consumer spending on services increasing by the most in seven months in February, while goods outlays declined."
ISM's Services PMI® will be unveiled on Tuesday, and the Hospital PMI® on Thursday. For the most up-to-date content on the reports under the ISM® Report On Business® umbrella, use #ISMPMI on Twitter.
(Photo credit: Getty Images/Cavan Images)