Report On Business® Roundup: August Hospital PMI™
September 08, 2020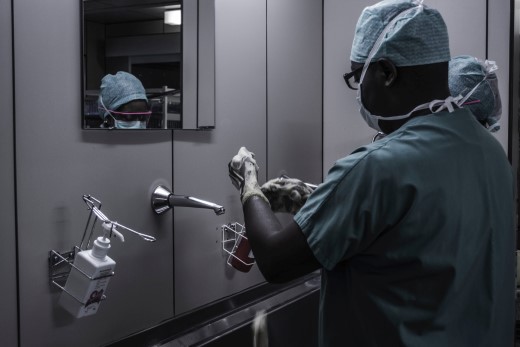 The Hospital ISM® Report On Business® composite index decreased by 5.1 percentage points in August, and there was no consensus on the impact of the coronavirus (COVID-19) on the slower growth. However, the pandemic's fingerprints could be seen on parts of the data released on Tuesday, a dynamic that is likely to intensify as the nation heads into the fall.
The Hospital PMI™ fell to 63.8 percent, which could be attributed in part to normal seasonal variations that have been indicated in index data from previous summers, said Nancy LeMaster, MBA, Chair of the Institute for Supply Management® Hospital Business Survey Committee. But COVID-19 is still leading to frustration in sourcing personal protective equipment (PPE) and other supplies, which impacts such subindexes like Supplier Deliveries, Inventories, Prices and Case Mix.
#COVID19 is impacting elective-procedure levels, PPE remains hard to source, and U.S. hospital subsector growth slowed in August. That factored into a decrease to 63.8% for the Hospital PMI™, the newest @ISM® Report On Business® index. https://t.co/Z4ZQAO7PXD #ISMPMI #economy

— Institute for Supply Management (@ism) September 8, 2020
"Some areas (of the country) are seeing elective cases at 50 percent of normal levels, with (coronavirus) patients resulting in a cutback on electives, while in other areas, surgeries and patient services are back to normal," LeMaster told reporters on a conference call on Tuesday. "There's an uneven experience in the way COVID-19 is affecting volumes. We're also consistently seeing a lot of pain in acquiring PPE at a reasonable price."
PPE sourcing hurdles could become greater as hospitals face competition from reopening schools and other businesses that require such supplies. LeMaster said that PPE inventory uncertainties impact hospitals' ability to provide COVID-19 treatment and elective surgeries that generate revenue to fund capital and technology spend.
Hospital PMI™ survey respondent: "Medical supplies (and) PPE still in short supply, with unprecedented level of distributor allocations. My facility needs to purchase certain PPE outside of normal distribution channels" at a higher cost. https://t.co/FubrfU0Q5F #ISMPMI #economy

— Dan Zeiger (@ZeigerDan) September 8, 2020
That dynamic has been evident in the Hospital PMI data: In recent months, the Technology Spend Index — a lagging indicator, even under normal business conditions — has alternated between expansion and contraction; it registered 53 percent in August. "We're getting a sense that hospitals are being careful in this area," LeMaster said. "As volumes are unstable and there's a lot of financial pressure from increased expenses, executives will put a tight rein on capital-spend dollars."
The Case Mix Index decrease of 7 percentage points is consistent with slower growth in elective surgeries. The summer months — except for pediatrics services — have traditionally been a typically slow season for hospitals, LeMaster said, though that dynamic has decreased in the era of high insurance deductibles. Still, the Business Activity, New Orders and Case Mix indexes experienced summer dips in previous years, before rebounding in September. "This month seems to be less active, which is typical in the summer," a Business Survey Committee respondent wrote.
ISM/hospitals comments: PPE still short supply. Employ index 56.0 in Aug from 58.5 in July. ISM's LeMaster: Backlogs continue to grow. Seeing COVID spikes while elective procedures decline. Some areas seeing only 50% normal elective cases, others closer to normal. #ISM #hospitals

— Mace News (@MaceNewsMacro) September 8, 2020
The Inventory Sentiment Index reached 50 percent in August, ending a five-month period in "too low" territory. However, hospitals will continue pursuing ample inventory levels, flipping the just-in-time model on its head, LeMaster said: Facilities once strived for a week's worth of PPE and other supplies are now try to keep at least 100 days of inventory on hand. Not surprisingly, prices for PPE and other supplies remain elevated.
The same is true for pharmaceuticals. When COVID-19 first hit the U.S., demand and prices were high for the drugs associated with sedating and managing patients on ventilators. Price levels in recent months, LeMaster said, have less to do with the coronavirus.
"Pharmaceuticals prices, unfortunately, are (because of) a long-standing trend of companies raising prices," she said. "It's not as connected to COVID-19 as the PPE issue. It's more of a reflection of the industry in general and the price pressures hospitals are fighting."
In case you missed the September 1 Report On Business® Roundup on the release of the August Manufacturing PMI®, you can read it here. The Roundup on Thursday's release of the August Services PMI™ can be read here. For the most up-to-date content on the three indexes under the ISM® Report On Business® umbrella, use #ISMPMI on Twitter.