Gaining a Procurement Advantage: How ATI is Building a Future-Ready Procurement Team with ISM
ATI Inc. is a leading global specialty materials producer specializing in manufacturing high-performance materials and advanced alloys. With more than 6,000 employees across nearly 20 locations in Europe and Asia, and more than 30 in the United States, ATI provides high performance materials and solutions for the global aerospace and defense markets, and critical applications in electronics, medical and specialty energy.
The ISM Corporate Program has been a valuable resource for ATI in developing its procurement organization. ATI continues to leverage the membership benefits to strengthen its procurement team. Mike McCaig, CPO at ATI, plans to see the number of people with ISM certifications increase in the Pittsburgh, Dallas and other Metro areas where ATI is located so the network continues to grow. He also recommends ISM Assessments, especially for organizations looking to establish a benchmark and develop their maturity level in procurement.
Learn more about how McCaig and others at ATI are using ISM resources as well as CAPS Research data to advance their vision, mission, and strategies to build a more mature procurement organization.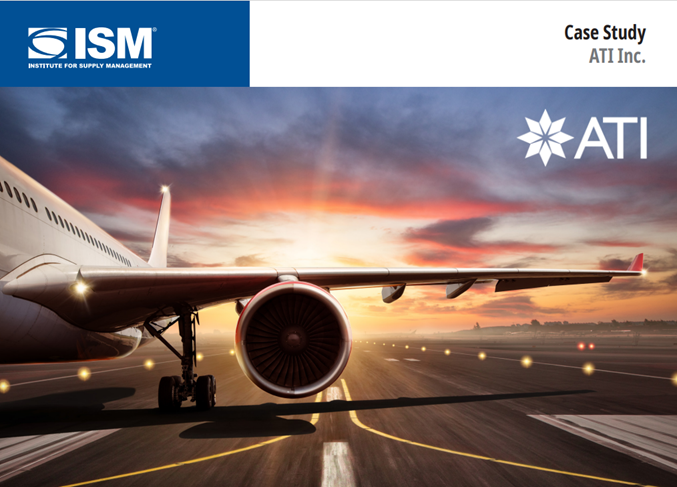 ---
This sharing of ideas within this network has helped many of us in the procurement space find some solutions we may not have found on our own."
In a recent interview with Zimmer Biomet's Vice President of Global Sourcing, Howard Levy, we learned the personal story of how his professional development has morphed from "Me to We", thus creating the mindset required to drive organization and team development and growth. Follow along as Levy explains how Zimmer Biomet continuously grows talent to the next level of skills in sourcing and supply chain and how the company utilizes the ISM Corporate Program to develop all team members regardless of career stage.
Access Case Study
As the largest global provider of warehouse automaton solutions and the second largest provider of supply chain solutions and materials handling systems, Dematic Corporation has experienced explosive growth and transformation of its procurement organization. Click below to learn how Dematic's leaders, Wanda Jackson-Davis, Senior Vice President, Procurement, and Stephanie Williams, Senior Director, Global Procurement, are transforming the procurement function as a strategic asset and embracing new opportunities.
Access Case Study
Managing a supply and operation team of 5,000, Wesco Executive Vice President of Supply Chain Operations, Hemant Porwal, leads his team with a commitment to employee development, creating a strong foundation for teams to grow while fostering a learning culture. Why?
In today's business world, ensuring your team has the skills and knowledge necessary to succeed is more important than ever. The desire to develop a learning culture was a catalyst for engaging the Wesco supply chain team with ISM's Corporate Program. Committed to employee development, investment in talent is an investment in the future of not only the company, but also the employees.
Access Case Study