Risk Update: Some Stabilization, but No Relief From Disruptions
July 18, 2023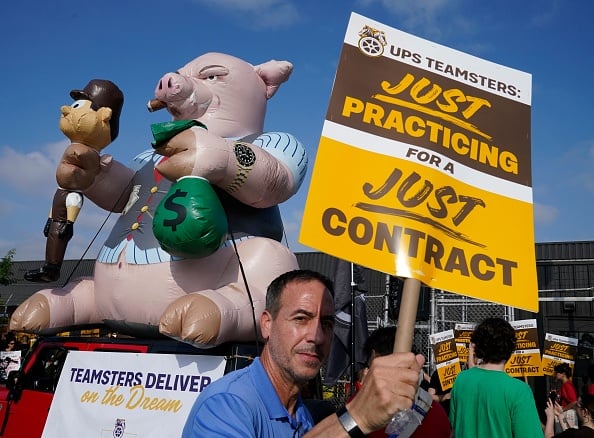 A modest year-over-year increase in reported incidents suggests that post-coronavirus pandemic supply chains could finally be stabilizing, but disruptions remain at historically high level — with many potentially crippling.
The EventWatch AI monitoring platform by Resilinc, a Milpitas, California-based provider of supply chain risk management research and analytics, revealed 8,197 supply chain disruptions during the first half of the year. That's just 3 percent higher compared to the same time frame in 2022, some risk areas had significant increases.
Labor disruptions were up 136 percent year over year, and the second half of 2023 has begun with a looming work stoppage at UPS Inc. Geopolitical turmoil is always top[ of mind for companies and supply managers, and China's export controls on two metals used in computer chips and solar panels is a "very sensitive situation right now," Resilinc CEO Bindiya Vakil said last week during Institute for Supply Management®'s (ISM®) "Quarterly State of Risk Update" member-exclusive webcast.
"In this fight, we only lose," she said of China's limits on germanium and gallium; she fears that a trade dispute with the U.S. could escalate to such metals as aluminum. "China has a lot more processing and smelting capacity than any other country. "It's a can of worms because there are no near-term solutions. (The U.S.) has to be careful and tread lightly."
Vakil hosts the quarterly webcast with ISM CEO Thomas W. Derry, who said that supply chain visibility is critical under threat of a disruption — without it, a business continuity plan (BCP) is likely to be less effective. "That's been the huge shift in supply chain risk over the past decade," he said. "Instead of being reactive to another problem or fire to put out, (a supply manager) has a fire but also has a playbook."
He continued, "If there is an issue with that a site or supplier, that's when it's time to put the playbook in motion, and you're good to go."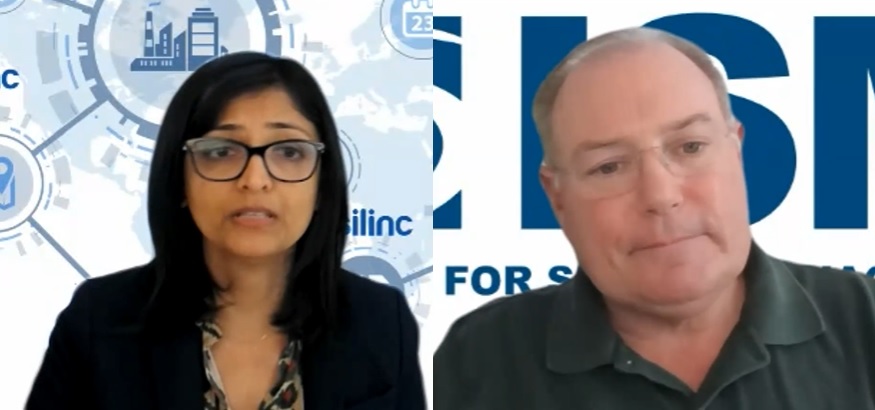 Resilinc CEO Bindiya Vakil and Institute for Supply Management® (ISM®) CEO Thomas W. Derry during their "Quarterly State of Risk Update" webcast.
As Vakil and Derry discussed during their first-quarter risk update in April, supply chain mapping remains an important preventative or mitigation measure. Vakil reiterated that companies need help from suppliers in the mapping process, but she added that breakdowns occur when vendors fail to qualify their backup sites.
"Sometimes, suppliers might have a backup site that they haven't actually qualified," she said. "If you had to move production there, how quickly can (the supplier) start shipping to you? If it's 30 weeks, that's not a good BCP. So, asking the right questions during your supply chain mapping can be incredibly valuable."
According to EventWatch AI data, bankruptcies increased 196 percent year over year during the first half of 2023, while profit warning events surged 300 percent and corporate restructuring incidents were up 125 percent.
Factory fires remained the leading supply chain disruption, but the 1,642 reported incidents were a decrease of nearly 20 percent compared to the same period last year. Resilinc researchers indicated that the reduction was due to a resumption of pre-COVID-19 procedures and maintenance, as well as less production due to sagging consumer demand.
In the immediate wake of an incident, Vakil says, companies and procurement organizations can do three things to help a supplier mitigate disruption:
Track suppliers' financial health, a preemptive measure.
Seek approval from executives for an emergency budget to help suppliers.
Pay suppliers ahead or buy raw materials for them if the company has the ability.
Derry acknowledged that for smaller companies, suppliers' financial information might be hard to procure. "Private company data is notoriously difficult to obtain," he said. "I spoke to the head of indirect at a major technology company, and he's upfront: 'If you want to be a supplier to us, you're going to give us your financials. If you don't want to, we'll go find somebody else.' And that works. It's not going to work for every company, but you should start there."
Over the long term, especially with some level of turbulence with China expected to persist, Vakil said companies should explore manufacturing and sourcing operations in Mexico and Central America. "Pan American" supply chains, she said, can help reduce operating incomes and carbon footprints and lower companies' exposure to port disruptions.
Times of crisis, Vakil said, "are an opportunity for companies to be excellent citizens. Procurement tends to get sidelined: 'Get the cost saving targets, reduce my inventory and stay out of the way.' But it's an opportunity to demonstrate that we are strong, long-term partners to suppliers by helping them get back on their feet and be successful."
The next "Quarterly State of Risk Update" is scheduled for October.
(Photo credit: Timothy A. Clary/Getty Images)