Report On Business® Roundup: May Services PMI®
June 05, 2023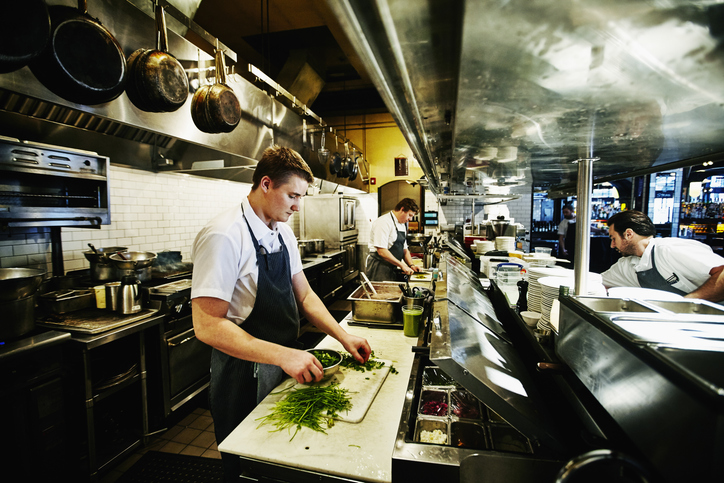 Had CNBC's Rick Santelli been at his pre-coronavirus pandemic broadcast location on the Chicago Board of Trade, Monday would have been one of those days where the background noise served as a soundtrack to the release of the ISM® Report On Business® data.
While Santelli reported the Services PMI® numbers for May amid the silence of his set, the reaction from investors was hardly muted as they pondered the lower-than-expected composite index reading of 50.3 percent, the immediate impact on the U.S. dollar and Treasury yields, and how the U.S. Federal Reserve might respond when it meets next week.
"Interest rates (could be) going down even more because we have weak data," Santelli said. He added, "Let's get to the moneyball — what's really moving markets: 50.3 (percent) on the ISM Services (PMI®); that is much weaker than we were expecting. We were expecting a number over 52. It's the weakest level since (the index) was under 50 in December of last year."
Last year, the Fed set out to cool a heating U.S. economy and slow inflation through a series of interest-rate hikes. The ISM® Report On Business® indicated that it did not take long for the policy to have the desired effect on the manufacturing sector. However, the services sector continued showing strong growth, with Prices Index readings above 70 percent.
With an average Services PMI® reading of 51.1 percent in the last three months and a Prices Index number of 56.2 percent in May that is the lowest in three years, perhaps the Fed's raising interest rates 10 times in a little more than a year is finally catching up to the sector that makes up more than 80 percent of U.S. gross domestic product (GDP).
Anthony Nieves, CPSM, C.P.M., A.P.P., CFPM, Chair of the Institute for Supply Management® Services Business Survey Committee, told a conference call of reporters on Monday that panelists have cited the impact of rising interest rates, particularly in the Real Estate, Rental & Leasing industry. But he added that the primary issue regarding prices is that it's become more of a buyer's market.
"The Fed has been trying to combat inflation and pricing is starting to moderate, but it's not an easy shift," Nieves said, in part because of the size of the services sector. He added, "Supply continuity is much better. There are still a few commodities in short supply, but overall, the picture is much better, there's more pricing power, and costs are starting to stabilize."
The ISM services price index points to a further easing of CPI #inflation in the coming months pic.twitter.com/FAC6HQJMtO

— Gregory Daco (@GregDaco) June 5, 2023
The Employment Index registered 49.2 percent in May, ending a three-month stay in expansion territory. Some commenters suggested that figure was at odds with a federal jobs report last week that showed 339,000 jobs added in May, but Nieves noted that the U.S. unemployment rate ticked up, to 3.7 percent.
He added that subindex data is weighted by each of the 18 industries' contribution to services GDP. And in May, four of the largest services industries — Real Estate, Rental & Leasing; Information; Finance & Insurance; Health Care & Social Assistance — reported a decrease in employment.
"When you see Accommodation & Food Services had a good month for growth, and it did, it's still one of the smaller industries regarding GDP," Nieves said. "Meanwhile, Real Estate, Rental & Leasing (the largest services sector, at 14.5 percent of GDP) had a pullback with new home starts and other activity down, so that has a bigger impact on the calculation."
In other subindex news, the Inventories Index returned to expansion with authority, up 11.1 percentage points to 58.3 percent, the highest reading since February 2021. Like its ISM Manufacturing counterpart, the Backlog of Orders Index dropped to a level not seen since the Great Recession; the reading of 40.9 percent is the lowest since May 2009 (40 percent).
That indicates continuing sagging demand, also reflected by a New Orders Index reading of 52.9 percent, down 3.2 percentage points compared to April, and the lowest Business Activity Index (51.5 percent) number in three years. However, Nieves said that respondents' comments indicated no fear of a recession in the near term.
"You could look back on historic trends, but there are a lot of things that have not gone normally since the start of the pandemic," Nieves said. "I'm seeing uncertainty in the comments and signs of a slowdown, depending on the company and industry, but the forecasts largely suggest continued growth. As we go through the summer, we should have a better idea."
US service sector weakening trend persists in May, as indicated by the ISM Services PMI. With employment index below 50, inventories growing, and backlog of orders contracting, implications for the Federal Reserve are intriguing. Rate hike calls may subside, at least temporarily. pic.twitter.com/iQUx1TyXWl

— Ali Dhanji, AAMS® (@DhanjiatRJ) June 5, 2023
The Report On Business® roundup:
Agence France-Presse: U.S. Services Activity Eases Unexpectedly In May. "While hiring figures from the Labor Department last week suggested the jobs market remains hotter than hoped, the latest ISM numbers could bring some relief to policymakers. Fed officials are due to meet next week, when they will decide if a further rate hike is necessary to cool the economy sufficiently to rein in stubborn inflation."
Bloomberg: U.S. Services Activity Nearly Stalls as Price Gauge Slides. "After the figures, yields on U.S. Treasury notes dropped, the dollar fell and traders pared bets on an interest-rate hike by the Federal Reserve next week. The Business Activity Index, which parallels the ISM (Manufacturing Production Index), fell for a fourth month to a three-year low of 51.5. Combined with softer orders, the decline indicates service providers are experiencing sluggish demand."
Bloomberg TV: U.S. Services Activity Falls to Weakest Level This Year. "The headline number that is way below what it was anticipated, and basically the whole is set of subindexes comes in weak," analyst Michael McKee said. He added, "(The data) suggests that we're seeing a slowdown in the economy on the services side, which goes with the other evidence from the ISM Manufacturing numbers. That should support the idea that the Fed could (put interest-rate increases) on hold."
Mace News: Service Sector Activity in Expansion Territory for Fifth Straight Month but Slower on Lower New Orders, Employment. "Nieves noted that people are still dining out and traveling on vacation but also said that business conditions will have to be monitored for the next few months to assess how sustainable the current pent-up demand emerging after the peak of the pandemic will be."
MarketWatch: Businesses Hit a Wall, ISM Finds: 'Everything Seems to Have Leveled Off. Not Getting Any Worse, Not Getting Any Better.' "Americans are spending lots of money to eat out, travel and entertain themselves. That's kept the U.S. economy growing and out of recession. Many economists don't think it can last. They expect that higher interest rates orchestrated by the Federal Reserve to quell inflation will slow the economy and boost unemployment."
May ISM services index nearly stalls out at 50.3 (50 = breakeven), missing consensus at 52.4. April was 51.9. May ISM manufacturing already underwater at 46.9. 80/20 services/mfg would put composite below 50, which is contractionary territory. pic.twitter.com/SF8nj6dsdV

— Ken Kim (@KenKim_1) June 5, 2023
Reuters: U.S. Services Sector Slows in May; Prices Paid Gauge Falls to Three-Year Low. "Though the PMI® remains above the 49.9 level, which the ISM says over time indicates growth in the overall economy, last month's slowdown heightened the risks of a recession. ... The services sector has benefited from consumers shifting spending from goods. But following 500 basis points worth of interest rate increases from the U.S. central bank since March 2022, consumers could be focusing more on basic needs."
In case you missed last week's Report On Business® Roundup on the release of the May Manufacturing PMI®, you can read it here. The Hospital PMI® will be released on Wednesday. For the most up-to-date content on the three indexes under the ISM® Report On Business® umbrella, use #ISMPMI on Twitter.
(Photo credit: Getty Images/Thomas Barwick)