Report On Business® Roundup: May Manufacturing PMI®
June 01, 2023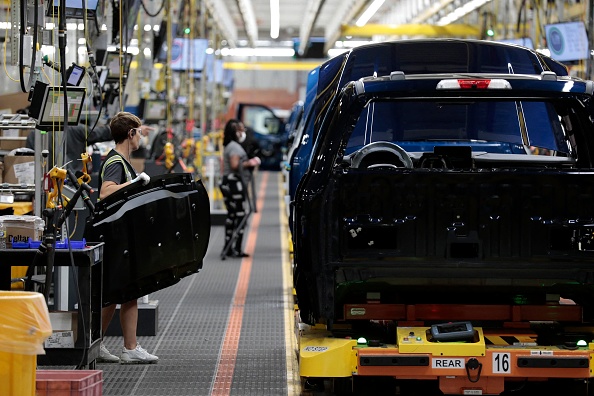 In the U.S. manufacturing economy, the music has been slowing for some time — and the only way for the pace to quicken again is for the participants to start dancing first.
The Manufacturing ISM® Report On Business® data for May indicated how potentially arduous the waltz between buyers and sellers will be. The composite PMI® was 46.9 percent, down just 0.2 percentage point compared to April, but a seventh straight month of contraction — and some data points suggest that the decrease could have been worse. More on that later.
Timothy R. Fiore, CPSM, C.P.M., Chair of the Institute for Supply Management® Manufacturing Business Survey Committee, told Bloomberg TV after the data was released on Thursday, "The summary of the May report is this: Manufacturing is set for a recovery. Where is the demand?" And that is the dance.
Many of the ingredients of a rebound recipe are in place: Supplier delivery performance is at its best in 14 years, the Prices Index returned to "decreasing" territory at 44.2 percent in May, and with the Backlog of Orders Index (37.5 percent) at its lowest level since February 2009, factories are running out of backlogs to work down. However, in a conference call with reporters on Thursday, Fiore typified the current conundrum for companies and their suppliers.
"Say you're in a conference room or Zoom call. A supplier tells you that prices are closer to what you used to pay and lead times are coming down as well, so where are the orders? You reply that as soon as you start getting more sales, you'll place more orders," Fiore said. With the New Orders Index at 42.6 percent in May, down 3.1 percentage points from the previous month, buyer-seller conversations along those lines have likely been frequent.
As for when feet will start shuffling and the music finally pick up, Fiore said, "I'm not saying it's going to happen (in June). What I'm saying is that the dynamics (that typically) enable it to happen are much better."
In the meantime, the PMI® was buoyed by continuing resiliency in production and employment. The Production Index returned to expansion in May, up 2.2 percentage points to 51.1 percent. As Fiore explained last month, while new orders are a sign of future revenue, produced goods are often readily parlayed into sales.
YIKES!
The #ISM Manufacturing Index for New Orders dropped to 42.6 in May, which is closer to, but not yet at, #recession levels. pic.twitter.com/UTiwa1pPOo

— jeroen blokland (@jsblokland) June 1, 2023
The Employment Index also increased, to 51.4 percent — but this expansion could be temporary if demand doesn't follow. As the Report On Business® data has indicated for months, companies are trying to maintain head count levels in expectation for increased business in the second half of the year. But that gets harder as the wait for growth to resume gets longer.
On Tuesday, the private payrolls report from ADP and the Stanford Digital Economy Lab indicated U.S. companies added 278,000 jobs in May — but manufacturing positions decreased by 68,000. "If new orders remain slow and there are no more backlogs to work, on, then you can only have so many people on factory floors," Fiore said. "Companies have been managing input material costs well, but many will have to start making decisions on labor costs."
In May, 73 percent of manufacturing gross domestic product (GDP) shrunk, up just 3.0 percentage points from the previous month, with 31 percent of industries in strong contraction, defined as a PMI® below 45 percent. In April, that figure was 12 percent.
Some large industries were close to strong contraction in May, Fiore said, "so that percentage could have been at a more alarming level." Also, while comments in the report were largely positive, Fiore said some Business Survey Committee respondents expressed concern about an economic recession in 2024.
The Manufacturing PMI® data's impact on markets was hard to quantify, with much of the focus on debt-ceiling drama in Washington, D.C. But for many businesses, it was more of the uncertainty that, as it's often said, they loathe more than anything. With the U.S. Federal Reserve likely to leave the interest rate alone this month but not ruling out hikes later this year, that only adds to the hesitancy.
Fiore said such sentiment was likely a reason for the recession fears of some Business Survey Committee panelists. "Think about how we've been talking about this for a year now: The recession is coming, the recession is coming.' We're still waiting," he said. "But that leaves companies unsure to go all in and expand or reopen capital. And we're still not at an inflation level acceptable to (the Fed)."
Another weak (46.9) ISM US manufacturing data point extends the series of contractionary readings.
This is consistent with the notion of a 2-speed US growth economy: Services solid, manufacturing less so.
Comes with an inflationary differential, with the more inflationary…

— Mohamed A. El-Erian (@elerianm) June 1, 2023
The Report On Business® roundup:
Agence France-Presse: U.S. Manufacturing Contracts For Seventh Straight Month. "(The data) will provide the U.S. Federal Reserve with additional evidence of an economic slowdown as it mulls how best to respond to above-target inflation. … Members of the Fed's rate-setting committee are divided over whether to hike interest rates for an 11th time on June 13-14 to bring inflation back down to the bank's long-run target of 2 percent."
Bloomberg: It Looks Like 'Labor Hoarding' Is Happening at U.S. Factories. "Per the (ISM Manufacturing) report, total employment is up even as new orders and overall production are indicating contraction. The explanation could be, again, that companies are still more worried about being short of workers rather than having too many."
CNBC: ISM Manufacturing PMI Slid to 46.9% in May. "That is the seventh month in a row under 50 percent, in contraction territory," analyst Rick Santelli said. "(The Prices Index) is 44.2 percent, the lowest level of the year. Prices paid going down is a good thing, most likely explaining the drops in (treasury) yields."
Mace News: Manufacturing in Contraction for Seventh Straight Month as New Orders Plunge on Uncertainty Over Timing of Recovery. "Fiore told reporters that some firms are concerned about a possible recession in 2024 but that he sticks to his recent outlook that surveyed manufacturing firms are operating in a 47 percent to 51 percent range in the (PMI®). … Companies are not committing to making capital investment at this point, he said."
As such, the data continued to reflect progress on supply chain challenges. Inventories (down from 46.3 to 45.8) continue to narrow, consistent with manufacturers working through their existing stockpiles, even as customers' inventories (up from 51.3 to 51.4) inched higher.

— Chad Moutray (@chadmoutray) June 1, 2023
MarketWatch: U.S. Manufacturers Still in a Slump, ISM Shows, But Inflation Is Easing. "Most manufacturers aside from those associated with the auto industry have experienced softer sales and new orders due to consumers shifting more spending to services such as travel and recreation. Exports have also softened in response to slower economic growth around the world. Manufacturers are unlikely to rebound until the Federal Reserve stops raising interest rates."
Reuters: U.S. Manufacturing Slumps Further in May; Employment Picks Up. "The persistent weak readings in the PMI® support analysts' expectations that the economy will slip into recession this year. But there have been several periods, including the mid-1990s as well as mid- and late-1980s when prolonged readings of the PMI® below 50 were not accompanied by a recession."
ISM's Services PMI® will be unveiled on Monday, and the Hospital PMI® on Wednesday. For the most up-to-date content on the reports under the ISM® Report On Business® umbrella, use #ISMPMI on Twitter.
(Photo credit: Jeff Kowalsky/AFP via Getty Images)