Report On Business® Roundup: October Hospital PMI®
November 07, 2022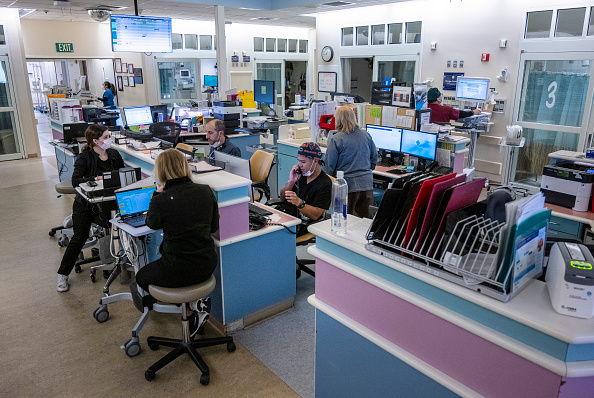 The Hospital ISM® Report On Business® for October featured a surprising 6.9-percentage point decrease in the composite PMI®, fueled by double-digit drops in the Business Activity and New Orders indexes. But that's not the biggest reason it could turn out to be a pivotal report.
The Hospital PMI® was 51 percent, and in a subsector where patient volumes are key to financial-health prognoses, two factors — lower capacity due to staffing shortages, and continuing migration to outpatient settings for treatment — were critical in the October declines, said Nancy LeMaster, MBA, Chair of the Institute for Supply Management® Hospital Business Survey Committee.
Patient volumes and profit margins shrunk, #employment issues persisted and inventory reduction efforts continued. Those details and more in the Hospital @ISM® Report On Business® for October; the PMI® was 51%, down 6.9 percentage points. https://t.co/4xHajvWNcq #ISMPMI #economy

— Institute for Supply Management (@ism) November 7, 2022
Should those dynamics become a trend, it will be another ailment for U.S. hospitals, many of which are experiencing negative profit margins that seem unlikely to abate soon. Inflation remains elevated and head-count issues persist — the Prices and Prices: Supplies indexes remained above 70 percent in October, and the Employment Index decreased 5.5 percentage points to fall into contraction territory.
As a result, the most recent Hospital ISM® Report On Business® was largely about "looking for silver linings wherever we can find them," LeMaster told a conference call of reporters on Monday.
The coronavirus pandemic-driven growth in such alternative treatment settings as telemedicine and outpatient services has become a "disruptor," LeMaster said. Last year, US$15.4 billion in venture capital was invested in digital health care last year — nearly half devoted to services — according to research by Chicago-based global commercial real estate firm Jones Lang LaSalle.
"We're seeing physicians opting for group practices that are run or financed by venture capital companies, potentially leading to more procedures or imaging in either physician-owned surgery centers or procedure labs like endoscopy centers," LeMaster said. "It's hard to put (definitive) numbers on because it's not measured well, but there is some pull of volume out of the hospitals. Whether this will be a trend or a one-month blip, we'll see."
Should the patient migration continue, LeMaster said, health-care systems could seek joint ventures with inventors and urgent care providers to expand their outpatient treatment presence, particularly in rural areas. In the meantime, staffing crunches continue, which could explain the Technology Spend Index's recent lofty heights, despite profit margin worries.
At 62.5 percent in October, the Technology Spend Index was above 60 percent in consecutive months for just the third time since Hospital PMI® data collection began in 2018. Technology spend has evolved beyond such investments as MRI and CT scan equipment and cardiac catheterization labs, LeMaster said: "We're seeing a lot more investment in IT (information technology), due to the belief that the labor challenges are long term, in hopes of finding ways to increase productivity and bolster analytic skills."
So, what were the silver linings in October?
While the Business Activity and New Orders indexes barely stayed in expansion, the Backlog of Orders Index — which measures the pipeline of scheduled treatments — did not change and remained above 50 percent. At 53 percent, the Case Mix Index suggested that hospital patients generally had longer stays.
Hospital #ISMPMI survey respondent: "Products appear to be flowing again. The storm in Puerto Rico, a medical device manufacturing hub, did not impact us. We are trying to get back to just-in-time (inventory) to help our bottom line." https://t.co/8HC0Hg9y0e #economy #healthcare

— Dan Zeiger (@ZeigerDan) November 7, 2022
Although the Hospital Supplier Deliveries Index returned to above 50 percent (indicating slower deliveries), ISM's Manufacturing counterpart registered 46.8 percent. That could improve lead times on health care-prevalent products like plastics and chemicals, LeMaster said.
Lastly, hospitals are bracing for a winter "tripledemic" of COVID-19, flu and respiratory syncytial virus (RSV), which is common in children. "Many children's hospitals are full," LeMaster said. "The RSV season has come early, and indications are it could be long. COVID-19 is still with us. And a strong flu season could be what pushes the volume back up and helps with the margin growth."
She added, "That does make it a perverse business, in some ways."
In case you missed the Report On Business® Roundup on the release of the October Manufacturing PMI®, you can read it here. The Roundup on the release of the Services PMI® can be read here. For the most up-to-date content on the three indexes in the ISM® Report On Business® family, use #ISMPMI on Twitter.
(Photo credit: MediaNews Group/Orange County Register via Getty Images)