Report On Business® Roundup: October Manufacturing PMI®
November 01, 2022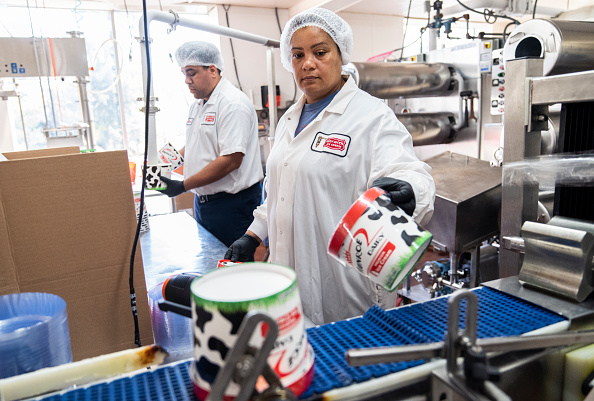 The Manufacturing ISM® Report On Business® for October featured a headline number above 50 percent, but prevailing sentiment was that the data indicated a continuing countdown to contraction.
A month ago, Timothy R. Fiore, CPSM, C.P.M., Chair of the Institute for Supply Management® Manufacturing Business Survey Committee, suggested that U.S. factory activity would need juice to stay in expansion, and upticks in production and employment appeared to provide that in October, helping the Manufacturing PMI® come in at 50.2 percent.
Manufacturing activity has stalled, with sentiment at post-pandemic lows, consistent with other surveys (including the NAM Manufacturers' Outlook Survey). Manufacturers remained challenged by supply chains, workforce shortages, soaring costs, economic/geopolitical uncertainties.

— Chad Moutray (@chadmoutray) November 1, 2022
However, other subindex data and conditions are not favorable: Demand remains uncertain, even amid dropping prices and faster supplier deliveries. Sluggishness in China and Europe are limiting exports, a key component of new order levels — and a not-insignificant slice of the manufacturing economy.
"This doesn't mean (the U.S. economy) is headed into a recession, but manufacturing is slowing and might not grow for a period of time," Fiore told a conference call of reporters on Tuesday. "There have been six manufacturing expansions since 2000, and the average length has been 34 or 35 months. This is the 29th month (of the current cycle), so it might not make it to the average, which is unfortunate."
U.S. gross domestic product (GDP) increased 2.6-percent during the third quarter, and Tuesday's federal Job Openings and Labor Turnover Survey (JOLTS) for September revealed more than 10 million employment openings. Both better-than-expected figures are unlikely to slow the U.S. Federal Reserve's interest-rate hikes designed to tame inflation; another increase of 75 basis points is expected this week.
The impact of interest rates on U.S. manufacturing was discussed in this space last month, and Fiore said they are a concern for Business Survey Committee respondents. However, he emphasized, the factors creating a drag on purchasing go beyond the Fed: "Supply chains are ready to respond, and factories are ready to convert," Fiore told Bloomberg TV on Tuesday, "but the slowness and softening in orders over the last six months is taking a toll."
Some conditions are conducive to more transactions: The Prices Index continued a dramatic descent, falling to 46.6 percent into "decreasing" territory; it has plunged 40.5 percentage points in the last seven months. The Supplier Deliveries Index dropped to 46.8 percent into "slowing" territory, ending a 79-month streak above the breakeven line. (Lead times, however, remain elevated; more on that in a moment.)
Those dynamics should encourage previously hesitant buyers off the sidelines, Fiore said, but there are headwinds from overseas: China's economy is stagnant and its factory activity went into contraction in October due to COVID-19 slowdowns and other factors, and inflation has hit record highs in Europe.
The New Export Orders Index contracted for a third straight month, registering 46.5 percent in October. That index does not directly factor into the PMI® but impacts one that does, the New Orders Index (49.2 percent, a second straight month of contraction). Also, exports account for 20 percent of U.S. manufacturing GDP. "Export order levels have been weak and getting weaker, Fiore said. "It's a concern because I don't see those order levels ending soon when you look at the situations in Europe and China."
Lead times are another issue for buyers, Fiore said. While the Supplier Deliveries Index indicates faster performance, average lead times have fallen only modestly from their record highs earlier this year.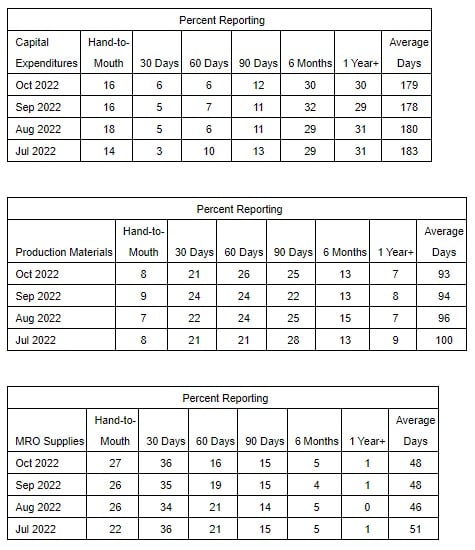 While the Supplier Deliveries Index measures current performance, Fiore said, the lead times for Capital Expenditures, Production Materials and Maintenance, Repair and Operating (MRO) Supplies are what survey respondents report their companies have been contracted or quoted for future deliveries. That makes them a lagging indicator.
In October, a Business Survey Committee respondent in Plastics & Rubber Products wrote, "Lead times are improving. Plastic prices are coming down." However, Fiore said, that sentiment needs to spread across industries.
"Nobody wants to get stuck with extended order streams and lots of inventory, so we've had a couple of months of a cautious attitude, waiting for lead times to come down," he said. "That prices are now contracting pretty strongly is a positive sign that will probably help buyers get back into the order placement process."
The ISM Manufacturing Priced Paid Index plunged to 46.6 in October, signaling significantly lower #inflation.

But with job openings spiking, coming in 1.2 million higher than expected, it now depends on how much #Powell wants the labor market to weaken. pic.twitter.com/DEQ63wlfmN

— jeroen blokland (@jsblokland) November 1, 2022
The Report On Business® roundup:
The Associated Press: On Election Eve, the State of the U.S. Economy is a Blurry One. "America's factories are still expanding. But the outlook is dimming. A manufacturing index issued Tuesday by Institute for Supply Management®, an organization of purchasing managers, showed that factories have been growing for 29 straight months. Still, the index fell in October to its lowest level since May 2020, when the economy was still struggling under the weight of COVID-forced business shutdowns. New orders, new export orders and hiring all contracted."
Bloomberg: U.S. Manufacturing Nears Stagnation, Price Gauge at Two-Year Low. "The overall manufacturing index has fallen in four of the last five months, and several of the report's demand metrics showed outright contraction in October. New bookings shrank, a measure of backlogs hit the lowest since mid-2020 and export orders contracted for a third month."
So between the ISM manufacturing and JOLTs data as pre-FOMC fodder, what is more practical:

- the cooling in ISM prices and headline proximity to contraction lowers 75bp hike probability
- higher job openings and drop in quits 'allows' for the risk of #4 75bp hike

— John Kicklighter (@JohnKicklighter) November 1, 2022
Financial Times: U.S. Manufacturing Activity Slows to Two-Year Low. "The Employment Index improved to a reading of 50 (percent), from 48.7. Fiore said some companies implemented hiring freezes and allowed attrition to reduce employment levels, but did not mention layoffs, which could indicate that companies are confident of near-term demand."
Mace News: October ISM Manufacturing Index Slips Further on Widespread Lower Demand. "Slowing demand is widespread among U.S. industries as higher borrowing costs amid credit tightening by the Federal Reserve first hit the interest-rate sensitive housing market six months ago and the effect has spread to producers of chemicals, electronics, autos and machinery, Fiore said."
October ISM Manufacturing down to 50.2 vs. 50 est. & 50.9 in prior month; new orders ticked up but still contracting; production moved higher, prices paid fell into contraction, deliveries moved into contraction & inventories eased but are expanding … employment moved up to 50 pic.twitter.com/nif1JZNhrc

— Liz Ann Sonders (@LizAnnSonders) November 1, 2022
MarketWatch: U.S. Manufacturing Barely Expands in October, ISM Says. "Economists think it is inevitable the (composite PMI®) slips below the 50-percent threshold. … Manufacturing is slowing down and could soon enter contraction territory, but that doesn't mean there will be a recession in the U.S., (Fiore said). 'I don't see a collapse of new orders. I don't see a collapse of the PMI®,' Fiore said."
Reuters: U.S. Manufacturing Activity Slowest in Nearly 2½ Years in October. "The (Prices Index) has fallen nearly 50 percent since March, driven by retreating commodity prices. That's welcome news for the U.S. central bank, which has yet to see much improvement across other inflation gauges. U.S. producer prices increased more than expected in September and consumer inflation continues to bubble."
ISM's Services PMI® will be unveiled on Thursday, and the Hospital PMI® on November 7. For the most up-to-date content on the reports under the ISM® Report On Business® umbrella, use #ISMPMI on Twitter.
(Photo credit: Getty Images/Tom Williams)