Report On Business® Roundup: June Hospital PMI®
July 07, 2022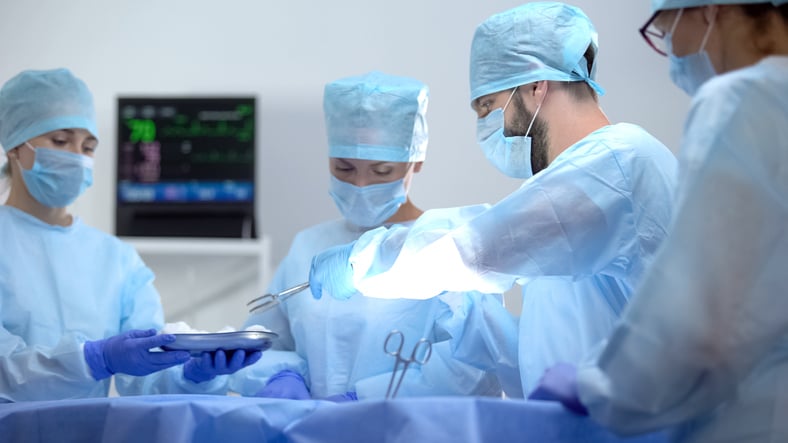 Starting the Hospital ISM® Report On Business® for June with the survey respondents' comments — summarized most succinctly by one who described the current supply chain as a "colossal mess" — could leave some readers needing to brace themselves for the data.
Another comment: "Conditions affecting my purchasing operations are so fluid from day to day that it's extremely difficult to have a firm outlook on the coming months, much less a positive outlook." Fortunately, index numbers for the ISM® Report On Business® are detailed on the first page, and the Hospital data for June was positive, especially amid the coronavirus pandemic challenges and chaos that many health-care supply chain organizations still face.
The Hospital PMI® of 58 percent is a 1.1-percentage point increase from May, with the Business Activity and New Orders indexes increasing and Employment Index steady. The contagious COVID-19 omicron BA.4 and BA.5 subvariants have led to a recent increase in new hospital admissions, according to data from the U.S. Centers for Disease Control and Prevention (CDC), but the cases are largely manageable, enabling facilities to continue the transition back to elective care.
The Hospital @ISM® Report On Business® found leveling #COVID19 cases at most facilities in June, but bottlenecks, back orders and burnout still reigned. Amid the chaos, business activity went up, helping lift the PMI® to 58%. https://t.co/brbj3oUxD2 #ISMPMI #economy #healthcare

— Dan Zeiger (@ZeigerDan) July 7, 2022
Still, with supply chain professionals in all professions dealing with burnout 2½ years into the pandemic, nowhere is the exhaustion more acute than in health care. "It was another month of just slogging through it, as the supply chain continues to be very fatigued," Nancy LeMaster, MBA, Chair of the Institute for Supply Management® Hospital Business Survey Committee, told a conference call of reporters on Thursday.
She continued, "From the comments and discussions I have with people in the industry, it's clear everyone is just really, really tired. We thought these supply chain snarls would be untangling faster, and we're not seeing light at the end of the tunnel. We talked last month about supply chain professionals getting better at anticipating shortages and finding substitutions to make it easier on clinicians, but that doesn't make it any easier on supply chain professionals."
Those supply chain issues impact a hospital's ease to transition to elective care, LeMaster said. Another critical factor: labor availability. The Hospital Employment Index bucked the Report On Business® trend in June, falling just 0.5 percentage point and remaining in expansion territory, while ISM's Manufacturing and Services gauges contracted.
However, facilities are still laboring to recruit and retain employees; LeMaster cited a health-care system in the Midwest that has increased wages 10 percent year over year. "So, hospitals are struggling with not just the high cost of supplies, but labor to be able to take care of increasing demand," she said, adding that some facilities might have leeway because summer is typically a slower time for elective procedures.
That might be an explanation for the Case Mix Index falling into contraction in June at 48.5 percent, a 4.5-percentage point decrease compared to May. This index measures how sick a hospital's patients are, calculated upon discharge; LeMaster said the lower reading could reflect a phasing out of COVID-19 cases, with a slow backfilling of other patients.
While a less-sick hospital population is good news, the Hospital PMI® data measures business conditions. And in the byzantine system of health-care commerce in the U.S., hospitals' Medicare/Medicaid reimbursement amounts are based on the severity of each case.
A decrease in the Case Mix Index indicates less-severe cases and lower reimbursement income — a concern for hospitals and health-care systems as they contend with higher costs for supplies and labor and posted negative operating margins for the first quarter of 2022. Facilities cannot always raise prices for other treatments since those are generally fixed under managed-care contracts with insurance companies.
"People talk about the price of (health care), but price doesn't necessarily correlate to the reimbursement, and that's where it gets complicated," LeMaster said. "I wish we could just tear the system up and start over, but that's why the Case Mix Index is important and when it goes down, that's of concern to hospitals."
.@ISM's Nancy LeMaster: "#Supplychain disruptions continued to plague the (#healthcare) industry, with many panelists commenting on high volumes of product substitutions and challenges getting product from secondary suppliers." https://t.co/Zgmkq4ZGc8 #ISMPMI #economy #COVID19

— Institute for Supply Management (@ism) July 7, 2022
ISM's Manufacturing and Services reports revealed that companies have been more reliant on current inventories as they wait out long lead times and high prices. That mindset is also evident among health-care purchasers: The Hospital Inventories Index remained in contraction in June, but the Inventory Sentiment Index stayed comfortably above 50 as facilities continued burning through stocks of personal protective equipment (PPE) and other supplies.
However, LeMaster said, with hospitals contending with product shortages and substitutions, buyers must be especially cognizant of their facilities' inventory levels. "It's always a challenge to figure out where there will be a shortage, and as we've discussed, buyers have been good at that as of late," she said. "They'll have to continue to be careful and see where their volumes start to settle."
In case you missed the Report On Business® Roundup on the release of the June Manufacturing PMI®, you can read it here. The Roundup on the release of the Services PMI® can be read here. For the most up-to-date content on the three indexes in the ISM® Report On Business® family, use #ISMPMI on Twitter.
(Photo credit: Getty Images/Motortion)